Storing your knives properly is as essential as buying quality knives. Finding great storage options will not only keep your keen aesthetic eye satisfied and save you space. It will also prevent the knives' blade from getting blunt, prevent nicks, will protect you and your family from unwanted accidents, and prolong the lifespan of that knife set that you love so much. And now, the most important question- how to store kitchen knives?
There are so many great ways to keep your collection organized; it all depends on what you like and how many knives you own. We listed four of the most popular solutions, together with their advantages and disadvantages. If none of these four ways work for you, below you'll find more creative solutions and essential care tips you need to know about.
4 Best Ways To Store Your Knives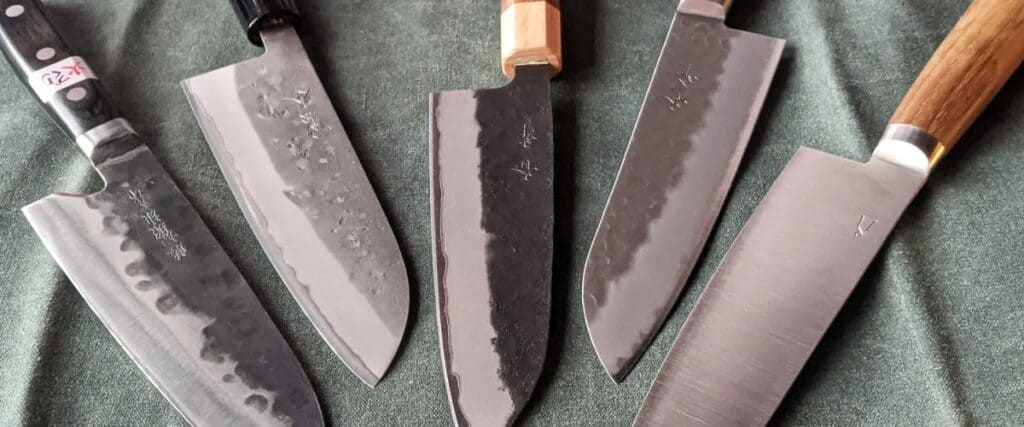 If you want to take the aesthetics of your kitchen to a whole new level, magnetic strips are your best choice. These are the bars you can see in professional kitchens and homes of renowned chefs. A magnetic knife strip will hold your set of knives in a vertical position.
It's one of the best storage solutions for people who have a small kitchen and need that extra space. Imagine getting two additional free drawers and an eye-catching knife display everyone will love. The huge pros are that you'll be able to see where each knife is, they'll all be within your reach in only seconds, and you'll feel like an actual pro. 
When choosing a knife bar, you have to be very picky with the type of magnet that you opt for. It should be strong enough to hold all your knives, no matter how big or small they are it should be long enough to avoid knives touching each other. 
You need to be cautious about the way you place the kitchen knives on the bar. First, attach the blunt part of the knife, then the rest of it. That's the best way to protect your set and prevent damage.
Another great storage option for your knives is a wooden knife block. These timeless pieces are perfect for kitchens with enough counter space and people who love to see their knives organized in a stylish and unique block.
Wooden knife blocks are available in many forms, sizes, and even shapes. Each knife will have its spot, and you'll find it easy to grab what you need. Unfortunately, most blocks don't fit too many knives, so make sure to choose smart when buying.
One thing to keep in mind if you decide to store your knife collection in a knife block is to be very particular about hygiene. These blocks can be a breeding ground for bacteria if you fill them with wet knives. That's why you should ensure that the knives are completely dry before storing them. Also, don't forget to sanitize the block once in a while.
Knives in a drawer, how revolutionary, right? Well, you'll be surprised to hear that this is one of the best and easiest storage options. It's definitely not an innovative technology, but it works wonders.
Adding a holder to your drawer takes only seconds. Each knife will have a spot, plus the set will be safe from mixing with other utensils and getting damaged. You can create various sections for an upgraded organization: one for your paring knives, one for bread knives, and so on.
Plastic knife edge-guards are an affordable, straightforward fix for your collection. A guard protects the blades, it's safe for households with kids and pets, plus it's an excellent idea for when you need to travel and bring knives with you.
These guards also come in many sizes, and shapes, colors, so you'll have a lot to choose from. They are available in materials other than plastic, including wood and metal.
When you want to store knives in the drawer, but you don't want a knife holder, this is the way to go. There is a chance that your set will be less organized if you just drop the knives in the drawer. That's why guards are best paired with another storage idea from this list.
More Storage Solutions & Basic Knife Care Tips You Need To Know About
If you didn't find any of these storage tips appealing, we have a few extra ideas. All of these organizers below come in various sizes, shapes, so pay attention to the number of knives you want to store.
Knife bags

Magnetized blocks

Clear acrylic stands

Hanging pocket holders

Knife rolls
Now that you've learned all about knife storage, let's get you educated on properly caring for your collection. These are some of the most basic maintenance tips that will prolong your knives' life.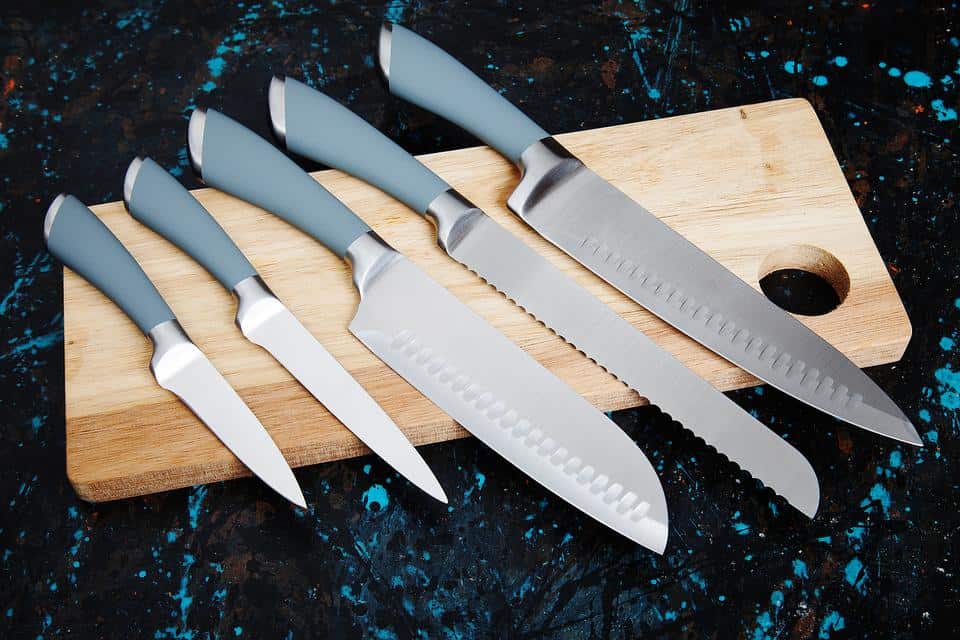 Clean The Knives
It doesn't matter if you own cheap or expensive knives. You should hand wash them and always avoid the dishwasher. It's best to use a mild soap with warm water. Never, ever let the knives soak in water. When washing them, don't reach for an abrasive sponge because it can cause damage to the blade.
Another essential maintenance step is never to store knives if they're not completely dry. This can lead to bacteria growth and damage your set. Lay the set on an absorbent towel and wait.
Sharpen Them Regularly
This one goes without saying. Sharpening your set will extend their lifespan and make your job in the kitchen much more straightforward. Plus, dull knives are a bigger hazard compared to sharp ones. People who cut with dull knives tend to use more force, meaning that the knife can slip to the side.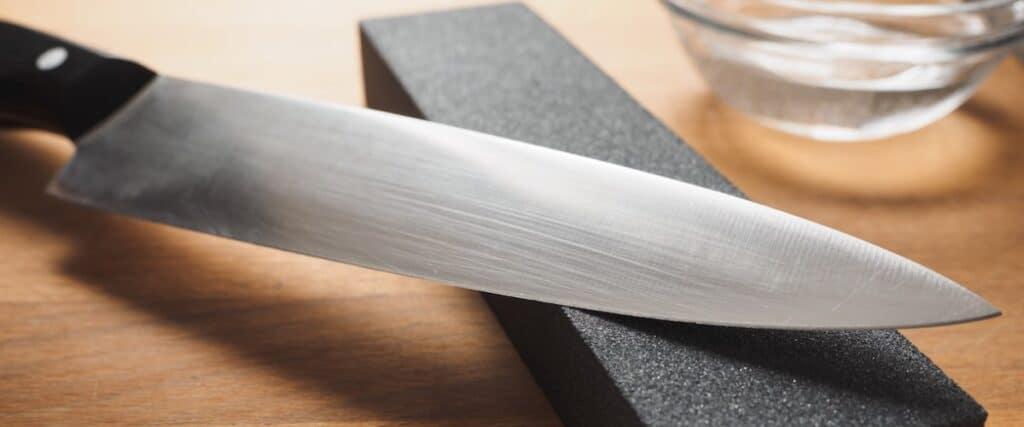 Honing Matters
Honing is an action that straightens the edge of a knife. It's not the same as sharpening but is equally important. You should hone your knives with honing steel before you use them.
Improve Your Cutting Technique
If you want your knives to last a long time, you need to learn how to cut. By this, we mean that you should never slide things with your knife's blade across the board. Sliding the blade sideways can make it dull faster.  
Conclusion
How to store kitchen knives? As you can see, there is no single answer to this question. You can choose from one of the many storage ideas. The four most popular ones are a wooden knife block, magnetic knife bar, plastic knife edge guard, and in-drawer knife holder.
These tips will help you stay organized, prevent injuries from knives lying around without protection, prevent knives from getting dull or damaged. Aside from suitable storage, you also need to stick to the basic care rules if you want to prolong the life of your kitchen collection. Learn how to clean the knives, sharpen them regularly, hone them and work on improving your cutting technique.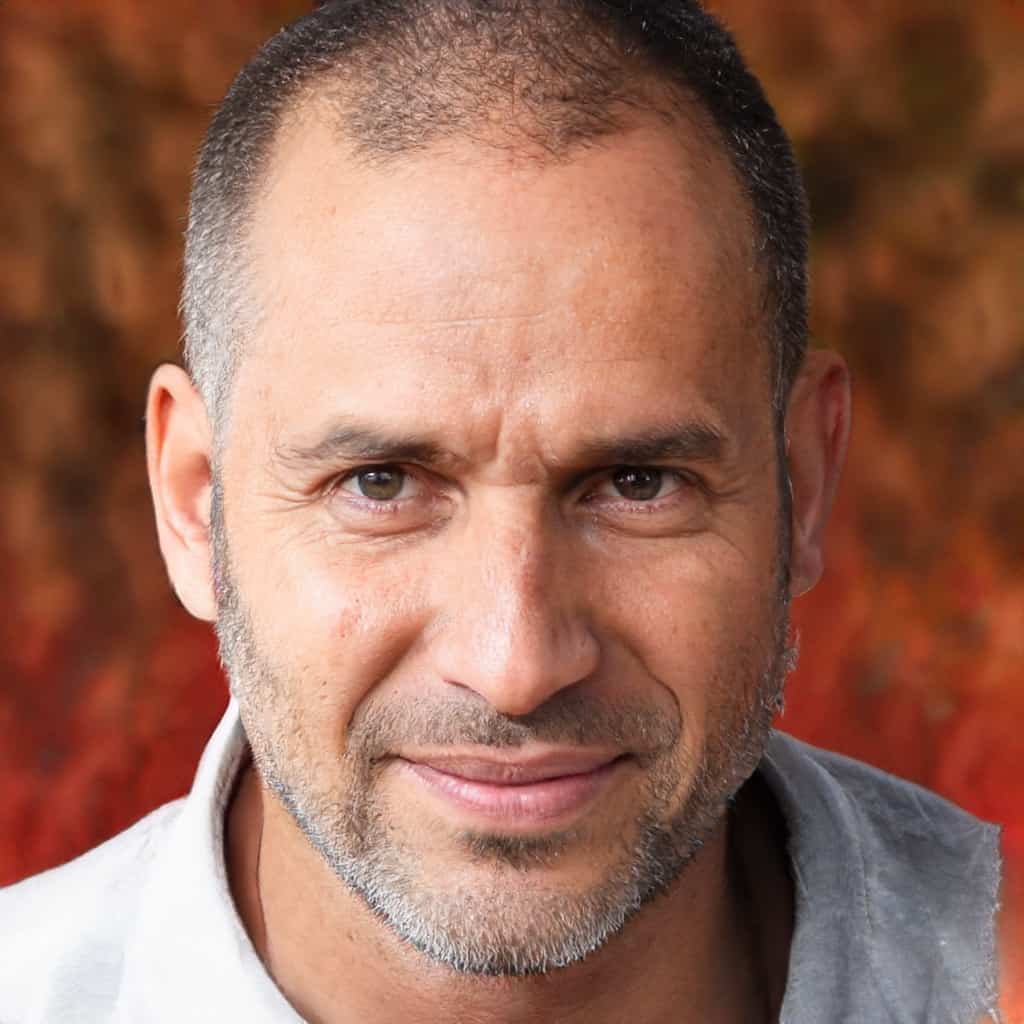 Gary Portman is the founder and main author of Knivesadvice.com. With his extensive knowledge and experience, he is committed to assisting people in choosing the perfect knife for their needs. Through his articles, Gary shares valuable insights on various aspects of knives. With his expertise, readers can make informed decisions and find a knife that is tailored to their preferences and requirements. You can find more info about Gary here.