Brisket, oh brisket! It's more than just a treat. It's the king of barbecue, a smoky symphony of flavors that often holds a place of honor at our dining tables. Preparing it, though, is a labor of love. Crafting the perfect brisket involves hours, sometimes even days, of marinating, slow cooking, and careful handling, all for that moment when the meat is transformed into a slice of smoky perfection.
As an experienced chef who's prepared more briskets than I can count, I understand the importance of having the right tool for the job. The anticipation as you make the first few cuts, the mouthwatering aroma filling the room, is an experience unto itself. You've put so much time into this culinary masterpiece, it's only fair you give it the final touch it deserves – a smooth, precise cut that can only be achieved with a high-quality brisket knife.
There are numerous brisket knives available today, and I've tested many of them. In this article, I'll share my insights to help you choose the best one for your needs, including a few of my personal favorites.
What's a Brisket Knife?
Just as we chefs have our specific roles in the kitchen, so do knives. A brisket knife is a specialized tool, designed specifically for slicing through that smoky marvel we call brisket. Your quintessential brisket knife sports a long, narrow blade adorned with divots or flutes along its length. Fellow meat-smokers and grill-masters alike consider these knives an essential part of their arsenal.
However, not all brisket knives are created equal. They may have similar designs but there are nuances to consider when you're in the market for one. After all, this unique tool will be your companion in carving that beautifully smoked piece of meat, so it's important to choose one that best suits your needs.
Blade Length
Brisket knives are well-known for being longer blades. On average, a brisket knife will have a blade reaching up to 12 inches, with some 14-inch and 16-inch variations available. These very long blades have purpose. They allow the user carving the meat to make several passes in the same groove, ensuring an even slice. It also helps to reduce tearing, and off center cuts. Brisket cutting is considered an art, and it's taken very seriously by many.
Blade Weight
The old debate of lightweight versus heavy knives is a familiar one in our circles. I've found that lightweight knives can make carving multiple briskets a breeze, while heavier knives offer a sense of stability and control in my hand. Ultimately, the most important factor related to weight is balance. A well-balanced knife results in consistent cuts, making slicing feel like a natural extension of your own hand. That superb balance is a trait you'll find in truly top-tier knives.
Blade Type
While any sharp knife can cut through meat, not all knives can do it justice. There are four types of blades you'll typically find on a brisket knife. Your choice will largely depend on your own brisket-cutting technique.
Straight Blade: These knives have uniform edges with no teeth. They're decent for slicing brisket, as long as they maintain a razor-sharp edge to prevent catching or tearing the meat.
Granton Blade: Named after the Granton Knife Company, these are often my go-to for slicing brisket. They have divots that reduce surface tension between the blade and the meat, minimizing the chance of tearing.
Scalloped Blade: These are small, toothed serrated blades. They do a reasonable job of slicing brisket, but can't quite match up to Granton or straight blades.
Serrated Blade: These blades have the most pronounced teeth. They excel at slicing tough cuts, but they tend to tear brisket, causing it to fall apart. I'd recommend avoiding serrated blades unless absolutely necessary.
Blade Material
The blade material sparks another classic debate among knife enthusiasts – stainless steel versus carbon steel. Each has its merits and drawbacks, especially when it comes to brisket knives.
Stainless steel knives are great for handling the messy business of brisket cutting. They're resilient, corrosion-resistant, and lower maintenance. But the trade-off is that they tend to dull quicker as the steel is softer. The upside is that they are more affordable than their carbon steel counterparts.
In contrast, carbon steel knives are considered top-tier options for brisket knives. The higher carbon content helps the blade retain a sharp edge longer. However, they demand a higher level of care. Carbon steel is more susceptible to corrosion, meaning these knives need to be cleaned and stored properly after every use.
You can have a look at steel vs. ceramic knives or stainless steel vs. carbon knives.
Blade Sharpness
When it comes to brisket knives, sharpness is not a relative term. These blades need to be razor-sharp, and for good reasons.
Firstly, a sharp blade ensures the crust or the "bark" of a brisket remains intact. A dull blade can tear it off, ruining not just the presentation but also the texture. We all know the visual appeal of evenly sliced brisket is part of the eating experience.
Secondly, a dull knife requires you to apply more pressure while cutting, which can cause the meat to lose moisture. And trust me, a dry brisket is not something you want to serve. Your knife should glide through the meat, not squeeze out its precious juices.
Although you can keep most knives sharp with regular honing, there's nothing more frustrating than a blade that doesn't hold its edge. High-quality brisket knives stay sharp, and that's exactly what you want from your brisket knife.
Handle
A knife handle is about more than just aesthetics. It plays a crucial role in ensuring both comfort and safety. When you're handling a blade as long as a ruler, and likely razor-sharp, you need a handle that fits comfortably in your hand and resists slipping. Especially considering brisket preparation can get a bit messy.
Brisket knife handles come in a variety of materials, the most popular being plastic or rubber with a good grip. Wooden handles are also a popular choice for their natural beauty and grip. Stainless steel handles, while sleek and modern, should be avoided as they can get slippery with use.
---
The 7 Best Brisket Knives
---
If you're on the hunt for the best knife for cutting brisket, you're in luck. I've tested a and determined which 7 are worth your money. They can be bought right now, too! Take a look at my choices below.
1. DALSTRONG Gladiator's Series Slicer Knife
My number one pick is the DALSTRONG Gladiator's Series Slicer which I was excited to put to the test. With its reputation for high performance and quality, my expectations were high.
A Superior Cutting Experience
I spent an entire day using the Gladiator's Series Slicer, focusing on cutting brisket to truly understand its capabilities. The first thing I noticed was the blade – an impressive 12-inch length, German-crafted from high-carbon steel. The blade retained its razor-sharp edge, even after hours of slicing, thanks to this superior steel.
An important aspect to note here is the blade's angling at 16 and 18 degrees. This detail allowed for precise, safe cuts, which is essential when dealing with a tough meat like brisket. The blade's design is further enhanced by the Granton divots, helping to achieve incredibly smooth cuts.
Comfort and Aesthetics Combined
Moving on to the handle, it's constructed from Garolite, a durable material known for its grippable and comfortable properties. The balance between the handle and the blade is near perfect, offering stability and comfort throughout the slicing process.
I remember preparing a Texas-style smoked brisket, and the Gladiator's Series Slicer was a joy to use. The blade cut through the brisket like a hot knife through butter, and the Granton divots helped ensure the slices retained their shape, while the knife pulled away cleanly.
An Eye-catching and Quality Design
The Gladiator's Series Slicer Knife is as aesthetically pleasing as it is functional. The overall design of this knife is a testament to DALSTRONG's attention to detail, combining balance, sharpness, and style seamlessly. This knife wouldn't look out of place in any kitchen, professional or home-based.
Pros
High-carbon steel blade retaining a sharp edge
Granton divots on the blade for excellent meat separation
Ideal length for brisket and other large cuts
Balanced, comfortable, and grippy handle
Lifetime warranty from DALSTRONG
Cons
More expensive than other options, although the quality and performance justify the price
Conclusion
After putting the DALSTRONG Gladiator's Series Slicer Knife through its paces, it's clear that it stands tall as an exceptional tool for brisket slicing, among other uses. This knife will undoubtedly be a lifetime companion in your culinary adventures, and even if it doesn't last, DALSTRONG's assurance of a lifetime warranty should provide peace of mind.
When it comes to seeking the ultimate brisket knife, this slicer undoubtedly makes its mark. It may require a higher investment than some alternatives, but the return on investment, in terms of quality, durability, and performance, is beyond comparison. The DALSTRONG Gladiator's Series Slicer Knife is truly a game-changer in the realm of culinary tools.
---
2. Victorinox Swiss Army Fibrox Pro Slicing Knife, 12-inch
I was eager to put the Victorinox Swiss Army Fibrox Pro Slicing Knife to the test. This knife, from a brand synonymous with quality and functionality, carries with it high expectations.
Testing the Renowned Swiss Blade
From my very first slice, it was clear that this knife lives up to the reputation associated with its Swiss Army branding. The 12-inch, narrow, straight blade – adorned with the prized Granton divots – slices through brisket effortlessly, yielding impeccable form.
A standout moment during my testing was when I attempted to achieve paper-thin slices of a slow-cooked brisket. The knife, with its razor-sharp edge, rendered this task a breeze, resulting in beautifully thin and evenly cut slices that simply melted in the mouth.
Comfort and Control
The handle of this knife is meticulously crafted from thermoplastic elastomer, a material designed to provide excellent grip, regardless of the conditions. Its balance complements the grip, making the slicing experience not just efficient but also pleasurable.
Ease of Maintenance
When it comes to maintenance, this knife does require care due to its carbon steel composition. However, I found that once the blade is sharpened to a razor's edge, it sustains that sharpness remarkably well. Despite its need for careful cleaning, the knife's performance and longevity made it a worthy investment.
Pros
Premium-quality steel from a respected manufacturer
Ergonomically designed handle for comfort and grip
Lightweight yet balanced
Edge retention is impressive
Granton divots for superior slicing
Lifetime warranty
Cons
A longer version would be welcomed by some users
Does not come with a protective sheath
Conclusion:
In conclusion, the Victorinox Swiss Army Fibrox Pro Slicing Knife has proven to be a formidable player in the realm of brisket knives. This knife leaves no room for criticism, providing a delightfully rewarding carving experience for brisket enthusiasts.
Its exceptional quality, coupled with its reasonable pricing, makes it a must-have addition to any kitchen. And with the assurance of a lifetime warranty from one of the world's most renowned knife manufacturers, this investment is not just safe but also highly recommended. If you're in the market for a versatile and reliable slicing knife, look no further than the Victorinox Swiss Army Fibrox Pro.
---
3. Shun Kanso Hollow-Ground Brisket Knife, 12-inch
Testing the Shun Kanso Hollow-Ground Brisket Knife was an experience I eagerly anticipated. Being familiar with the world-renowned reputation of German and Japanese knife-makers, I was particularly intrigued to see how this Japanese marvel would perform.
Aesthetic Mastery Meets Functionality
One cannot ignore the aesthetic charm of the Shun Kanso. With its heritage finish offering a distinctive stonewashed appearance, and a handle crafted from the robust Tagayasan wood, the knife's design is simply captivating. The pronounced rivets not only illustrate the knife's secure construction but also contribute to its rustic charm.
I must mention the time I hosted a barbecue party. The Shun Kanso didn't just excel in its task of carving a large smoked brisket; its unique aesthetic appeal made it a conversation piece, fascinating the guests as I prepared their servings.
Performance – Slicing at its Finest
Visual appeal aside, the Shun Kanso is a brisket slicing powerhouse. Its Granton blade comes hand-sharpened, ready to work its magic right out of the box. I was amazed by how effortlessly it glided through the brisket, delivering perfect slices without causing the meat to stick.
The knife's safety features, including a rounded blade, are a testament to Shun Kanso's understanding of their product's sharpness. The high carbon steel construction ensures remarkable edge retention, providing prolonged slicing efficiency.
Pros
The most visually appealing knife in its category
Ready to use with its hand-sharpened, razor-sharp Granton blade
Comes with a protective wooden sheath
Superior edge retention
Cons
Requires regular maintenance to preserve finish and edge sharpness
The priciest option among its competitors
Conclusion
At the end of my testing, I can confidently vouch for the Shun Kanso Hollow-Ground Brisket Knife. The saying, "You get what you pay for," holds particularly true for this product. Despite it being the most expensive knife I have tested, the quality, aesthetics, and performance it offers make it well worth the investment.
If you're willing to spare no expense in pursuit of the best knife for slicing brisket, the Shun Kanso should be at the top of your list. With its unrivaled visual appeal and efficient functionality, this knife does not just get the job done; it makes the process a joy to behold.
---
4. Dexter-Russell Scalloped Roast Slicer, 12-inch
Being well-versed in barbecue techniques, I hold expert recommendations in high regard. So when renowned barbecue master Aaron Franklin endorsed the Dexter-Russell Scalloped Roast Slicer, I was keen to see what this knife brought to the table.
Unique Design and Versatile Functionality
This knife is a standout in its category, being the first in this series of reviews to sport a carbon steel scalloped blade rather than a Granton edge. As I discovered during my testing, the scalloped design works in a manner akin to Granton blades, enabling clean cuts without the tearing that can occur with standard serrated blades.
One distinct test scenario involved slicing a particularly juicy brisket during a Sunday family lunch. The Dexter-Russell Slicer, with its scalloped design, performed admirably, easily slicing through the brisket without compromising the juicy interior, leaving everyone at the table impressed.
Material and Usability
The Dexter-Russell Slicer is equipped with a polypropylene handle. While it may not be the ideal choice for everyone due to its tendency to slip, it's worth noting that its ease of cleaning is a significant advantage, particularly when dealing with fatty briskets.
Pros
Unique scalloped design that cuts brisket effectively
Carbon steel blade with excellent edge retention
A budget-friendly choice
Endorsed by a professional in the field
Cons
Handle material requires careful handling to avoid slipping
Aesthetically average
No warranty information available
The Final Verdict
The Dexter-Russell Scalloped Roast Slicer is an excellent choice for those comfortable with handling a slightly different style of knife. The slightly slippery handle does require some getting used to, but once mastered, it becomes a tool that brings efficiency and simplicity to the task of slicing brisket.
This knife may not be the most aesthetically pleasing or the easiest to handle for beginners, but if you're after a budget-friendly, efficient knife with a unique edge design, the Dexter-Russell Slicer is worth considering. Its endorsement from a barbecue professional, combined with its efficient performance, makes it a worthy addition to your knife collection.
---
5. Mercer Culinary Millennia Granton Edge Slicer, 14-inch
As an individual who often finds myself tackling sizable briskets, finding a blade that can effortlessly manage these large cuts is of paramount importance. Typically, 12-inch blades are the standard choice, but the Mercer Culinary Millennia Slicer raises the bar with its 14-inch blade. Combining the blade and handle, the entire knife measures a substantial 22 inches, clearly standing out in size and presence.
An Enforcer for Large Cuts
Despite its size, the Mercer Culinary Millennia Slicer is not just about brute force. It brings a finesse to its task, effectively slicing through large cuts of meat with apparent ease. During my testing, I prepared a large, whole brisket for a neighborhood barbecue event. The Mercer effortlessly sliced through, leaving behind neat, consistent cuts that were not only visually appealing but also cooked evenly.
Material and Design
The Mercer Slicer's blade is made from Japanese high carbon steel and features a Granfort edge, which together contribute to an impressively sharp blade that separates meat smoothly. One might expect a 14-inch blade to be somewhat heavy, but it's surprisingly lightweight. The balance isn't perfect but is quite good considering the size.
The handle, constructed from Santoprene, offers slip-resistance—an important feature for a blade of this size. It also includes a finger guard for additional safety during use.
Pros
Extra-long blade adept at handling large briskets and other sizable meats
High-quality Japanese carbon steel contributes to a superior edge
Backed by a lifetime warranty
Respectable balance despite its size
Cons
Can be challenging to maneuver for first-time users
Its length may feel excessive when dealing with smaller cuts
Conclusion
The Mercer Culinary Millennia Granton Edge Slicer is an ideal choice for those frequently dealing with large cuts of meat. Despite its size, it handles effortlessly, delivering consistently smooth and even cuts.
While it may be unwieldy for those new to large knives or for smaller cuts, its superior performance with larger briskets and the added security features make it a reliable addition to any culinary toolkit. This knife expertly combines size, quality, and functionality, making it a worthy contender in the realm of brisket knives.
Interested in the difference between boning and a fillet knife –
check it out
.
---
6. WÜSTHOF Classic 10 Super Slicer Roast Knife
Today, I bring you my review of the WÜSTHOF Classic 10 Super Slicer Roast Knife, a shining example of craftsmanship with a 200-year heritage. Compared to its larger counterparts, this knife offers a sense of dexterity and precision that caters to those who favor control over size.
A Testament to German Precision
WÜSTHOF's reputation as a seasoned knife maker is well encapsulated in the Classic 10 Super Slicer. It sports a slightly curved, scalloped blade that excels in handling smaller briskets or any other task that requires precision. When testing, I found it to be the perfect tool for creating thin, intricate slices for a charcuterie board, a testament to its flexibility and precision.
Material and Design
What makes this knife stand out is its unique stainless-steel construction, differing from the usual high-carbon steel blades. Before you dismiss this choice of material, let me assure you, WÜSTHOF's stainless steel is harder than standard options, resulting in performance on par with high-carbon counterparts.
Despite its sturdy construction, the polypropylene handle may cause a bit of concern as it can potentially lead to slippage. However, WÜSTHOF's ergonomic design mostly mitigates this concern, offering a firm grip and comfortable handling.
Pros
Provides superior control due to its smaller size
Crafted by a reputable company with over two centuries of experience
Ergonomic handle design for comfortable use
Lifetime warranty assures longevity
Features an excellent scalloped edge for precision cuts
Cons
Might struggle with larger briskets due to its size
High price tag, although justified by quality
Stainless steel construction, although robust, deviates from traditional preference for high carbon steel
Conclusion
The WÜSTHOF Classic 10 Super Slicer Roast Knife proves to be a valuable addition to any kitchen, especially for those seeking control and precision over sheer size. Despite being smaller than many brisket knives, it makes up for its size with its performance and versatility.
Its price point may seem steep, but the quality, performance, and the assurance of a lifetime warranty makes it a worthwhile investment. If you have smaller hands or prefer a more manageable knife size, this WÜSTHOF Slicer could be your ideal kitchen companion.
---
7. Saken German Steel Carving Knife, 12-inch
My journey of exploring the finest brisket knives brings us to the last candidate in my roundup – the Saken German Steel Carving Knife. With its standard 12-inch blade length and high carbon steel make, it stands tall with the other contenders in this series.
Knife Construction and Performance
Constructed from high carbon steel, the blade provides admirable edge retention, an essential feature when carving through brisket. The rounded tip brings an added layer of safety, allowing versatile usage for slicing, butterflying, and filleting.
As a personal test, I attempted to butterfly a whole chicken. The knife slid through the flesh and bones with an impressive ease, clearly reflecting its versatility beyond brisket slicing.
The handle, made from wood with a satin finish, provides the grip needed for precision. In terms of weight and balance, this knife hits the sweet spot. Despite being lightweight, it is exceptionally well balanced, ensuring a smooth, fatigue-free brisket carving experience.
Pros
Features a Granton blade for efficient slicing
High carbon steel construction ensures durability and good edge retention
Wooden handle with a satin finish offers a sturdy grip
Well-balanced and lightweight for comfortable slicing
Cons
Edge retention, though good, falls a bit short compared to some of its counterparts
The handle, while functional, is not as comfortable as other options in this lineup
Conclusion
In conclusion, the Saken German Steel Carving Knife is a solid choice for most home chefs and brisket enthusiasts. Despite some room for improvement, particularly in edge retention and handle comfort, it does its job admirably. It might not stand out as the best among the rest, but it confidently checks the boxes of a reliable, effective, and functional brisket knife.
---
Final Thoughts
When you're slicing brisket, you need a knife that matches the magnitude of the task at hand. Brisket is one of the more delicate smoked meats when it comes to presentation and slicing. The best knife to cut brisket is going to slice true with every pass, and will keep the work up for long periods of time. If you're looking for the best knife for trimming brisket, any of the 7 products that made my top choices are going to fit the bill. All you have to do is choose!
If you are interested in reading more of my articles, you can check my best Cuisinart knives or best self-sharpening knives.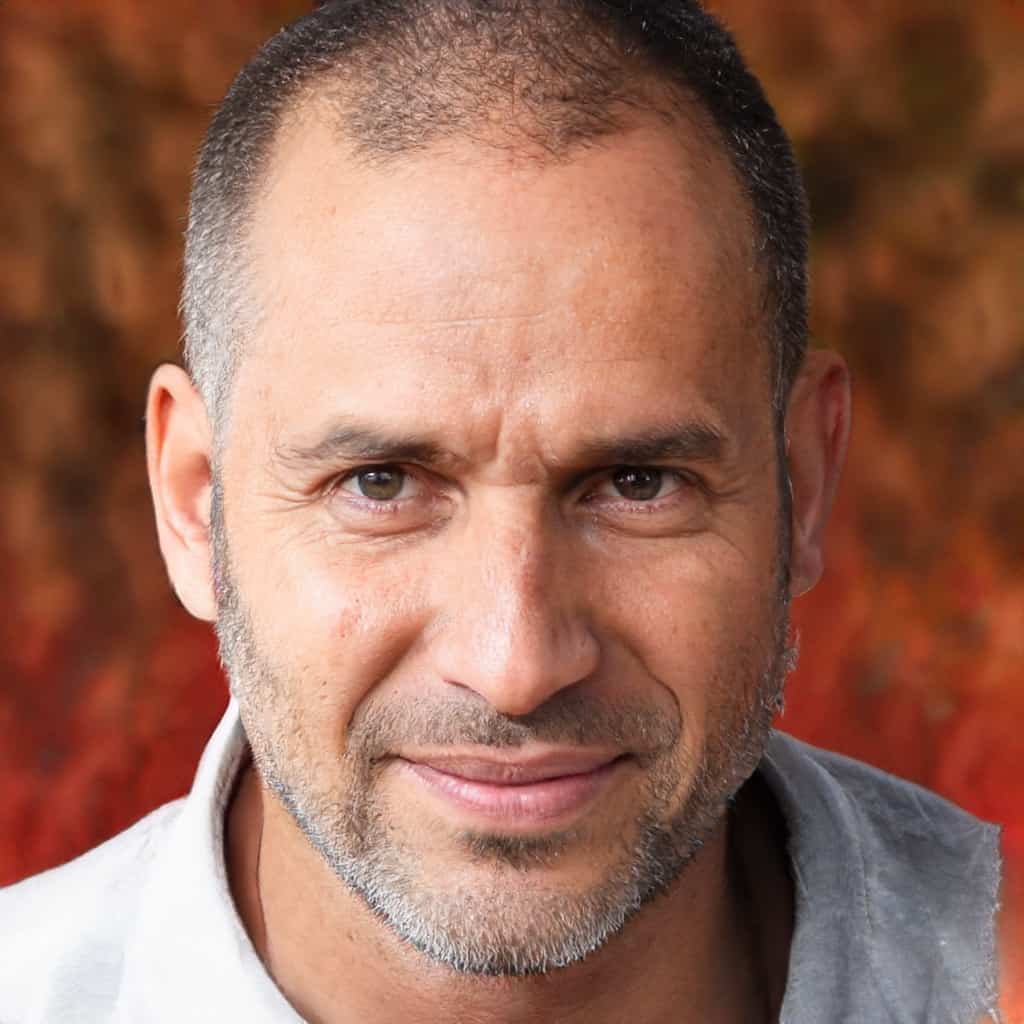 Gary Portman is the founder and main author of Knivesadvice.com. With his extensive knowledge and experience, he is committed to assisting people in choosing the perfect knife for their needs. Through his articles, Gary shares valuable insights on various aspects of knives. With his expertise, readers can make informed decisions and find a knife that is tailored to their preferences and requirements. You can find more info about Gary here.