If only my kitchen knife set could sharpen itself instead of me having to sit down and sharpen the blade individually. But what if I told you there are self-sharpening knife sets out there that I can afford and that aren't just gimmicks? Let me guide you through the best self-sharpening knife sets you can find. I recommend starting with my guide below first, so you know what to look for.
---
What Is a Self-Sharpening Knife Set?
Calphalon Classic Self-Sharpening 15 Piece Cutlery Knife Block Set, Brown
HENCKELS Graphite 20-pc Self-Sharpening Knife Set with Block, Chef Knife, Paring Knife, Utility Knife, Bread Knife, Steak Knife, Brown, Stainless Steel
Calphalon Contemporary Self-Sharpening 20-Piece Knife Block Set with SharpIN Technology, Black
What distinguishes a self-sharpening knife set from a regular knife set? In my opinion, it has to do with the storage block that usually comes with these sets. Indeed, you should never trust a self-sharpening knife that comes by itself to actually be self-sharpening.
You see, real self-sharpening sets have storage blocks that include ceramic knife sharpening edges that are positioned inside the slots for each knife. This way, whenever you store your knives after using them, they automatically rub against the sharpeners within the block. They're also sharpened when you retrieve the knives to use them again. In this way, your knives are sharpened ever so slightly every time you withdraw them from the block, meaning you have to spend less (or no) time sharpening them yourself.
The ceramic sharpeners within the blocks don't actually remove steel to create a sharper edge. Instead, they hone the edge of your knives, which essentially means that they realign the edge each time you pull them out or put them back inside.
So does this mean that you actually never need to sharpen them? Not exactly. If you use your knives frequently, you may need to do your own sharpening or honing in addition to the passive sharpening that happens when you insert the knives into the block. However, there's no denying that these sets require you to sharpen less frequently than you otherwise would have to.
You can also check my Forged in Fire knives review or Emeril 19-piece hollow handle & knife block set review.
---
What to Look For in a Self-Sharpening Knife Set?
When you're purchasing a self-sharpening knife set, there are several key things that you should look for.
Number of Knives
irstly, consider the number of knives that come with the set. Some knife sets include as few as 4 to 6 pieces; these have staple knives like chef's knives, which are versatile and can handle a lot of different cutting tasks. Others will have knives numbering up to 10 or 15. These usually have more specialized blades that can accomplish a variety of specific tasks.
I'd recommend focusing on a knife set that has plenty of blades to spare if you want dedicated knives for all your cooking needs. But if you will only rarely be using the knife set, you can probably get away with fewer knives overall.
Handles
Next, consider the handles of the knife set in question. Some knives are made with ornate or beautiful wooden handles that are a delight to hold and an aesthetic boost to your kitchen. Others may be wood-like, with handles that are created from a synthetic material designed to look and feel like real wood. These are a little cheaper than regular wooden handles in many cases. Still, other knife handles might be made from a synthetic material that isn't particularly aesthetically pleasing but is cheaper overall.
There's no right or wrong answer but, if you do choose a set with wooden handles, try to find knives whose handles are protected against water damage.
Steel Quality
You'll also want to consider the quality of the steel in a given knife set. While virtually all knives will be made of some kind of steel, there are different grades or qualities that can determine how long the knives will last and how well they will cut or slice your food.
Carbon steel is usually the best bang for your buck, and it's often made as a type of stainless steel, at least for the outermost layer. This is another great thing to look for because stainless steel prevents corrosion from affecting your knives and looks extremely polished and high-quality as well.
Are you interested how do self-sharpening knives work? Follow the link then.
Weight
Finally, consider the overall weight of knives within the set. Some knives are significantly heavier than others and may be more difficult to wield for long stretches of time. Others are pretty lightweight. There's no right or wrong answer here either, but it's something to consider in terms of your personal preferences.
---
The 6 Best Self-Sharpening Knife Sets
---
1. Calphalon Classic Self-Sharpening 15-Pc Set
I have been using this knife set for a while now, and I have to say it's a great investment for any home chef. The set comes with 15 pieces in total, featuring every major blade type I could need for a full, six-course meal prep session! Available blades range from serrated utility knives to chefs' knives to steak knives, and the set even includes a 4 ½ inch paring knife. Whether I need to saw through meat, slice and dice vegetables, or cut up fruit into neat little pieces, this knife set has enough blades for any objective.
The set comes with a wooden storage block that features ceramic sharpeners in each knife slot. The slots are individual for each blade, with the exception of the steak knives that are arrayed in a row near the bottom. Even better, the handles are labeled so I can easily see which blade is which without having to remove them and sharpen them too much as a result.
All the handles are triple-riveted for security and are contoured for an ergonomic grip. Additionally, every blade is "full tang" designed for even better strength and balance over their life spans. Speaking of lifespans, the set comes with a full lifetime warranty, so having a blade replaced is no trouble if there's a manufacturer defect.
Pros:
Handles allow for easy identification

Handles are comfortable

Knife selection and variety is great

Steel blades are forged with high carbon content

Includes scissors as well
Cons:
Ceramic sharpeners can wear out a bit too quickly, may need replacing
The Final Verdict
All in all, I would highly recommend this self-sharpening knife set to anyone looking for a high-quality, reasonably priced option. The handle labeling is a great feature that I hope to see with future sets. With a great selection of knives, a quality storage block, and a full lifetime warranty, it's hard to go wrong with this set.
If you are interested in some of my other reviews, have a look at Kutt Chef knife or santoku vs. chef's knife comparison.
---
2. Henckels 20-Pc Self-Sharpening Block Set
I recently had the opportunity to try out this knife set and I must say, it's a solid option for anyone in the market for a self-sharpening set. The set includes a total of 20 individual blades, including a bread knife and boning knife, which are both great additions. Other knives include utility blades, paring knives, and several steak knives, making it a versatile set for a variety of cooking needs.
The self-sharpening knife block is a nice touch and the slots are labeled, which makes it easy to organize the knives. The block is made of high-quality stained ash wood and features a brushed stainless steel cap that looks good in any kitchen.
As for the knives themselves, they're made with Zwilling J.A. Henckels quality, which is reassuring. The full tang design and triple-riveted handles provide a comfortable, secure grip. While the blades are not the sharpest I've ever used, they get the job done and are suitable for everyday use.
In summary, if you're in the market for a self-sharpening knife set and want a solid option with a range of blade types, this set is worth considering. The quality is good and the self-sharpening feature is convenient, but it's not the absolute best set I've ever used.
Pros:
Blades are extremely high-quality

There are labels on the block

Knife block looks great

Lots of stainless steel everywhere to reduce corrosive damage

Knife variety is excellent
Cons:
Block size/set collection can be a bit large for some counters
The Final Verdict
If you have space and are willing to pay for high-quality, this self-sharpening knife set is one of the top picks you can make in terms of quality and aesthetics.
---
3. Calphalon Contemporary Self-Sharpening 20-Piece Knife Set
This contemporary knife set also features 20 blades, with types ranging from boning to slicing to bread cutting. Kitchen shears are also included, and the blades are forged from high carbon, no-stain German steel, with the exception of the steak knives. These are made from stamped Asian steel. Either way, all the blades are high-quality and are designed with a full tang to increase their durability and balance. 
The knives are set into a wooden block and feature the same labeling markings on their hilts as the first Calphalon set. Figuring out which knife is which is quick and easy.
Pros:
Has excellent labeling feature again

Plenty of knife variety

Wooden block is high-quality and beautiful

Both varieties of steel used are great
Cons:
Pretty expensive compared to other knife sets

Some of the ceramic sharpeners can wear out quickly
The Final Verdict
This is a great choice if you like the idea and look of the first set but want additional, specific blades for certain cooking or preparation tasks.
---
4. Calphalon Classic Self-Sharpening Stainless Steel 15-Piece Set
Calphalon returns once again with this classic knife set. It comes with 15 pieces in total and the blades are forged with high carbon content and no-stain, stamped steel material. As such, you'll be able to rely on these blades for a long time to come.
The handles are labeled (as we would expect), and they are specially contoured to provide you with a secure and comfortable grip. They're some of the best feeling and well-balanced knives you can find these days. A full lifetime warranty from Calphalon rounds out this set's value.
Pros:
Includes a lifetime warranty from manufacturer problems

Steel quality and makeup is great

Wood block is stable and beautiful

Has labels on the handles

and

block
Cons:
Steak knife slots don't always fully align
The Final Verdict
It's another great set from Calphalon; we'd recommend it if you prefer this one's aesthetic to the original we reviewed earlier.
To learn more about different type of knives, have a look at our best knives for boning deer or best knives for trimming meat.
---
The Best Budget Self-Sharpening Knife Sets
---
5. McCook MC29 Self-Sharpening Knife Set, 14-Pc
McCook provides us with a budget-friendly self-sharpening knife set numbering 14 pieces in total. The blades are made with German, high-quality and high-carbon stainless steel—no need to worry about corrosive damage or the knives losing their durability over time. The blades are designed with a tapered grind edge to provide them with optimum sharpness and make them even easier to re-sharpen. They're also made with ergonomic handles for your comfort and convenience.
The knives store securely within the wooden block, which is both aesthetically pleasing and durable. We also like that the knife block has several balancing feet on the bottom, which keeps it stable on rickety surfaces like uneven tables. The big difference here between other self-sharpening sets is that it has a sharpening slot on the top right corner. You sharpen each knife individually using this slot.
Pros:
Block is high-quality and very stable

Knife steel quality is great

Knives are designed to sharpen easily and quickly

Handles are comfortable to use 
Cons:
Have to sharpen each knife individually
The Final Verdict
If you don't mind spending a little extra time sharpening the knives yourself, this is a great budget-friendly choice.
To find out more about self-sharpening knives have a look at our are self sharpening knife blocks worth it article. 
---
6. Sabatier Self-Sharpening Edgekeeper Pro 12-Piece Set
Here's another budget-friendly self-sharpening kit, featuring 12 pieces including an 8-inch chef knife, several steak knives, and a few other specialty knives for paring or utility cutting. The knives are made from high carbon stainless steel, and the handles are created with a satin finish that makes them durable and sanitary. The knives are also comfortable to use over the long-term thanks to their handles' ergonomic shape.
This knife set does have a block ceramic sharpener within each slot, except for the steak knives. While the block is not made of wood, it is still aesthetically attractive and will fit on most kitchen counters without much trouble.
Pros:
Most of the blades are good quality

Block is aesthetically unique

Knives are comfortable to hold

Handles have a satin finish
Cons:
Steak knives can be a little thin compared to others

No labels
The Final Verdict
It's another good budget-friendly choice that balances quality with price without compromising too much on features or durability.
---
Concluding Our Best Self Sharpening Knife Sets Guide
In the end, all of these self-sharpening knife sets are excellent in terms of overall quality and value. Being able to rely on your knives being at least decently sharp without having to constantly sharpen them by hand is a huge deal. Hopefully, one of the above sets is perfect for your kitchen. Thanks for reading!
You may also want to check out our list of the best knife sets under $200 or Forever Sharp knives review.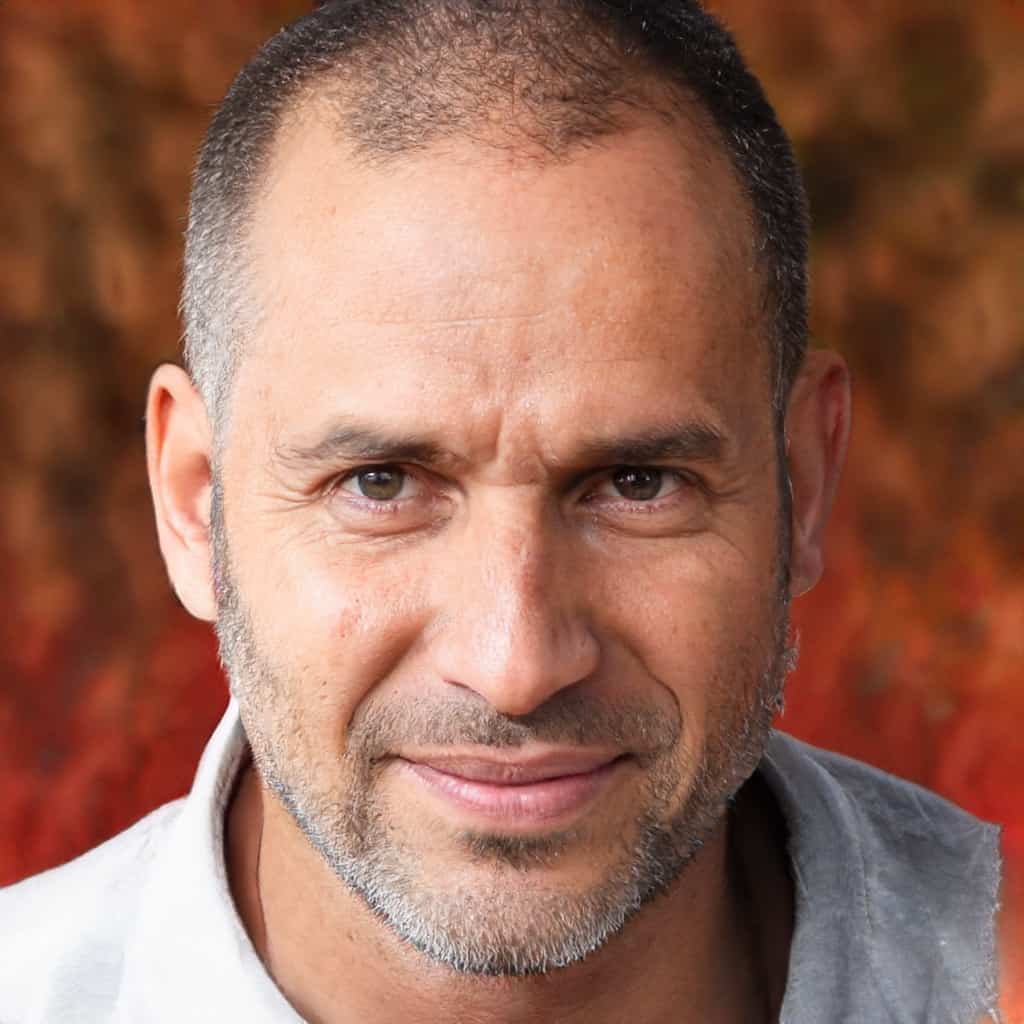 Gary Portman is the founder and main author of knivesadvice.com Using the knowledge he has gained through the years, he aims to help people choose the best knife based on their needs. You can find more info about Gary here.