If only my kitchen knife set could sharpen itself instead of me having to sit down and sharpen the blade individually. But what if I told you there are self-sharpening knife sets out there that I can afford and that aren't just gimmicks? Let me guide you through the best self-sharpening knife sets you can find. I recommend starting with my guide below first, so you know what to look for.
---
What Is a Self-Sharpening Knife Set?
What distinguishes a self-sharpening knife set from a regular knife set? In my opinion, it has to do with the storage block that usually comes with these sets. Indeed, you should never trust a self-sharpening knife that comes by itself to actually be self-sharpening.
You see, real self-sharpening sets have storage blocks that include ceramic knife sharpening edges that are positioned inside the slots for each knife. This way, whenever you store your knives after using them, they automatically rub against the sharpeners within the block. They're also sharpened when you retrieve the knives to use them again. In this way, your knives are sharpened ever so slightly every time you withdraw them from the block, meaning you have to spend less (or no) time sharpening them yourself.
The ceramic sharpeners within the blocks don't actually remove steel to create a sharper edge. Instead, they hone the edge of your knives, which essentially means that they realign the edge each time you pull them out or put them back inside.
So does this mean that you actually never need to sharpen them? Not exactly. If you use your knives frequently, you may need to do your own sharpening or honing in addition to the passive sharpening that happens when you insert the knives into the block. However, there's no denying that these sets require you to sharpen less frequently than you otherwise would have to.
---
The 6 Best Self-Sharpening Knife Sets
---
1. Calphalon Classic Self-Sharpening 15-Pc Set
As an ardent home cook and culinary enthusiast, I've been using the Calphalon Classic Self-Sharpening 15-Pc Set for a significant duration, and I can confidently assert that it is indeed a worthy investment for anyone who enjoys cooking. This set has been a real game-changer in my kitchen, helping me efficiently prepare everything from a simple salad to an elaborate six-course meal.
Unpacking the Set
To provide a comprehensive overview, the set includes an impressive array of 15 knives, each designed for a specific purpose. It features serrated utility knives, chefs' knives, steak knives, and even a precise 4 ½ inch paring knife. It doesn't matter if you're carving meat, chopping vegetables, or dicing fruits, there's a tool for every task in this versatile collection.
Innovative Self-Sharpening System
One of the standout features of this set is the innovative self-sharpening system housed within the wooden storage block. Each knife slot is equipped with ceramic sharpeners, which ensures your knives remain in top condition with every use. However, it's worth noting that the ceramic sharpeners may wear out over time and might require replacement.
Design and Durability
The attention to detail extends to the design of the knives themselves. Each blade is full tang, which translates to superior strength and balance. The handles are triple-riveted for enhanced security, contoured for a comfortable grip, and thoughtfully labeled for easy identification – a feature I found immensely useful.
Additional Features
The set also includes a pair of kitchen scissors and comes with a reassuring lifetime warranty, demonstrating the brand's confidence in their product's durability.
How it compares to other sets
In comparison to other knife sets I've used in the past, this one stands out for its excellent variety of knives, ergonomic design, and innovative self-sharpening feature. If I were to draw a comparison with a similar product, the Wusthof Gourmet 16-Piece Set, while it also offers a variety of knives, it lacks the self-sharpening feature and the handles aren't labeled, making the Calphalon set a more user-friendly option.
Conclusion and Recommendation
To wrap up, the Calphalon Classic Self-Sharpening 15-Pc Set is a comprehensive solution for all your culinary cutting needs. Its user-friendly design, diverse knife selection, and self-sharpening feature make it a highly recommended choice for home cooks and culinary enthusiasts alike. The product is available for purchase here (link to purchase), but I'd also suggest exploring other vendors to find the best deal.
Pros:
– Wide range of knives catering to various culinary needs
– Self-sharpening feature keeps blades in prime condition
– Ergonomic handle design with labels for easy identification
– Lifetime warranty offers peace of mind
– High carbon content in steel blades ensures durability and sharpness
Cons:
– Ceramic sharpeners may wear out over time, requiring replacement
If you are interested in some of my other reviews, have a look at Kutt Chef knife or santoku vs. chef's knife comparison.
---
2. Henckels 20-Pc Self-Sharpening Block Set
I recently had the opportunity to try out the Henckels 20-Pc Self-Sharpening Block Set. My main goal was to evaluate whether this knife set would provide me with the range, convenience, and quality I need in my kitchen.
Variety and Versatility
One of the standout features of this knife set is the extensive variety it offers. The set includes 20 individual blades, each with a unique purpose. It includes essentials such as a bread knife and a boning knife, which I found to be extremely handy for daily cooking needs. Other knives range from utility blades, paring knives, to several steak knives. This broad range of knives makes the set versatile and adaptable to a variety of cooking requirements.
Design and Aesthetics
The self-sharpening knife block is a thoughtful addition that saves time and ensures the knives remain sharp and ready for use. I appreciated that the slots are labeled, making it easy to organize the knives and quickly identify the one I need.
The aesthetics of the block is another point worth mentioning. Crafted from high-quality stained ash wood, the block is solid and aesthetically pleasing. It is capped with brushed stainless steel, adding a modern touch that complements any kitchen decor.
Quality and Performance
The knives themselves uphold the Zwilling J.A. Henckels reputation for quality. Their full tang design and triple-riveted handles provide a comfortable, secure grip that makes handling them a pleasure. While the blades may not be the sharpest I've ever used, they are more than capable of performing everyday tasks with ease.
However, the set is not without its drawbacks. Its size can be a bit large for some counters, and it might be overwhelming for those with limited kitchen space. But if you have the room and are willing to invest, it's a worthy consideration.
Key Takeaways
To sum it up, if you're in the market for a self-sharpening knife set that offers a range of blade types and a sturdy design, the Henckels 20-Pc Self-Sharpening Block Set is a strong contender. It combines convenience with quality and versatility. However, it's important to note that while it is a high-quality set, it may not necessarily be the best set I've ever used.
Pros:
High-quality blades that are built to last
The block includes labels for easy knife identification
Attractive design that enhances kitchen aesthetics
Variety of knives to cater to diverse cooking needs
Use of stainless steel reduces the risk of corrosive damage
Cons:
The size of the block/set may be too large for some kitchen counters
Final Verdict
Considering all these factors, if you have ample space and are prepared to pay for quality, the Henckels 20-Pc Self-Sharpening Block Set could be one of your top choices. It stands out in terms of quality, aesthetics, and the convenience of a self-sharpening feature. But as always, it's crucial to consider your individual needs and circumstances before making a purchase decision.
I hope this review helps you make an informed decision. For further reference, you might find it useful to compare this set with other similar options on the market.
---
3. Calphalon Contemporary Self-Sharpening 20-Piece Knife Set
As an experienced chef, I've had the opportunity to use a wide variety of knife sets in my culinary career. The Calphalon Contemporary Self-Sharpening 20-Piece Knife Set caught my attention recently, and I decided to put it to the test in my kitchen. My goal in this review is to provide an insightful perspective on this knife set to help you make an informed purchase decision.
Variety and Material Quality
The Calphalon Contemporary knife set comes with an impressive assortment of 20 blades. The types range from boning to slicing to bread cutting, providing an option for nearly every culinary task you might encounter. Included in the set are kitchen shears, a valuable tool often overlooked in other knife sets.
The majority of the blades are forged from high carbon, no-stain German steel, known for its exceptional sharpness and durability. The steak knives, however, are made from stamped Asian steel. Although different in origin, both varieties of steel used are top-grade and contribute to the overall quality of the set.
Design and User Experience
Each knife is set into a beautifully crafted wooden block, which serves both as a storage solution and a stylish addition to your kitchen counter. A unique feature of this set is the labeling markings on the hilts of the knives. This thoughtful design detail makes identifying the right knife for the job quick and easy.
The knives have a full tang design, a feature sought by many professional chefs. This design extends the metal of the blade through the length of the handle, increasing the knife's balance and durability.
Comparisons and Considerations
When comparing the Calphalon set to other knife sets on the market, the variety and quality of knives offered stand out. However, this set is on the higher end of the price spectrum. If budget is a significant factor in your decision, you may want to consider other options.
Another aspect to be aware of is the ceramic sharpeners that come with the set. While they can be beneficial in maintaining the sharpness of your knives, some users have reported that they can wear out quickly.
Pros
Excellent labeling feature for easy identification
Wide variety of knives for diverse culinary tasks
High-quality, beautiful wooden block for storage
Blades made from two varieties of top-grade steel
Cons
More expensive compared to other knife sets
Ceramic sharpeners can wear out relatively quickly
Final Verdict
In conclusion, the Calphalon Contemporary Self-Sharpening 20-Piece Knife Set is an excellent choice for those who value quality, variety, and thoughtful design in their kitchen tools. If you appreciate the aesthetic of a beautifully crafted knife set and need specific blades for various culinary tasks, this set could be a perfect match for your needs. However, do consider the higher price tag and potential longevity of the ceramic sharpeners.
---
4. Calphalon Classic Self-Sharpening Stainless Steel 15-Piece Set
As an avid home cook who appreciates the value of quality kitchen tools, I was delighted to have the opportunity to use the Calphalon Classic Self-Sharpening Stainless Steel 15-Piece Knife Set. This set from Calphalon, a brand known for its excellence in kitchenware, comes with 15 pieces. Each blade is forged with high carbon content, using a no-stain, stamped steel material, making it a highly reliable choice for your kitchen.
Product Composition and Design
One of the standout aspects of this knife set is its material makeup. The blades, made from high-carbon, no-stain steel, promise durability and long-lasting sharpness. Additionally, the handles are labeled, which I found particularly helpful as it allows me to quickly identify the knife I need. They are also specially contoured for a secure and comfortable grip. This feature is crucial for any cook who values control and precision in their knife work. With these well-balanced knives in your kitchen, you'll find your food preparation process much smoother.
The set also comes with a beautifully crafted wood block for storing the knives. Its stability and aesthetic appeal make it not just a storage solution, but also a stylish addition to your kitchen. However, I must note that the steak knife slots do not always align perfectly, a minor detail that might bother some users.
Warranty and Customer Service
One of the key considerations when purchasing a product is the warranty, and Calphalon doesn't disappoint in this aspect. They offer a full lifetime warranty, demonstrating their confidence in the product and their commitment to customer satisfaction. This not only adds value to the set but also provides peace of mind knowing that the manufacturer stands behind their product.
Pros:
Includes a lifetime warranty from manufacturer problems

Steel quality and makeup is great

Wood block is stable and beautiful

Has labels on the handles

and

block
Cons:
Steak knife slots don't always fully align
The Final Verdict
In conclusion, the Calphalon Classic Self-Sharpening Stainless Steel 15-Piece Knife Set is a solid choice for both amateur and experienced cooks. Its quality, design, and warranty make it a worthy investment for your kitchen. If you're someone who values aesthetics in your kitchen tools, this set's design might appeal to you more than the original set we reviewed earlier. For these reasons, I would recommend this set to anyone seeking a comprehensive, reliable, and stylish set of kitchen knives.
To learn more about different type of knives, have a look at my best knives for boning deer or best knives for trimming meat.
---
The Best Budget Self-Sharpening Knife Sets
---
5. McCook MC29 Self-Sharpening Knife Set, 14-Pc
Having used the McCook 14-piece self-sharpening knife set for the past few weeks, I've come to appreciate its high-quality features and economical price point. This set stands out in the market due to its German high-carbon stainless steel blades, ergonomic design, and unique self-sharpening system.
Quality and Material
The blades of these knives are crafted with German, high-quality and high-carbon stainless steel. This steel is known for its durability and resistance to corrosion, making these knives a reliable choice for daily use in the kitchen. From my experience, these blades have remained sharp and resilient, even after frequent use and washing.
Design and Ease of Use
One of the aspects I particularly appreciate about these knives is their tapered grind edge design. This detail enhances the sharpness of the blade and simplifies the re-sharpening process. Additionally, the knives are equipped with ergonomic handles, making them comfortable to hold during prolonged use.
Storage and Stability
The knife set comes with a wooden block for storage, which is both aesthetically pleasing and robust. A unique feature of this block is its balancing feet, which provide stability even on uneven surfaces. This is a small but significant design choice that enhances the user experience and sets the product apart from its competitors.
Self-Sharpening Feature
The standout feature of this set is the self-sharpening system incorporated into the block. Unlike other self-sharpening sets that automatically sharpen the knives when they're removed or inserted, this system has a sharpening slot on the top right corner. While this means you have to sharpen each knife individually, it allows for better control over the sharpening process. This feature may be a pro or a con depending on your preference.
Pros:
– High-quality, durable knife block
– Superior steel quality in knives
– Knives are designed for easy and quick sharpening
– Comfortable, ergonomic handles
Cons:
– Each knife must be sharpened individually
Final Verdict
In conclusion, if you're seeking a budget-friendly knife set that doesn't compromise on quality or design, the McCook self-sharpening knife set is a worthy contender. Its unique features, like the individual knife sharpening system and the stable storage block, make it stand out in a crowded market. However, be prepared to invest a bit more time in maintaining the sharpness of the blades due to the individual sharpening requirement.
To find out more about self-sharpening knives have a look at our are self sharpening knife blocks worth it article. 
---
6. Sabatier Self-Sharpening Edgekeeper Pro 12-Piece Set
As an avid home cook and a regular user of various kitchen tools, I often find myself reaching for a reliable, sharp knife. That's why I was excited to come across this budget-friendly self-sharpening knife set that seemed to balance quality and affordability. With 12 pieces in the set, including an 8-inch chef knife, several steak knives, and other specialty knives for paring or utility cutting, it seemed to offer a comprehensive solution for all my kitchen cutting needs.
Material Quality and Design
One of the things that caught my eye was the material of these knives. Crafted from high carbon stainless steel, these knives promised durability and longevity. The satin finish on the handles added a touch of elegance and also made them sanitary for kitchen use.
Comfort and Ease of Use
The ergonomic shape of the handles was also a feature worth noting. During my cooking sessions, which often last for hours, I found these knives comfortable to use over the long term. This comfort factor made the cooking process more enjoyable and less taxing.
Sharpener and Block
What made this set stand out was the inclusion of a block ceramic sharpener within each slot (except for the steak knives). While the block was not made of wood – which some might see as a downside – it had an attractive aesthetic that fit well on my kitchen counter without taking up much space.
Pros:
– Most of the blades are of good quality
– The block has a unique aesthetic appeal
– Knives are comfortable to hold, making them ideal for prolonged use
– Handles are finished with a satin touch, adding to their durability and sanitary properties
Cons:
– The steak knives seemed a bit thinner compared to other sets I've used
– The lack of labels on the block was a minor inconvenience as it took some time to remember which knife went where
The Final Verdict
In conclusion, this self-sharpening knife set is a good budget-friendly choice for those who value quality and affordability. While it has a few minor drawbacks, it doesn't compromise too much on features or durability. I would recommend this set to anyone looking for a comprehensive, stylish, and efficient solution for their kitchen cutting needs.
---
What to Look For in a Self-Sharpening Knife Set?
When you're purchasing a self-sharpening knife set, there are several key things that you should look for.
Number of Knives
irstly, consider the number of knives that come with the set. Some knife sets include as few as 4 to 6 pieces; these have staple knives like chef's knives, which are versatile and can handle a lot of different cutting tasks. Others will have knives numbering up to 10 or 15. These usually have more specialized blades that can accomplish a variety of specific tasks.
I'd recommend focusing on a knife set that has plenty of blades to spare if you want dedicated knives for all your cooking needs. But if you will only rarely be using the knife set, you can probably get away with fewer knives overall.
Handles
Next, consider the handles of the knife set in question. Some knives are made with ornate or beautiful wooden handles that are a delight to hold and an aesthetic boost to your kitchen. Others may be wood-like, with handles that are created from a synthetic material designed to look and feel like real wood. These are a little cheaper than regular wooden handles in many cases. Still, other knife handles might be made from a synthetic material that isn't particularly aesthetically pleasing but is cheaper overall.
There's no right or wrong answer but, if you do choose a set with wooden handles, try to find knives whose handles are protected against water damage.
Steel Quality
You'll also want to consider the quality of the steel in a given knife set. While virtually all knives will be made of some kind of steel, there are different grades or qualities that can determine how long the knives will last and how well they will cut or slice your food.
Carbon steel is usually the best bang for your buck, and it's often made as a type of stainless steel, at least for the outermost layer. This is another great thing to look for because stainless steel prevents corrosion from affecting your knives and looks extremely polished and high-quality as well.
Are you interested how do self-sharpening knives work? Follow the link then.
Weight
Finally, consider the overall weight of knives within the set. Some knives are significantly heavier than others and may be more difficult to wield for long stretches of time. Others are pretty lightweight. There's no right or wrong answer here either, but it's something to consider in terms of your personal preferences.
Concluding my Best Self Sharpening Knife Sets Guide
In the end, all of these self-sharpening knife sets are excellent in terms of overall quality and value. Being able to rely on your knives being at least decently sharp without having to constantly sharpen them by hand is a huge deal. Hopefully, one of the above sets is perfect for your kitchen. Thanks for reading!
You may also want to check out my list of the best knife sets under $200 or Forever Sharp knives review.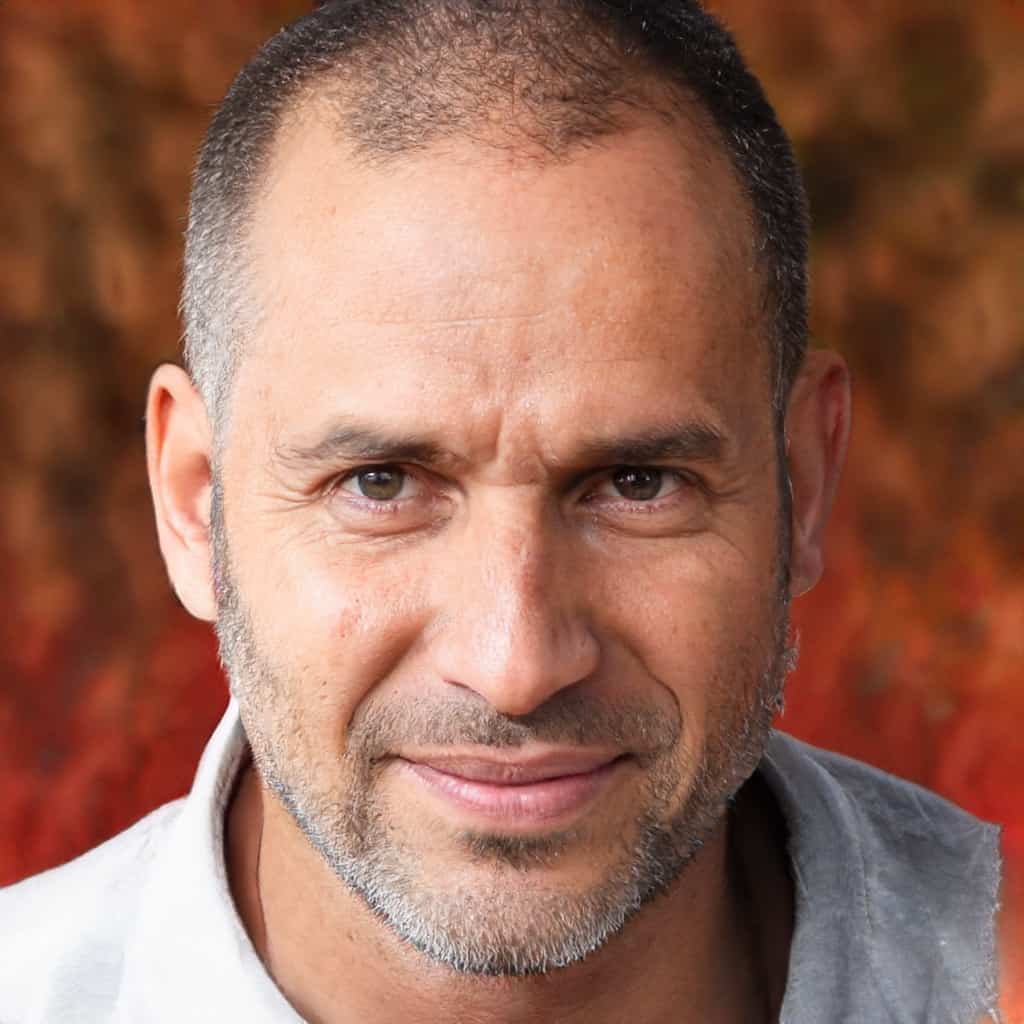 Gary Portman is the founder and main author of Knivesadvice.com. With his extensive knowledge and experience, he is committed to assisting people in choosing the perfect knife for their needs. Through his articles, Gary shares valuable insights on various aspects of knives. With his expertise, readers can make informed decisions and find a knife that is tailored to their preferences and requirements. You can find more info about Gary here.