A lot of people confuse Santoku knives with Chef's knives because they both look very similar. Both of them can be very versatile and can perform in similar ways. Many people also consider the Santoku knife, the Japanese version of the chef knives that we use in the West. Same as a Chef's knife, the Santoku is also a type knife used to cut generic everyday products and produce. But, when people got to know them better, and they started getting more popular, they realized there are differences between then, and there is plenty to talk about. Let's dive deeper into the Santoku VS Chef's Knife debate.
Check this article if you want to learn how to use Santoku knife.
---
Differences
Here are the main differences between a Santoku knife and a chef knife are as follows:
Size
Chef's knives are generally longer than the Santoku. The Santoku usually goes for around 5 – 7 inches while the Chef's knives are about 8 – 10 inches. But this does not mean that the Santoku cannot be longer than that, there are shorter Chef's knives, and there are also longer Santoku on the market.
Uses
The only difference between these knives in use lies in their shape. The Santoku's wide and flat blade lets it do a perfect job when it comes to chopping because the only way you can cut with this knife is by using a downward movement. On the other side, the Chef's knife blade is round, and it can be used to rock the blade back and forth on your cutting board.
Weight
Because of the thickness of the metal on both of these knives, we can say that the Chef's knife is definitely heavier, and it can be better for people with bigger hands or want a heavier blade to work with. While the Santoku's thinner and lighter blade is more suited towards individuals with smaller hands and who want to work with a more subtle knife.
Looking at the knives in general, they are both amazing knives that you should have in your kitchen. Because you cannot do the same work with both of the knives, the Santoku will serve to chop food without any effort, while the Chef's knife will serve you for cutting foods for which you will need a longer and a heavier blade.
---
The Best Uses for a Santoku Knife
The Santoku knife, as we said, is generally used to chopping, dicing, and mincing food. It does this job perfectly, but you always need to avoid harder and more aggressive food such as meat bones, slicing bread, and also, you should avoid peeling different foods. Mostly the Santoku is used for creating very thin slices of food, which can serve as a decoration to your dish.
The Santoku knife is best used for:
Cutting soft meat
Cutting cheese
Chopping, slicing and dicing fruit, vegetables, and also nuts.
Mincing meat or herbs
Creating fine slices, particularly useful for vegetables and seafood
To find out more about kitchen knives have a look at our best Gyuto knife review or best Chinese chef's Knives.
---
The Best Uses for a Chef's Knife
Chef's knives are used in almost every aspect of the kitchen. We can see that from the popularity they have in many of the professional kitchens. It is used for slicing almost anything in your kitchen, but again, you should stay away from frozen food or any hard food for that matter.
The Chef's knife is best used for:
Cutting foods that require a bit more complexity and versatile cutting
Slicing meat, cutting meat, and separating meat from the joints
Cutting your favorite cheese
Slicing and dicing vegetables, fruits and also nuts
One thing that you have to remember is that if you want to make thin slices of something, a wiser choice for you will be the Santoku knife.
Check which are the best chef knives under $100.
---
How should you take care of these knives
Most of the knives generally speaking will last for a long period of time if you give them proper care, which means sharpening, cleaning, and storage.
With both of these knives, it is recommended that you hand wash them and, after that drying them with a soft and clean dry towel, and you should avoid putting them in a dishwasher at any cost.
Sharpening
Here are the most important aspects of the sharpening and extending the longevity of these knives:
Santoku Knife Sharpening
Most of the Santoku knives are made from harder steel, which means it easier to create a much sharper angle on one side of the blade. In most of the cases, Santoku knives are sharpened at an angle of 10 – 15 degrees. Also, most of the Santoku knives don't have a bolster. That makes them easier to sharpen than other knives, and the fact that you will only have to sharpen one side of the blade will decrease the work.
As most of the knives out there, a whetstone is probably the way to go with sharpening a Santoku. Whetstone sharpening rules apply to almost all knives, and they are as follows:
Remember to always soak your whetstone in water for at least 10 minutes before sharpening
Always start with the coarser side of the whetstone and position your knife at the angle that we mentioned above
Scrub the knife up and down the stone using a smooth and precise motion
Be sure that while sharpening you are covering the whole blade
If you are using a double-beveled knife then be sure to do the same process on the other side as well
After you are done with the sides, repeat the same thing for both sides but now on the finer side of the whetstone
After that, remember to wash your knife and whetstone, and then dry your knife with a smooth, dry towel
If you are interested in our other reviews have a look at Miyabi knives, or Usuba vs Nakiri knives comparison.
---
Chef Knife Sharpening
All of the rules that are suitable for the Santoku Knife are also suitable for a Chef's knife, with slight differences. For instance, one of the most important things regarding this is that the cutting angle should be between 15 and 20 degrees.
Also, it is important to know that you need to hone your knife between different sharpening processes. This way, you'll give your knife a great edge, while you maintain its longevity. We suggest using a steel hone as they provide the best results for these knives.
Another really important thing is to follow the steps of honing a chef's knife the proper way. If you are new to this, think of this as a much-needed practice:
Start by holding both of the tools in your hands
Keep the knife in your dominant hand, and the honing tool in the other.
Make a V shape with them.
Place the heel of the blade against the steel around 2-cm from the top of it
Make sure that your angle is between 15 and 20 degrees
Start by drawing the knife down the steel flowing the tip of the blade
Use modest pressure by only moving the knife
Pay attention that only the edge touches the steel
Repeat the process a couple of times, and switch sides
---
Concluding our Santoku VS Chef's Knife Comparison
We can see that both of these knives are used to cut a lot of different foods. They are both used for slicing, chopping, and dicing. For this reason, alone, we can see why they are among the most popular knives in professional kitchens.
The alloy of these knives is also similar; they both use metal and ceramic. A lot of people will prefer steel knives just because they are more durable than ceramic knives. One thing you need to know is that Japanese steel is made in a way that the blade is thinner, yet harder. That makes is better than normal steel, and will allow you to do many precision tasks.
So the main difference in these knives is the shape and the origin. Another key difference is the bevel; we mentioned that the Santoku most of the times comes with a single bevel which in general makes the sharpening process easier and the end result is better while the double bevel of the Chef's knife makes it so you will have to sharpen both sides of the blade and also hone it in between the sharpening which can always be a turn-off for some people.
People who want to decorate their dishes with some beautiful slices of vegetables, fruits, or even fish tend to prefer the Santoku for that same reason.
If you want to learn more about knives do not hesitate to read our other articles best Bokashi knives review or best self-sharpening knife sets.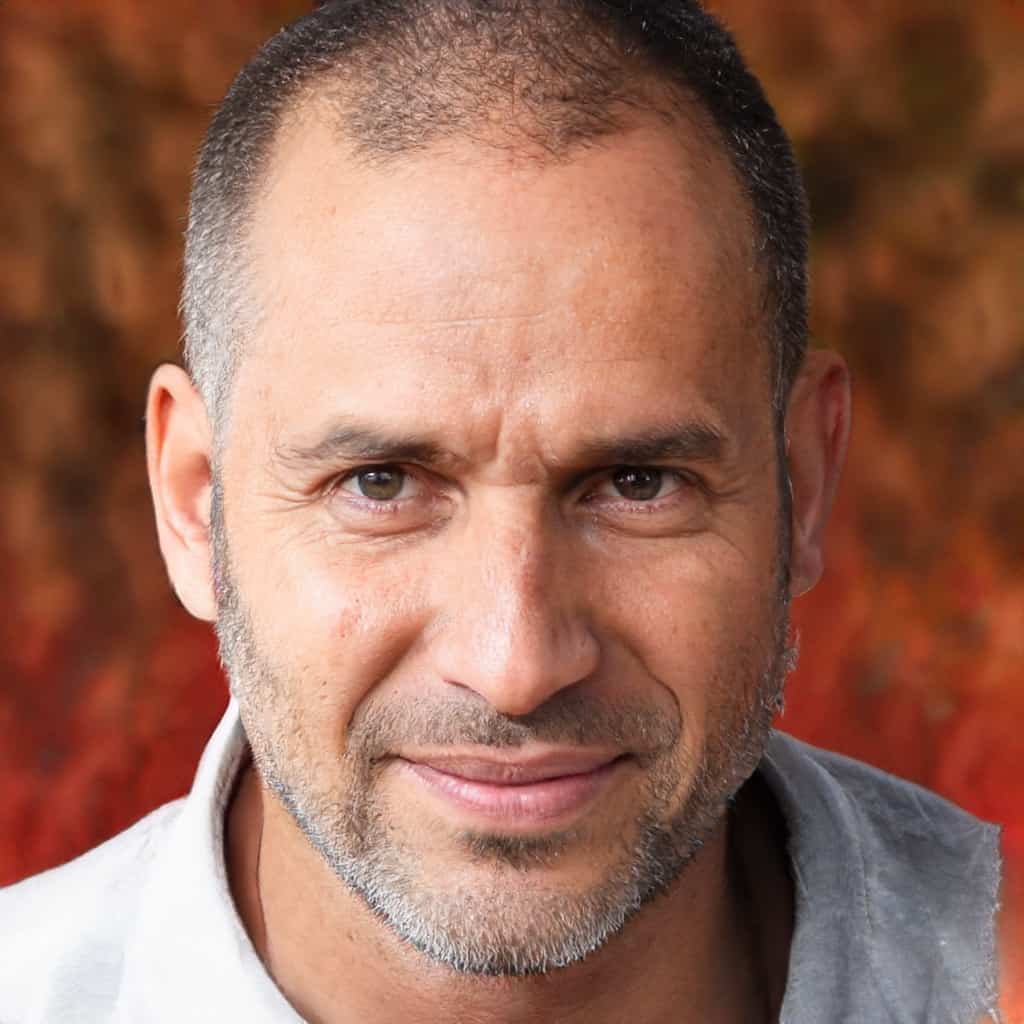 Gary Portman is the founder and main author of Knivesadvice.com. With his extensive knowledge and experience, he is committed to assisting people in choosing the perfect knife for their needs. Through his articles, Gary shares valuable insights on various aspects of knives. With his expertise, readers can make informed decisions and find a knife that is tailored to their preferences and requirements. You can find more info about Gary here.