As you probably know, gyuto knives are equivalent to chef's knives. They are made to handle all kinds of kitchen tasks, regardless of the food in question or the cutting style. And just in case you didn't know, chef's knives are our favorite kitchen tools, period. That said, we went ahead and discovered the best gyuto knives available on the market today. We took a lot of factors into consideration, starting from their quality, to their price. Ultimately, we hope this article will serve you as a guide towards picking up the best gyuto knife!
---
1. JapanBargain 1552 Gyuto Sushi 7-inch Chef Knife
To start off this list, we chose a knife that will fit into anyone's budget. Although it's not as aesthetically pleasing as high-end knives, we chose not to judge it by its appearance but by its capabilities. Considering the price, it's a lot more than what we bargained for!
The JapanBargain 1552 Gyuto 7" chef knife is made of a combination of high-carbon and stainless steel. High-carbon steel is known for its strength, hardness, and wear resistance. Stainless steel, on the other hand, is highly corrosion resistant. In addition, it's extremely easy to clean and boasts great longevity.
That said, the JapanBargain 1552 Gyuto 7" chef knife features the best of both worlds. It's extremely rust and wear resistant, and will last for years to come. Bear in mind though, it's made for slicing and light chopping, so we would advice against chopping through meat and bones.
Despite being made of high-carbon steel, it is not as strong as other high-end blades. Unfortunately, we couldn't find any information about its Rockwell rating, but we're guessing that its lack of strength is because of a lower HRC degree. Compared to other knives, it surely feels lighter. Generally, heavier knives give more balance, but we didn't have much trouble getting used to this knife.
It is a single-bevel knife, meaning it is sharpened only on one side. Since this is a sushi knife, the fine and sharp edge single-beveled knives offer is paramount! It takes less time to sharpen them as they need to be honed on one side only. That said, it's easier to create a much smaller, thus sharper, angle.
There's not much to be said about the wooden handle aside from the fact that it offers maximum comfort and control.
Pros
Budget-friendly
Wear, rust, and corrosion resistant
Sharp
Comfortable, wooden handle
Perfect for sushi
Cons
Some users find it to be unbalanced
If you are interested to read more of our articles you can check our reviews of the best Chinese chef's and Nakiri knives.
2. Yoshihiro VG-10 46 Layers Hammered Damascus Gyuto Japanese Chef's Knife

Next on the list we have the Yoshihiro VG-10 46 layers hammered Damascus gyuto Japanese chef's knife. It comes in three sizes: 7", 8.25" and 9.5". In our opinion, the 7" gyuto knife is the right size to handle all of our kitchen tasks. Regardless, whichever size you choose, you can't go wrong with this knife.
It is made of the famous VG-10 stainless steel. The G in the name of the steel stands for 'gold' that relates to the gold properties this steel boasts. Most of the Japanese knife manufactures use this particular steel due to its high-quality.
First and foremost, the Yoshihiro VG-10 46 layers hammered Damascus gyuto Japanese chef's knife is able to hold an edge and withstand rust. Due to the elements the VG-10 steel is made of, this knife is extremely durable. Possibly the best thing about this knife is the fact that it comes with hardness as if it was made of a carbon steel. In addition, it shows corrosion resistance as if it was made of stainless steel.
Above the incredible VG-10 core, there are 46 layers of steel in the Damascus tradition. Because of these hammered layers, the blade sports very attractive design that is also highly functional. The hammered texture blocks food from sticking to the blade and eliminates friction.
The blade is complimented with an octagonal ambrosia handle that is highly comfortable and easy to control. There's also a bolster for added balance and to prevent your hand to slipping towards the sharp edges.
All things considered, the Yoshihiro VG-10 46 layers hammered Damascus gyuto Japanese chef's knife is an example of what every gyuto knife should look and perform like. To make things even better, shipped with the knife was a protective wooden sheath!
Pros
High-quality VG-10 core
46 layers Damascus
Beautiful design
Comfortable handle
Strong and durable
Versatile
Protective wooden sheath included
Cons
3. TOJIRO 37 Layered DP Damascus Steel 8.25 –inch Chef Knife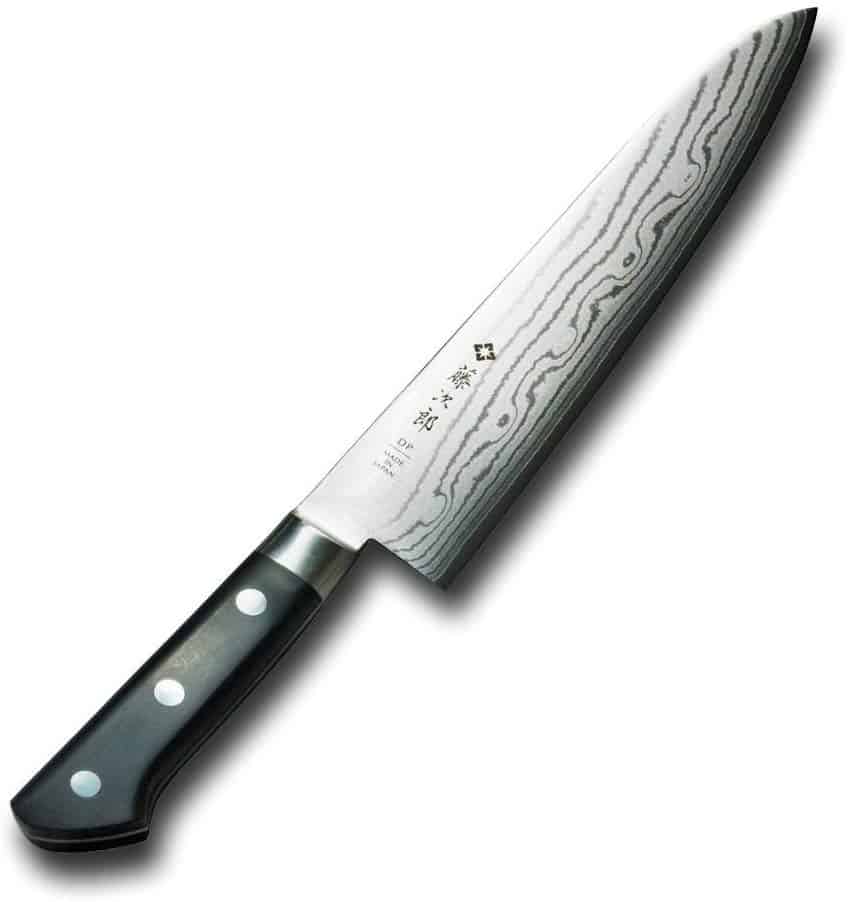 TOJIRO 37 Layered DP Damascus steel chef's knife is another embodiment of the true Japanese cutlery. Aside from catching our eye, it certainly stole our hearts due to the properties it comes with.
The TOJIRO 8.25" gyuto knife features a VG-10 core and altering layers of low and high-carbon stainless steel. As you know by now, the VG-10 core is a popular material for knife production. For this particular knife, the VG-10 core is responsible for the gyuto's strength, durability and corrosion resistance.
The 60 degrees Rockwell hardness is just enough to hold and edge, but due to this extreme hardness, it may be a bit harder to sharpen. It is among the sharpest knives we've tested to date therefore it is extremely precise as well.
On top of the high-quality VG-10 core, there's a remarkable Damascus pattern. This pattern is created by forging 37 layers of both low and high-carbon stainless steel. TOJIRO puts a lot of attention to detail into this process which is why the knife looks so impressive.
When we first got our hands on this TOJIRO knife, we noticed that it's has solid weight. This is partly because of the metal bolster that adds balance. In addition, it is highly hygienic and doesn't let dirt get stuck between the blade and the handle.
Speaking of the handle, it feels like an extension to your arm. It is made of reinforced laminated material called Micarta that we've grown to like after a while. We'd always pick a wooden handle over other materials, but that might be just us. The handle on this model is secured with three stainless steel rivets.
Pros
Great quality
Beautiful design
Strong and durable
Sharp and precise
Great value for the money
Cons
Micarta handle
Some users find it to be heavy
4. Okami Knives Chef's Knife 8-inch Japanese Damascus Stainless Steel
When shopping for a gyuto knife, we expect a knife that is able to perform in every given kitchen challenge. Luckily, we came across the Okami Knives 8-inch chef's knife. We asked for quality, performance, and design, and we have to admit that this knife checks all the right boxes!
This gyuto knife is also made from VG-10 steel. Of course, is offers the same properties as every knife that features the same VG-10 core. It showed great edge retention, strength and corrosion resistance that exceeded our expectations. When compared to Western-style knives, the Okami Knives 8-inch chef's knife feels lighter. However, it is slightly heavier than its Japanese-style knives produced by other brands.
The added weight isn't necessarily a bad thing. Increased weight means more balance, a feature especially important for amateur chefs. It is also extremely sharp and precise meaning it will literally make your life easier.
The 67 layers of Damascus steel reinforce the knife's strength and resistance, so we'd be lying if we said that we weren't impressed by its general properties. These layers give the knife a striking appearance. They also protect the core and allow the blade to cut through food effortlessly without it sticking to the edge. Because the blade is fairly large and it has a slight curve to it, it allows all kinds of cutting techniques.
Icing on the cake – the handle is made of premium pakkawood material. Although it's not natural wood, the pakkawood is made of genuine hardwood impregnated with resin. Hence, the handle is moisture resistant and durable.
Pros
Beautiful design
Affordable
Extremely sharp
Strong and durable
Versatile
Pakkawood handle
Cons
To check more of our related reviews you can have a look at best Sushi knife or Santoku vs Chef's knife.
5. Simple Song Traditional Japanese Professional Gyuto Kitchen 8-inch Chef's Knife
Budget-friendly, highly functional, extraordinary quality, beautiful design – Simple Song's gyuto knife might be just the perfect fit for you! We've seen other gyuto knives within the same price range, but none of them made it to our list. So, what's so special about this knife?
First and foremost, it's made of high-quality materials that undergo further treatments to enhance their properties. For example, it is made of 420HC stainless steel which has been heat treated. Don't let the 420HC steel rating as lower mid-range steel deceive you; remember, it's been heat-treated! Although it's a high-carbon steel, it is still softer than high-end steels. But, as it is heat-treated, its hardness is improved as well.
The heat-treated 420HC steel allows the blade to stay sharp for longer and it requires almost no maintenance to keep its edge. The 15" angle is standard for most Japanese-style knives. However, a possible drawback is the fact that the knife is a single bevel, meaning it's sharpened only on one side.
On a positive note, single-beveled knives tend to be sharper than double-beveled blades. Because this knife is also corrosion resistant, you can easily cut meat, fruits, vegetables, or whatever your heart desires.
The steel blade runs the length of the entire knife creating a full-tang design. Covering the full-tang design is a beautiful rosewood handle. Rosewood is fames for its natural ability to be strong and heavy without losing its gentle, polished look.
Pros
Budget-friendly
Versatileo
Great quality
Sharp
Full-tang
Rosewood handle
Cons
6. Yoshihiro Kurouchi Black-Forged Blue Steel Stainless Clad Gyuto 8.25-inch Chef's Knife
Last, but certainly not least, we present to you this beautiful Yoshihiro 8.25-inch gyuto knife. Kurouchi translates to 'black-forged' which is a unique style of crafting knives that gives the knife its striking design.
At first glance, the knife gives out a rustic vibe. We were seriously considering putting it away with our precious china sets that we use only for special occasions. But, being the knife appreciators that we are, we gave it a 'test-ride' and we can't seem to put it down!
It is made of carbon steel and it is clad in two layers of full Kurouchi stainless steel. Because of this, the carbon steel core is well protected, and the knife is generally as durable as they come.
At 62 Rockwell hardness, it shows great edge retention while proving an extremely sharp edge. Due to the two layers of Kurouchi stainless cladding, the blade is highly moisture resistant as well.
The rosewood handle didn't let us down either. It follows the curve of your hand since it features an octagonal shape. In addition, we found it to be lightweight.
Pros
Versatile
Rustic design
2 layers of Kurouchi stainless steel
Durable
Beautiful rosewood handle
Cons
Which Knife is the Right Choice?
After all is said and done, you can conclude for yourself that gyuto knives are certainly worth the investment. We made sure to include both budget-friendly and high-end models in this gyuto knives review, so we're certain that there's a knife on this list for you. One final recommendation: if you're an amateur in the kitchen, pick a cheaper gyuto knife. Once you master the art of working with such knives, go for a high-end brand!
To find out more about kitchen knives have a look at our article about how to sharpen Shun knives or Usuba knife vs Nakiri Knife comparison.