Finding a great chef's knife for your kitchen is never easy, especially when you consider that you don't have to stick with the traditional Western varieties. Instead, you might benefit more from purchasing a gyuto knife, which serves many of the same purposes but brings Japanese cutlery's benefits to your kitchen. But what is a gyuto knife and where can you find some great ones?
Let us answer these questions and more.
What is a Gyuto Knife?
A gyuto knife is, put simply, the Japanese version of a traditional chef's knife. While Japanese blacksmiths were long known for the quality of their swords and more precise kitchen knives, they eventually had to develop a chef's knife equivalent in order to appropriately serve Western markets as globalization marched on. The gyuto knife is the result of that development.
A regular chef's knife is anywhere between 6 and 12 inches long and usually has a pointed tip, plus some curvature between both the midsection and the tip to let you rock the knife back and forth. These knives usually have wide blades to let you transfer food or shift it around easily, as well. Chef's knives are flat near the heel to let you chop quickly. As you can see, these knives are well-regarded for their versatility. They're a staple blade in every fully stocked kitchen.
How does a gyuto knife differ? They're typically about the same dimensions, so between 6 and 12 inches long. However, the Japanese variation of a typical chef's knife usually has a shorter blade handle.
Like with many other Japanese cutlery categories, gyuto knives are lighter in weight compared to Western knives since blades are inserted into the handle instead of made with a full tang. This also distributes more weight toward the front of the knife on the blade, allowing for easier rocking motions and precise cutting.
Being made in Japan (or at least with Japanese traditions and Japanese-style steel), gyuto knives have extremely hard and sharp edges, usually around 16° on either side or even sharper. Gyuto knives are made with high carbon steel, and many of them also benefit from stainless steel outer layers or wrappings to protect against corrosive damage and imbue the blade with greater durability. However, gyuto knives may require a little more sharpening than your average Western-style chef's knife.
So all in all, a gyuto knife is basically just the Japanese version of a chef's knife with a few minor differences in terms of blade sharpness, composition, and aesthetics.
You can also check our full article on what is a gyuto knife.
What to Look For in a Gyuto Knife
The right gyuto knife for your kitchen or needs will depend on what you desire for a few key factors. Keep these in mind as you shop, and you'll choose an ideal blade the first time.
Blade Length
Firstly, think about how long the gyuto knife in question is. While it's true that the majority of these knives will be around typical chef's knife length (i.e. around 8 inches or so) some may be closer to 10 or 12 inches while others may be shorter. You might have a preference based on your own kitchen experience or depending on what knives you currently have in your collection.
We would recommend sticking with the 8-inch average if you aren't sure. But use it as a way to compare two similar gyuto knives to one another and choose between them. If one is, say, 8.2 inches long and another is 8 inches long, you might prefer one or the other. Because these knives are Japanese made, longer doesn't necessarily mean more unwieldy. In fact, Japanese knives are renowned for their ease-of-use and precision cutting capabilities. So don't stray away from a longer than average knife if you're worried about these aspects.
Hardness (Rockwell Rating)
Next, consider the hardness rating that a given knife brings to the table. These are always represented as a Rockwell rating, with higher numbers correlating to greater hardness. Note that you should also pay attention to what materials the steel is made out of, as a "harder" blade doesn't always mean more durable. You can have an exceptionally hard but exceptionally brittle blade at the same time, for instance.
So make sure that if a gyuto knife has a high Rockwell rating that it also comes with high-quality steel for durability's sake. Other than that, harder blades are usually better.
Handle Material
You should also consider what materials the handle is made out of. For instance, several Japanese made knife brands, like Shun, traditionally make their handles with real wood composites, sometimes using a synthetic resin for water protection or binding. Other gyuto knife makers may create handles with entirely synthetic materials, which might be comfortable but not necessarily as aesthetically pleasing. There's no right or wrong answer here; just go with what you prefer.
Finish
Lastly, think about what finish a given gyuto knife has. The two most common are hammered and Damascus. Hammered finishes create small pockets in the steel that make it harder for food to stick to the knife blade, which can be helpful if you deal with sticky food items frequently.
On the other hand, Damascus finishes are made by folding or layering steel over itself multiple times to create a wavy aesthetic that's both visually pleasing and effective for the same reason as above. Damascus finishes also provide some extra durability if combined with stainless steel.
All in all, finishes provide a little more value to a given gyuto knife, so keep them in mind when making your decision. If you are interested to read more of our articles you can check our how to sharpen a gyuto knife.
---
The 5 Best Gyuto Knives
---
1. Yoshihiro NSW 

Damascus Gyuto Japanese Chefs Knife 8.25″
This gyuto blade is similarly competitive, featuring a Rockwell hardness rating of about 60 for extra durability and fantastic sharpness. At 8.25 inches long, it has enough length to handle most typical kitchen cutting tasks. The blade is also made with a Damascus style layering finish for even greater durability and to help food slip off the knife surface.
The handle of this knife is made with a type of rosewood and a mahogany bolster. This means that the handle looks fantastic and is extremely comfortable to the touch. At the same time, it's not particularly susceptible to water damage compared to many cheaper wooden handles.
The blade is stain-resistant and you'll find that the knife is exceptionally balanced and comfortable to hold. Your purchase also comes with a protective magnolia knife sheath to add to its lifespan and provide an even more traditional Japanese appearance. Really, the only downside is the high asking price, though it's hard to argue against when you consider the knife's high-quality.
Pros:
Very high-quality steel

Made with a durable and aesthetically pleasing handle

Very comfortable to hold

Comes with an excellent sheath for storage

Very hard steel rating
Cons:
A little too pricey for budget shoppers
If you are interested to read more of our articles you can check our reviews of the best Chinese chef's knifes and the best Japanese nakiri knives.
---
2. 

Shun Classic 8" Chef's Knife with VG-MAX Cutting Core
Shun is one of Japan's best knife makers, so their gyuto knife is at the top of our list. The blade here is made with a special steel formula that includes extra tungsten to create an even sharper than average edge. Chromium is added to the mix for better corrosion resistance and durability, too. Even better, the blade is made with stainless, Damascus-style cladding. 34 layers of stainless steel are on each side of the blade for even greater structural integrity.
The handle of the blade is made with ebony PakkaWood, which is a hardwood combined with a resin for water resistance. It's both aesthetically pleasing and exceptionally durable.
This knife features a slightly curved edge for easy rocking and a wonderful aesthetic across its 8-inch length. You can also rest easy knowing that the knife was handmade in Japan, so the blade should be perfect right out of the box. In the event that it's not, you can take advantage of a limited lifetime warranty that protects the blade for manufacturer defects.
All in all, it's quite the amazing chef's knife and can even be purchased in a variety of different lengths according to your needs or preferences.
Pros:
Comes in several different sizes

Steel alloy quality is fantastic

Good aesthetic overall

Handle made with real wood and resin

Very sharp blade

Well balanced
Cons:
Handle particularly ergonomic
---
3. DALSTRONG Chef Knife – 8″ – Shogun Series X
Dalstrong may not be a Japanese-only knife-maker, but their Japanese-style blades are still certainly worth your consideration. They offer gyuto blades of varying sizes between 6 inches and 12 inches. Our choice is the typical 8, but you can choose what works best for you.
The blade is sharpened to between 8 and 12° on each side. This is even sharper than many other Japanese made knives from companies based in Japan! Each blade is made with a 3-step process involving nitrogen cooling for enhanced hardness and corrosion resistance.
Interestingly, this gyuto blade isn't made with the same Japanese-tradition focus, with most of the weight toward the blade. Instead, it combines a Western approach with a full tang to afford better balance and even more durability over the long-term. So it might be a great choice if you want to combine both the Western and Japanese techniques in your gyuto knife.
Pros:
Very sharp blade overall

Has a full tang

Uses a Damascus folded aesthetic and finish

Modern, water-resistant handle

Lots of blade sizes to choose from

Superior durability
Cons:
Blade isn't particularly ergonomic, might let your hand slip

Not as ideal for precision work
For more information regarding gyuto knife blades check our article does gyuto knife length make a difference.
---
4. Famcute 8-Inch Professional Chef's Knife
This professional gyuto knife is made with the same high carbon content Japanese steel as traditional Japanese kitchen knives. It features a Rockwell hardness rating of about 60, with excellent sharpness and fantastic balance. Furthermore, it's finished with a clad dimpling along the blade length to prevent food from sticking to the knife surface. But we also like that the blade tapers to a very fine point: it's a perfect choice for piercing super soft food items with precision.
The handle is decently long and comfortable to hold. It's made from African rosewood to provide natural aesthetic quality and decent durability (though be sure not to let it stay too wet for too long). The handle and blade design make this knife very well balanced and easy to use for long hours, especially since it's only 12.2 ounces in weight.
You'll also like that it's extremely affordable, making it a great choice for a gyuto knife if you're on a tight budget.
Pros:
Very affordable for most

Features a real rosewood handle

Has a dimpled finish

Knife is very hard and sharp

Very well balanced
Cons:
Handle can accrue water damage over time
To check more of our related reviews you can have a look at best Sushi knife or Santoku vs Chef's knife.
---
5. 8″ Chef Knife by Findking-Dynasty Gyuto Knife
This last gyuto knife is also super affordable, so consider it if you want to complete your kitchen collection without breaking the bank. The blade enjoys a Rockwell hardness rating of around 60, featuring a finely tapered edge for exceptional sharpness and great cutting ability. 
It also features an African rosewood handle that complements the aesthetic finish of the blade. The handle is comfortable and lightweight to let you make precise and repeated cuts without much effort. Most of the weight is focused toward the blade for ergonomic comfort and easy slicing.
The only downside is that the sharpness of the edge will demand repeated honing frequently. But given its other factors, this knife is still a top choice through and through.
Pros:
Very affordable

Handle made of real rosewood

Very well balanced and ergonomic to hold

Knife blade has a Damascus finish

Good knife sharpness overall
Cons:
Will need to be sharpened very frequently
---
Wrap Up
Ultimately, any one of the above knives will be a great choice for your kitchen collection. Consider your budget, the ideal knife qualities you prefer, then take the plunge. We don't think you'll be disappointed with a new gyuto knife. Good luck.
To find out more about kitchen knives have a look at our article about how to sharpen Shun knives or Usuba knife vs Nakiri Knife comparison.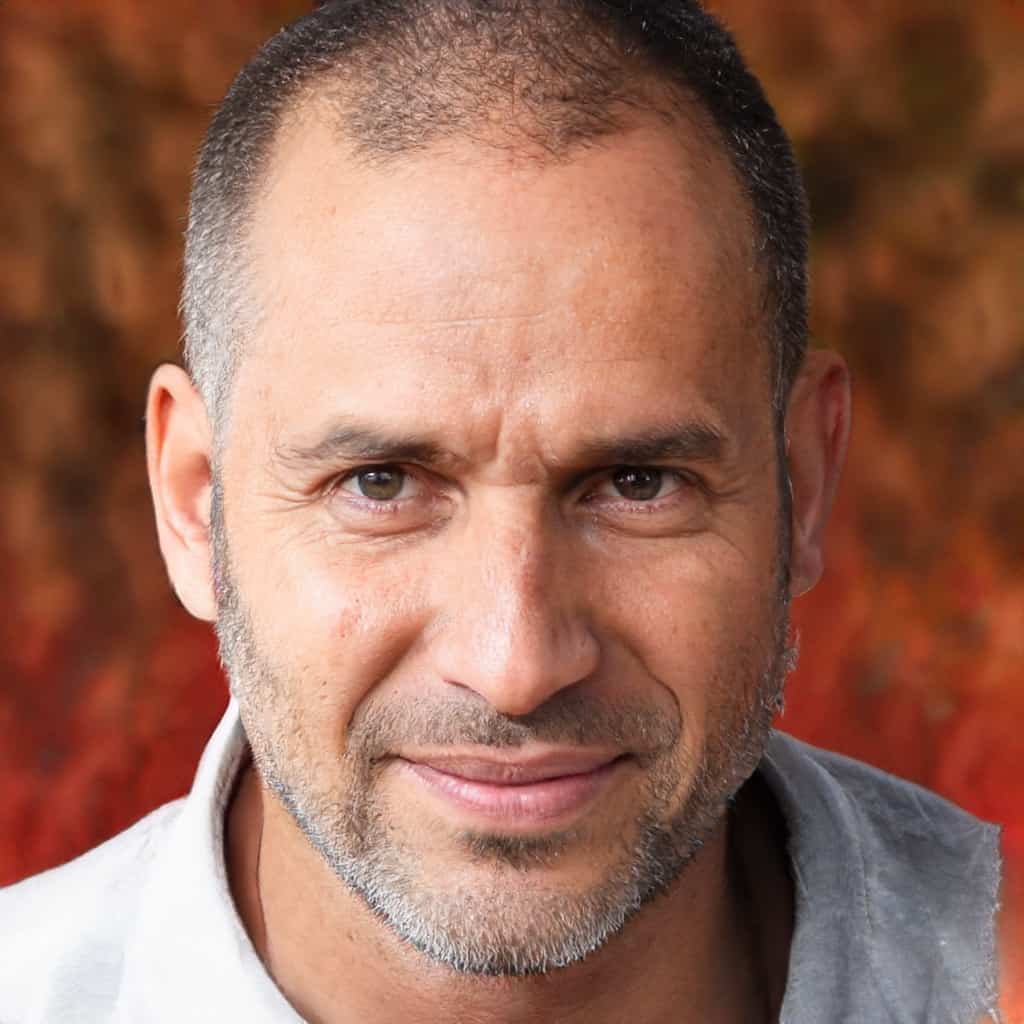 Gary Portman is the founder and main author of knivesadvice.com Using the knowledge he has gained through the years, he aims to help people choose the best knife based on their needs. You can find more info about Gary here.