As an experienced chef, I know that finding the perfect chef's knife for my kitchen is no easy task, especially when I don't have to limit myself to traditional Western options. Instead, I've found that a gyuto knife can serve many of the same purposes while bringing the benefits of Japanese cutlery to my kitchen. But what exactly is a gyuto knife, and where can you find some great ones?
Let me answer these questions and more.
What is a Gyuto Knife?
In simple terms, a gyuto knife is the Japanese version of a traditional chef's knife. While Japanese blacksmiths have long been known for the quality of their swords and more precise kitchen knives, they eventually had to develop a chef's knife equivalent to cater to Western markets as globalization progressed. The gyuto knife is the result of that development.
A regular chef's knife ranges from 6 to 12 inches long, usually with a pointed tip and some curvature between the midsection and the tip, allowing for a rocking motion when cutting. These knives also have wide blades for easy food transfer and a flat heel for quick chopping. As you can see, chef's knives are highly versatile and a staple in every well-equipped kitchen.
So, how does a gyuto knife differ? They typically have the same dimensions, ranging from 6 to 12 inches long, but with a shorter blade handle. As with many other Japanese cutlery categories, gyuto knives are lighter in weight compared to Western knives, as the blades are inserted into the handle rather than having a full tang. This design distributes more weight towards the front of the knife, allowing for easier rocking motions and precise cutting.
Crafted in Japan (or at least following Japanese traditions and using Japanese-style steel), gyuto knives boast extremely hard and sharp edges, usually around 16° on either side or even sharper. They are made with high carbon steel, and many also feature stainless steel outer layers or wrappings to protect against corrosion and provide greater durability. However, gyuto knives may require a bit more sharpening than your average Western-style chef's knife.
In summary, a gyuto knife is essentially the Japanese version of a chef's knife, with a few minor differences in blade sharpness, composition, and aesthetics. As a chef who has personally tested these knives, I can confidently say that a gyuto knife is a fantastic addition to any kitchen.
You can also check my full article on what is a gyuto knife.
What to Look For in a Gyuto Knife
As an experienced chef, I understand that finding the right gyuto knife for your kitchen or needs will depend on a few key factors. Keep these in mind as you shop, and you'll choose an ideal blade the first time.
Blade Length
Firstly, consider the length of the gyuto knife you're looking at. While the majority of these knives are around the typical chef's knife length (i.e. around 8 inches), some may be closer to 10 or 12 inches, while others may be shorter. Your preference might be based on your own kitchen experience or the knives you currently have in your collection.
From my experience, I'd recommend sticking with the 8-inch average if you're unsure. Use it as a way to compare two similar gyuto knives and choose between them. If one is, say, 8.2 inches long and another is 8 inches long, you might prefer one over the other. Since these knives are Japanese-made, a longer blade doesn't necessarily mean it's more unwieldy. In fact, Japanese knives are renowned for their ease-of-use and precision cutting capabilities. So don't shy away from a longer than average knife if you're worried about these aspects.
Hardness (Rockwell Rating)
Next, consider the hardness rating of a given knife. These are always represented as a Rockwell rating, with higher numbers correlating to greater hardness. It's important to also pay attention to the materials the steel is made out of, as a "harder" blade doesn't always mean more durable. For instance, you can have an exceptionally hard but exceptionally brittle blade.
From my experience, make sure that if a gyuto knife has a high Rockwell rating, it also comes with high-quality steel for durability's sake. Generally speaking, harder blades are better.
Handle Material
Also, take into account the materials used for the handle. For instance, several Japanese-made knife brands, like Shun, traditionally make their handles with real wood composites, sometimes using a synthetic resin for water protection or binding. Other gyuto knife makers may create handles with entirely synthetic materials, which might be comfortable but not necessarily as aesthetically pleasing. There's no right or wrong answer here; just go with what you prefer.
Finish
Lastly, consider the finish of a given gyuto knife. The two most common are hammered and Damascus. Hammered finishes create small pockets in the steel that make it harder for food to stick to the knife blade, which can be helpful if you deal with sticky food items frequently.
On the other hand, Damascus finishes are made by folding or layering steel over itself multiple times to create a wavy aesthetic that's both visually pleasing and effective for the same reason as above. Damascus finishes also provide some extra durability if combined with stainless steel.
All in all, finishes add a little more value to a given gyuto knife, so keep them in mind when making your decision. As a chef who has personally tested various knives, I can assure you that considering these factors will lead you to the perfect gyuto knife for your needs.
If you are interested to read more of my articles you can check my how to sharpen a gyuto knife.
---
The 5 Best Gyuto Knives
---
1. Yoshihiro NSW 

Damascus Gyuto Japanese Chefs Knife 8.25″
As an avid chef and a knife enthusiast, I've had the pleasure of testing various kinds of knives over the years, but few have left a lasting impression like the Yoshihiro NSW Damascus Gyuto Japanese Chef's Knife. This 8.25″ Gyuto blade is a remarkable combination of strength, precision, and beauty.
Unrivalled Blade Quality
What instantly captivates me about this knife is its Rockwell hardness rating hovering around 60, making it impressively durable and supremely sharp. Whether slicing through a ripe tomato or dicing a robust butternut squash, this knife accomplishes the task with impressive ease. I recall one instance when I effortlessly sliced through a thick slab of beef with a single stroke, a testament to the knife's unparalleled sharpness.
Moreover, the blade is made in the traditional Damascus style, not only enhancing its durability but also helping to prevent food from sticking to the knife surface. The stain-resistant nature of the blade further adds to its longevity and maintains its pristine appearance over time.
Elegant and Functional Handle
The handle of this knife is another aspect that deserves commendation. Crafted from a special type of rosewood with a mahogany bolster, it's not just aesthetically pleasing but also highly functional. The handle fits comfortably in my hand and ensures an excellent grip even after long hours of use.
What's more, it's not as susceptible to water damage as many other wooden handles, which is a remarkable feature considering the knife's frequent contact with water during use and cleaning.
Superior Balance and Aesthetic Appeal
One of the most essential features of a great chef's knife is its balance, and Yoshihiro has nailed it in this aspect. The knife feels exceptionally well-balanced and comfortable to hold, ensuring a seamless and fatigue-free cutting experience.
Additionally, your purchase comes with a protective magnolia knife sheath, a thoughtful inclusion that not only prolongs the knife's lifespan but also gives it a traditional Japanese appearance that's sure to elevate any kitchen aesthetic.
Pros:
Made from very high-quality steel that ensures longevity and excellent sharpness
The handle is durable, aesthetically pleasing, and resistant to water damage
The knife feels incredibly comfortable and well-balanced in hand
Comes with a protective sheath that adds to its lifespan and enhances the aesthetic value
Cons:
The higher price range may not suit budget-conscious shoppers
Final Thoughts
Overall, while the Yoshihiro NSW Damascus Gyuto Japanese Chef's Knife comes at a higher price point, the quality, durability, and performance it offers are well worth the investment. It's a masterpiece of a knife, a combination of traditional craftsmanship and modern engineering. Ideal for both professional chefs and passionate home cooks, it's a purchase that is sure to enhance any culinary experience.
If you are interested to read more of our articles you can check our reviews of the best Chinese chef's knifes and the best Japanese nakiri knives.
---
2. 

Shun Classic 8" Chef's Knife with VG-MAX Cutting Core
I can confidently assert that the Shun Gyuto Knife stands as a testament to Japan's excellent knife craftsmanship. As I personally tested this knife, its performance has exceeded my expectations, making it a top contender in my culinary toolkit.
Innovative Blade Construction
The Shun Gyuto knife's blade is a remarkable blend of science and craftsmanship. Its unique steel composition, enriched with extra tungsten, produces a cutting edge that's sharper than the average knife. I remember the moment I used this knife to expertly carve a roast chicken, appreciating the precision of its cut and the effortless maneuverability.
Moreover, the inclusion of chromium in the blade's formulation enhances its corrosion resistance and durability, extending the knife's life and maintaining its performance over time. What I find more impressive is its Damascus-style cladding. The blade boasts 34 layers of stainless steel on each side, providing exceptional structural integrity and a striking visual appeal.
Superior Handle Design
The handle of this knife is another noteworthy feature. Constructed from ebony PakkaWood—a hardwood infused with resin—this handle promises water resistance, durability, and a pleasing aesthetic. Its slightly curved design allows for a natural and comfortable grip, making it a joy to work with even during prolonged cooking sessions.
Handcrafted Excellence and Versatility
Handmade in Japan, the Shun Gyuto Knife reflects the country's renowned precision and attention to detail. From the moment you unbox it, you can immediately appreciate the perfection of its 8-inch blade, its remarkable balance, and its stunning aesthetic. And to ensure absolute peace of mind, Shun offers a limited lifetime warranty to protect against manufacturer defects.
Adding to its appeal is the knife's versatility—it's available in various lengths, allowing you to select the perfect one to match your culinary needs and preferences.
Pros:
Available in several different sizes to cater to individual needs
Superior steel alloy quality that ensures exceptional sharpness and durability
Sophisticated aesthetics with real wood and resin handle
Handmade in Japan, promising excellent craftsmanship
Well-balanced design that enhances maneuverability
Offers a limited lifetime warranty
Cons:
The handle's ergonomics may not suit all users
Final Thoughts
The Shun Gyuto Knife is a remarkable blend of Japanese craftsmanship and modern technology, delivering superior performance and stunning aesthetics. While the handle's ergonomics might not appeal to everyone, its impressive features, including the uniquely formulated blade and the water-resistant PakkaWood handle, make it a worthy investment for any culinary enthusiast.
---
3. DALSTRONG Chef Knife – 8″ – Shogun Series X
As a professional chef, I always strive to use top-of-the-line tools, and the DALSTRONG Chef Knife from the Shogun Series X has proven to be a valuable addition to my kitchen arsenal. Despite not being exclusively a Japanese knife-maker, DALSTRONG's Japanese-style knives truly stand out, blending Eastern craftsmanship and Western innovation.
Sharpness Beyond Compare
The DALSTRONG Shogun Series X Chef Knife is impressive right out of the box. One of its standout features is its razor-sharp blade, sharpened to an angle of between 8 and 12° on each side. In one instance, I effortlessly filleted a fish, achieving clean, precise cuts with minimal effort. This level of sharpness surpasses even that of many Japanese made knives from companies headquartered in Japan!
Moreover, the blade undergoes a unique 3-step production process, which includes nitrogen cooling. This enhances its hardness and gives it superior corrosion resistance, ensuring its longevity and sustained performance.
A Fusion of East and West
What makes this gyuto knife unique is its departure from the traditional Japanese design, which often places the weight towards the blade. Instead, DALSTRONG has adopted a Western approach, incorporating a full tang design. This affords the knife better balance and durability, offering an appealing combination of Western sturdiness and Japanese precision.
Modern Design and Versatility
The DALSTRONG Shogun Series X Chef Knife is not only functional but also stunning to look at. It features a Damascus folded aesthetic and finish, lending it a modern, sleek appearance. The water-resistant handle provides a comfortable grip and enhanced durability.
Moreover, the knife offers plenty of versatility, being available in various blade sizes, ranging from 6 to 12 inches. This allows you to choose a blade size that best suits your culinary needs.
Pros:
Extremely sharp blade for superior cutting
Full tang design providing enhanced balance and durability
Modern Damascus folded aesthetic and finish
Water-resistant handle that is both comfortable and durable
A wide range of blade sizes to cater to different cooking styles
Long-lasting due to its superior construction
Cons:
The blade may not be as ergonomic as other models, potentially causing hand slip
May not be ideal for tasks requiring high precision
Final Thoughts
Overall, the DALSTRONG Chef Knife – 8″ – Shogun Series X is a robust and versatile tool that combines the best of Eastern and Western knife traditions. While it may fall short in terms of ergonomics and precision tasks, its superior sharpness, modern aesthetic, and long-term durability make it a worthy contender for any chef, be it a professional or a home cook.
For more information regarding gyuto knife blades check my article does gyuto knife length make a difference.
---
4. Famcute 8-Inch Professional Chef's Knife
In my quest to discover premium chef knives, I was fortunate to come across this professional gyuto knife, crafted from the same high carbon Japanese steel used in traditional Japanese kitchen knives. After thorough testing, I was pleasantly surprised by its excellent performance and affordability.
Superior Blade Quality and Design
The knife's blade was my first point of fascination. With a Rockwell hardness rating of around 60, the blade is not just sturdy but also incredibly sharp, contributing to a well-balanced overall design. Its cutting ability is exceptional, as I found while effortlessly slicing through a juicy melon – the knife's precision was impeccable.
Moreover, the blade showcases a clad dimpling finish, preventing food from adhering to its surface. Another intriguing design aspect is the blade's fine tapered point, perfect for tasks requiring precision, such as piercing soft food items.
Comfortable and Aesthetic Handle
The handle of this gyuto knife is equally impressive. Fashioned from African rosewood, it adds a touch of natural aesthetics to the knife, along with offering satisfactory durability. The handle's length and design make it comfortable to hold, even during prolonged cooking sessions.
However, it's worth noting that the handle can be susceptible to water damage if it remains wet for extended periods. Therefore, proper care and maintenance are essential to prolong its life.
Remarkable Balance and Affordability
The synergy between the handle and the blade makes this knife exceptionally well-balanced and easy to use, even for long durations. Weighing just 12.2 ounces, it ensures a fatigue-free cutting experience.
Perhaps one of the most compelling aspects of this knife is its affordability. Despite its high-quality features, it comes at an extremely budget-friendly price, making it an excellent choice for those looking for a high-quality gyuto knife on a tight budget.
Pros:
Extremely affordable, catering to budget-conscious shoppers
Features a genuine rosewood handle, adding to its aesthetic appeal
Clad dimpled finish prevents food from sticking
Constructed from hard, sharp, high-quality Japanese steel
Remarkably well-balanced design
Cons:
The handle can be susceptible to water damage if not properly cared for
Final Thoughts
Overall, this professional gyuto knife, with its high carbon Japanese steel, excellent balance, and budget-friendly price, proves that quality does not always have to come at a high cost. While the handle does require some attention to prevent water damage, its superior performance, combined with the knife's outstanding features, make it a valuable asset for any kitchen.
To check more of my related reviews you can have a look at best Sushi knife or Santoku vs Chef's knife.
---
5. 8″ Chef Knife by Findking-Dynasty Gyuto Knife
This knife proves that a limited budget doesn't mean having to compromise on quality, making it a valuable addition to any kitchen collection.
High-quality Blade and Exceptional Sharpness
At the heart of this knife is a blade that boasts a Rockwell hardness rating of approximately 60, ensuring its robustness and long-term durability. The blade features a finely tapered edge, which delivers remarkable sharpness and impressive cutting ability. During my tests, this knife smoothly and precisely sliced through a variety of foods, from firm vegetables to tender meats, demonstrating its exceptional performance.
Ergonomic Design and Aesthetic Appeal
Equally noteworthy is the knife's African rosewood handle. Not only does it contribute to the overall aesthetic appeal of the knife, but it also provides a comfortable and lightweight grip. This feature enabled me to make precise and repeated cuts with minimal effort.
Moreover, the knife is designed with most of the weight centered towards the blade, enhancing its ergonomic comfort and facilitating effortless slicing. The knife's Damascus finish on the blade further elevates its aesthetic appeal, making it not just a tool but also a work of art in the kitchen.
Pros:
Exceptionally affordable, making it accessible to all
Features a handle crafted from genuine African rosewood
Well-balanced and ergonomically designed for easy handling
Damascus finished blade for an enhanced aesthetic appeal
Offers commendable sharpness
Cons:
Requires frequent sharpening to maintain its edge
Final Thoughts
In conclusion, this affordable gyuto knife is a worthy investment for both professional chefs and home cooks alike. While it does require frequent sharpening to maintain its edge, its exceptional balance, ergonomic design, and aesthetic appeal make it a valuable addition to any kitchen. Its affordability and high-quality features undoubtedly make this knife a top choice.
---
Wrap Up
Ultimately, any one of the above knives will be a great choice for your kitchen collection. Consider your budget, the ideal knife qualities you prefer, then take the plunge. I don't think you'll be disappointed with a new gyuto knife. Good luck.
To find out more about kitchen knives have a look at my article about how to sharpen Shun knives or Usuba knife vs Nakiri Knife comparison.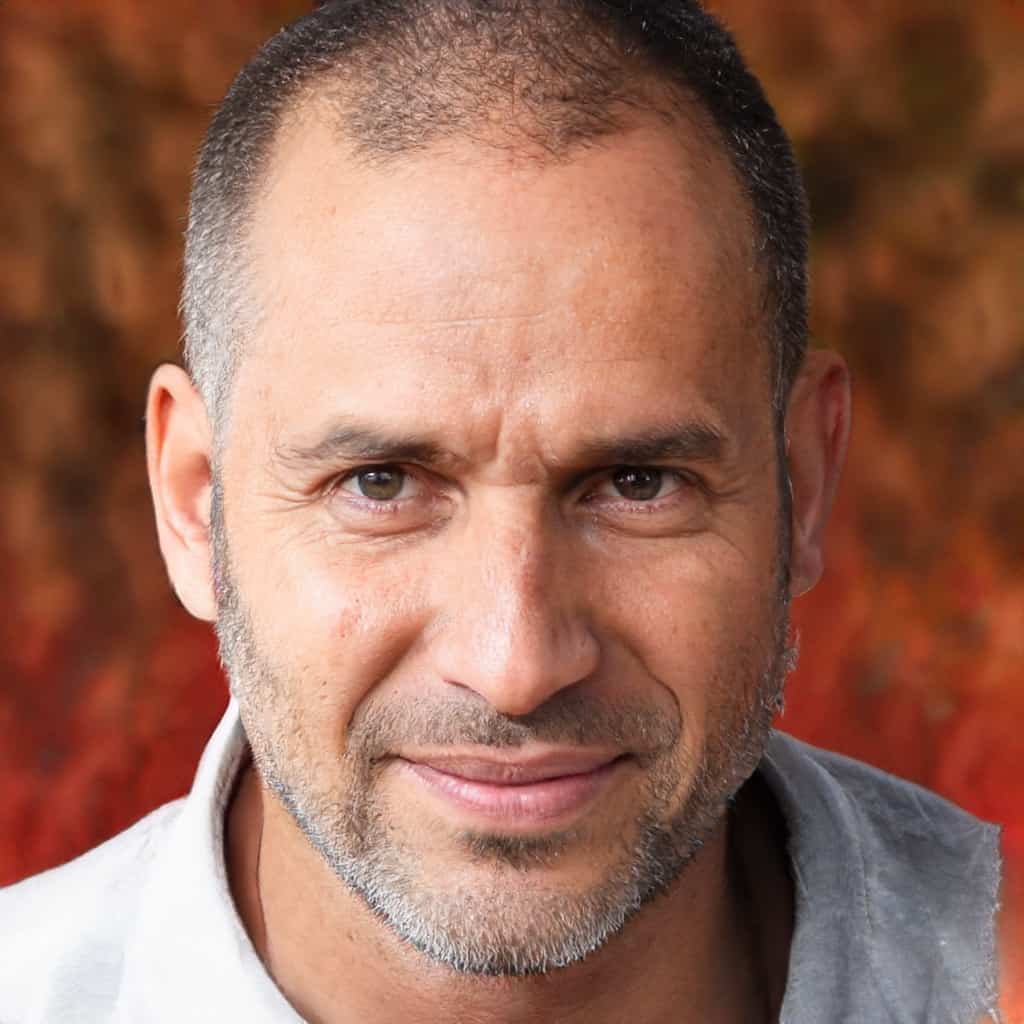 Gary Portman is the founder and main author of Knivesadvice.com. With his extensive knowledge and experience, he is committed to assisting people in choosing the perfect knife for their needs. Through his articles, Gary shares valuable insights on various aspects of knives. With his expertise, readers can make informed decisions and find a knife that is tailored to their preferences and requirements. You can find more info about Gary here.