If you cook a lot of vegetables, a nakiri knife is an essential part of your kitchen. But how do you find the best Japanese nakiri knife? There's a wide variation, and not all of them are suitable for all tasks.
In these nakiri knife reviews, I'll break down eight of the best quality knives on the market. By the time we're done, you'll know what works, what doesn't work, and which ones are ideal for your needs. Let's begin!
What Is a Nakiri Knife?
Before I begin, let's talk about what separates a nakiri knife from other types of knives. A nakiri knife is a Japanese knife that is specifically designed for cutting and slicing vegetables. They're designed with two distinctive features: a flat tip for safety, and a long, straight edge for slicing and dicing. Functionally, it's this length that separates nakiri knives from most other prep knives. With more blade to work with, you can make longer, smoother cuts.
In many respects, a nakiri knife looks a lot like a cleaver. However, a good nakiri knife needs to have a sharper blade. Instead of being designed primarily for chopping, nakiri knives are made for all kinds of vegetable processing. If the knife is well designed, you can mince garlic, slice tomatoes, and chop up carrots with equal ease.
Of course, there are times you might want to do a little chopping. You might need to cut up a butternut squash, or break open a melon. Some heavier nakiri knives are suitable for this task.
---
The 8 Best Nakiri Knives
---
1. Wusthof Classic 5″ Nakiri Knife
When it comes to navigating the culinary world, a good knife is as critical as the quality of ingredients. After personally trying out the Wusthof Classic 5" Nakiri Knife, I can testify to its unique features and efficiency, but it does come with a few minor drawbacks.
Handling and Performance
The first thing to notice is the compact design, which contributes to an easy-to-manage experience. The high-carbon blade, with a length of only 5.1 inches, is an excellent size for those of us who appreciate a knife that can be maneuvered effortlessly. As someone with smaller hands, I found the size particularly suitable.
One day, while preparing a stir-fry dinner, I could feel the knife's superior sharpness as it effortlessly sliced through a pile of bell peppers, carrots, and onions. The thin leading edge truly cuts through even the most resistant vegetables as smoothly as through butter. However, I noticed that when it came to larger vegetables, like butternut squash, the knife met its match. The blade, though sharp, just couldn't handle the larger task and would often end up getting stuck despite the dimpling on the sides, which are designed to reduce friction and prevent food from sticking.
Design and Durability
The handle is another highlight. Molded from black polymer, it has an ergonomic curve that nestles comfortably in the hand for extended use. Its triple-riveted full tang design also assuages any concerns about breakage.
However, the aesthetics of the Wusthof Nakiri knife might not appeal to everyone. The plain black handle lacks the elegance and natural feel of wooden ones, and it doesn't exude that "premium" appearance one might expect from a high-quality knife. The bare and unadorned blade also contributes to a rather simple appearance. But it's essential to remember that aesthetics are a matter of personal preference and do not affect the knife's overall practical performance.
Pros:
Compact and easy-to-handle design
Exceptionally sharp, high-carbon blade
Comfortable, ergonomic handle
Durable with a triple-riveted full tang
Cons:
Plain aesthetic might not appeal to everyone
Not suitable for larger vegetables
Could be viewed as lacking a 'premium' feel
The Final Verdict
To wrap up, the Wusthof Classic 5" Nakiri Knife might not win a beauty contest, but it surely shines where it matters most – functionality. It's compact, ultra-sharp, and easy to handle, making it an excellent choice for those who value practicality over aesthetics. If you are in search of a short, razor-sharp Nakiri knife for your culinary adventures, the Wusthof Classic 5" Nakiri Knife could indeed be the right tool for your needs. However, if your cooking involves dealing with larger vegetables, you might want to consider other options.
---
2. Shun Cutlery Classic 6.5" Nakiri Knife
I was thrilled to get my hands on the Shun Cutlery Classic 6.5" Nakiri Knife. This knife, beautifully crafted and balanced, showcases the excellence of Japanese workmanship.
Blade Performance and Design
The first thing to catch your attention is the elegant, minimalist design. The Damascus steel blade, measuring 6.5 inches, deviates from the standard swirling patterns typically found in Damascus blades. Instead, it adopts a more restrained, open pattern that bears a striking resemblance to wood grain. This unique design only adds to the aesthetic allure of the knife.
During one of my Sunday cooking sprees, I found that the sharpness of this knife is unparalleled. From slicing tomatoes to dicing potatoes, its precision was remarkable. The medium-heavy weight, at 7.5 ounces, also proved ideal for tough vegetables like carrots, making the cutting process smoother and more efficient. Moreover, when it came to maintaining the sharp edge, I discovered that it was relatively easy to sharpen.
Handle and Ergonomics
The handle, constructed from pakkawood, has an appealing chunky design that fits comfortably in the hand. Pakkawood is a popular choice for knife handles due to its durability and moisture resistance. However, the trade-off for such a solid grip is the slightly increased weight, which might be a concern for some users.
Another aspect that stood out was the distinct shaping of the handle, evidently designed for right-handed users. For me, this was an added advantage, as it offered an ergonomic and comfortable grip. However, for the left-handed population, this design feature might pose a challenge, making the knife feel somewhat awkward in the hand.
Pros:
Elegant pakkawood handle
Ergonomic design for right-handed users
Razor-sharp, attractive Damascus steel blade
Easy to sharpen
Cons:
Slightly heavy due to the robust handle
Not suitable for left-handed users
The Final Verdict
The Shun Cutlery Classic 6.5" Nakiri Knife is indeed a sight to behold. The artistic Damascus blade combined with a sturdy, ergonomically-designed handle ensures a high-performance cutting experience. It's a fantastic choice for right-handed users, offering a reliable grip and unmatched cutting precision.
However, left-handed individuals might find it less comfortable due to the handle's design. Additionally, its weight, slightly on the heavier side, could be a factor to consider. If these considerations align with your needs and preferences, this Nakiri knife could be the perfect addition to your kitchen toolkit.
If you are interested to hear more about Shun, you can check my Shun vs Miyabi comparison or how to sharpen Shun knives guide.
---
3. Shun Premier Nakiri Knife, 5.5 Inch Tsuchime Finished Blade, Wood Handle
Experiencing the Shun Premier Nakiri Knife first-hand was like stepping into the pinnacle of culinary craftsmanship. This piece, while costly, is undeniably stunning and holds its own as one of the most elegant Nakiri knives in today's market.
Blade's Design and Performance
The eye-catching, hammered Damascus steel blade sets it apart from the get-go. It's designed with subtle whirls and texture changes, but what truly grabs attention is the top half of the blade with its shiny, lumpy finish that mirrors the soothing view of an ocean seen from above.
In my kitchen, the thinness of the blade came to shine when preparing a family-sized salad. At a length of 5.5 inches, it may be considered short by some, but the manageability and precision it offered while cutting through crisp lettuce, radishes, and cucumbers were extraordinary. This compact size contributes to its ease of management, especially for those who prefer a shorter blade.
Handle Design and Balance
The handle, crafted from pakkawood, exhibits a smooth and comfortable finish with an appealing dark stain. One thing I appreciated was the lightweight handle, which shifts the balance toward the front of the knife—an essential feature for effortless cutting and chopping.
However, even the most beautiful roses have thorns, and the Shun Premier Nakiri Knife isn't without its drawbacks. To my surprise, despite its razor-sharp edge upon arrival, the relatively soft steel dulled faster than I expected. This necessitated more frequent sharpening compared to other knives I've used. Considering the high-end price point, this was a slight letdown.
Pros:
Short and manageable blade
Excellent front-heavy balance for easy cutting
Razor-sharp cutting edge
Exceptionally aesthetic design
Cons:
Steel blade tends to dull quickly, necessitating frequent sharpening
The Final Verdict
The Shun Premier Nakiri Knife is, without a doubt, a masterpiece in the world of premium cutlery. With its razor-sharp edge, excellent balance, and extraordinary aesthetic, it elevates the culinary experience. Although the blade dulling quickly is a notable concern, it doesn't overshadow the knife's overall excellence. If you're willing to invest time in regular sharpening and appreciate artisanal beauty in your kitchen tools, this knife can be a valuable addition to your kitchen ensemble.
Curious what is the difference between nakiri and a santoku? Check here.
---
4. Yoshihiro VG-10 6.3″ 46 Layers Hammered Damascus Nakiri Vegetable Knife
Being an avid home cook and a lover of precision tools, I had the opportunity to explore the Yoshihiro VG-10 46 Layer Nakiri Knife, a unique blend of aesthetics and functionality.
Blade Design and Performance
Taking its name from the 46 layers of Damascus steel folded into the blade, this knife is not just an ordinary kitchen tool, it's a work of art. The rippling effect resulting from these multiple layers pairs beautifully with the hammered upper half, creating an overall visual delight. The VG-10 stainless steel, renowned for its high carbon and chromium content, adds to the blade's hardness, ensuring a thin yet robust edge.
During a dinner preparation, the ultra-sharp blade of the Yoshihiro Nakiri made quick work of julienning bell peppers and slicing through tomatoes without any crushing or juice loss. However, while this thin, sharp edge excels with softer materials, it is also more susceptible to dulling when used on harder objects. This is, after all, a vegetable knife, not meant for heavy-duty bone-cutting.
Handle Comfort and Durability
The blade, at 6.3 inches, is of medium length, complemented by a nearly equal length handle. I found the octagonal profile of the handle surprisingly comfortable, offering a solid grip. The handle is crafted from redwood, lending it a deep, wine-red color that's pleasing to the eye.
Despite its aesthetic appeal, I noticed that the unfinished wood of the handle tends to fade to brown over time, particularly after repeated washing. It's worth considering this in your decision if maintaining the vibrant hue is important to you.
Pros:
Strikingly beautiful blade and handle
Comes sharp and retains its edge effectively
Easy to handle and maneuver
Includes a wooden sheath
Cons:
Unfinished handle may weather over time
High-end pricing may be a consideration for some
The Final Verdict
The Yoshihiro VG-10 46 Layer Nakiri Knife truly stands out as a high-end, premium kitchen tool that combines beauty and functionality. Its precision and ease of use with fruits and vegetables make it a worthwhile consideration if you're in the market for a top-tier knife and are willing to invest in it. Its only downside may be the handle's potential to weather over time, but overall, if the budget permits, this knife promises to enhance any culinary experience.
---
5. Yoshihiro VG-10 16 Layer  Nakiri Vegetable Knife 6.5"
Recently, I had the pleasure of using the Yoshihiro VG-10 16 Layer Nakiri Knife. From a brand renowned for its excellent craftsmanship, this particular knife stood out for its blend of durability and aesthetics.
Blade Features and Performance
The Yoshihiro VG-10 16 Layer, as the name suggests, is crafted from hard and reliable VG-10 stainless steel, similar to the 46-layer variant. The blade, slightly longer at 6.5 inches, is folded fewer times and has a significantly thicker construction.
While preparing a rustic vegetable stew, I found that this thickness lent a different character to the blade. It may not possess the razor-like sharpness of thinner blades, but its durability and resilience became apparent as I chopped my way through a medley of root vegetables, including carrots and turnips. It's worth noting that this knife's thickness allows it to retain its edge even after prolonged periods of chopping, proving its mettle in robust tasks.
The balance of the blade stood out remarkably, making the knife a comfortable companion even for extended culinary sessions.
Handle Comfort and Design Flaw
The knife's handle, made of mahogany, sports a deep red-brown hue and a rich grain, which beautifully complements the Damascus steel blade. It is ergonomically shaped, molding comfortably to my hand.
However, I did find a minor design hiccup. Where the bolster meets the blade, a small part of the blade protrudes forward. While it didn't pose any safety risks, when gripping forward on the handle, I felt a dull metal edge against my index finger. This was slightly uncomfortable during extended use. Furthermore, the blade's etched finish made it stick more than other Nakiri knives I've used, which could be a point of contention for some users.
Pros:
Gorgeous Damascus steel blade and mahogany handle
Excellent balance for comfortable usage
Robust construction for heavy-duty chopping
Ergonomic grip
Cons:
Protruding edge on the bolster can be uncomfortable
Etched blade finish leads to more sticking
The Final Verdict
From an aesthetic perspective, the Yoshihiro VG-10 16 Layer Nakiri Knife is undoubtedly a stunner. It combines this beauty with a thick, sturdy blade that's ideal for heavy-duty chopping. While there are a few minor design shortcomings, these don't take away from the overall appeal and functionality of this knife. If you're looking for a Nakiri knife that marries aesthetics with resilience, this knife deserves serious consideration.
If you are interested in my other reviews have a look at best Dalstrong knives and best Wusthof knives.
---
6. 

TUO Nakiri Knife 6.5 inch – 

Vegetable Cleaver
Every once in a while, you stumble upon a hidden gem in the culinary world. The TUO Nakiri Knife, to my pleasant surprise, is one of them. It's an attractively priced option that doesn't compromise on functionality, making it a compelling choice for those on a tighter budget.
Exploring the Blade
The TUO Nakiri Knife's 6.5-inch blade is forged from DIN1.4116 stainless steel. The steel composition, with its moderate carbon content enhanced with higher chromium levels, results in a robust hardness that can withstand regular kitchen tasks.
In one of my kitchen adventures involving a variety of fruits and vegetables for a fresh summer salad, I found this knife exceptionally well-balanced and easy to maneuver. Its moderate size made chopping and dicing a breeze, performing well on everything from soft tomatoes to crunchy bell peppers.
Handle Features and Usability
The handle of the TUO Nakiri Knife is another point of attraction. Made from pakkawood, it offers a comfortable grip and a surprisingly attractive appearance considering its affordability.
However, my culinary journey with this knife wasn't without a few bumps. A notable issue is the blade's thickness – more substantial than most nakiri knives. During my testing, I found that this led to the knife getting stuck occasionally, especially when dealing with dense vegetables like sweet potatoes. Although the smooth finish did help in dislodging the blade easily, it was a hiccup that interrupted the otherwise smooth experience.
Another point of contention is the handle finish. The wood grain on the pakkawood handle is noticeable due to the incomplete sanding, which not only detracts from the visual appeal but also makes the handle slightly harder to clean.
Pros:
Balanced weight and easy to maneuver
Comfortable and secure grip
Pleasing aesthetics with a pakkawood handle
Exceptional value for money
Cons:
Thicker blade tends to get stuck
Rough handle finish can hinder cleaning
The Final Verdict
The TUO Nakiri Knife impresses as a budget-friendly offering that doesn't skimp on performance. It's true – it's not perfect, and the thicker blade and slightly rough handle finish may deter some. Yet, considering its competitive price point and overall functionality, it's a commendable option that delivers considerable bang for your buck. For anyone seeking a cost-effective nakiri knife that can handle regular kitchen duties, the TUO Nakiri Knife is a worthy consideration.
---
7.

Chef Gyutou 67 Layers VG-10 7 Inch Nakiri knife
From my extensive exploration of culinary tools, I've come across a variety of knives, each with its own unique attributes. The Bigsun Chef Gyutou Knife is one that particularly stands out, captivating with its striking aesthetics and remarkable blade performance.
A Sight to Behold: The Design
The first thing that catches the eye is the splendidly forged Damascus steel blade, intricately patterned with distinctive ripples and swirls. Despite the somewhat distracting gold Bigsun imprint, the overall design remains visually impressive.
The handle, crafted from micarta – a durable composite material favored in knife craftsmanship – replicates the charm of wood remarkably well, complete with a wood grain finish. This adds not just to the aesthetic appeal but also to the functionality, providing a firm grip. What sets this handle apart is its vibrant resin bands, lending a unique dash of color and flair to the design.
However, beauty often comes with a compromise. My prolonged usage of this knife revealed that the textured handle, despite providing a good grip, could be a tad uncomfortable during extended cooking sessions. The resin bands, while visually pleasing, resulted in an uneven surface that could potentially strain your hand over time.
Performance in the Kitchen
Venturing beyond the aesthetics, the Bigsun Chef Gyutou Knife boasts a blade forged from high-carbon VG-10 steel. Renowned for its sharpness and superior hardness courtesy of its chromium content, the blade impressed me with its sharpness and ease of maintenance.
The dimples on the sides of the blade proved to be beneficial during my test run with a variety of fruits and vegetables, preventing sticking and making the chopping process smoother. Boasting a generous length of seven inches, the blade offered an advantage while dealing with larger food items.
However, the extended length and resultant increased weight did present some difficulties in handling, particularly when precision was needed. For those accustomed to shorter blades, this could require an adjustment period.
Pros:
Stunning Damascus steel blade
Unique, aesthetically pleasing handle design
Efficient in cutting due to blade design
Extra-long blade for handling larger foods
Cons:
Heavier than average, potentially difficult to manage
Handle may cause discomfort during extended use
The Final Verdict
In the grand scheme of things, the Bigsun Chef Gyutou Knife is a commendable contender if you're seeking a visually appealing nakiri knife with a longer-than-average blade. However, it's worth noting that while it's a feast for the eyes and performs well for quick tasks, it may not be the most comfortable option for long, intensive cooking sessions. As such, your personal comfort and usage preferences should guide your decision when considering this knife.
---
8. 

KYOKU Samurai Series – Nakiri Japanese Vegetable Knife 7″
Having spent ample time in the kitchen, testing and reviewing a multitude of culinary tools, I've experienced the KYOKU Samurai Series knife firsthand. This 7-inch high carbon steel blade carries an essence of ruggedness and raw power that makes it an ideal candidate for the robust tasks of chopping and heavy-duty work.
The Blade: A Balance of Power and Precision
The considerable length and thickness of this blade make it an excellent companion for dealing with tougher kitchen tasks. I remember a day when I had to chop up a butternut squash, a task that can challenge even some of the best kitchen knives. The KYOKU Samurai Series knife cut through it with an ease that was almost disarming.
However, the blade's thickness did present a limitation when it came to making precise cuts. Although it could be sharpened, the inherently thick design prevented it from achieving the razor-sharpness that some culinary tasks require. The knife's weight, a boon for heavy-duty work, can be a hindrance when it comes to more delicate or nuanced tasks. Nonetheless, the smooth polished finish of the blade prevented any issue of sticking, allowing for a satisfyingly smooth glide through the food.
Handle: Elegance Meets Functionality
Transitioning to the pakkawood handle, its glossy black finish coupled with the patterned inlay on the central rivet added a touch of elegance to this robust knife. The slightly curved design facilitated a comfortable grip, even during longer food preparation sessions. I also appreciated its easy-to-clean nature, making maintenance quite a breeze.
Pros:
Well-balanced for heavy-duty tasks
Comfortable grip owing to the curved handle
Excellent for chopping due to its length and weight
Long-lasting due to its durable materials and build
Cons:
The thickness of the blade limits precision
Heavier than some may prefer, affecting maneuverability
The Final Verdict
The KYOKU Samurai Series, with its distinct characteristics, is a knife that caters to a specific set of culinary needs. If you often find yourself dealing with heavier chopping tasks, its strength and durability will undoubtedly serve you well. However, if you're looking for a tool that excels in precision and lightness, it might not meet all your expectations. This robust warrior of a knife is not for everyone, but for those who value power and endurance in their culinary endeavors, the KYOKU Samurai Series could be a worthy addition to their kitchen arsenal.
---
What Is a Nakiri Knife?
Before I begin, let's talk about what separates a nakiri knife from other types of knives. A nakiri knife is a Japanese knife that is specifically designed for cutting and slicing vegetables. They're designed with two distinctive features: a flat tip for safety, and a long, straight edge for slicing and dicing. Functionally, it's this length that separates nakiri knives from most other prep knives. With more blade to work with, you can make longer, smoother cuts.
In many respects, a nakiri knife looks a lot like a cleaver. However, a good nakiri knife needs to have a sharper blade. Instead of being designed primarily for chopping, nakiri knives are made for all kinds of vegetable processing. If the knife is well designed, you can mince garlic, slice tomatoes, and chop up carrots with equal ease.
Of course, there are times you might want to do a little chopping. You might need to cut up a butternut squash, or break open a melon. Some heavier nakiri knives are suitable for this task.
Nakiri Knife Basics
Now that we know what a nakiri knife is made for, it's time to discuss what features to look for. Here are the four main factors you should consider before you choose your knife. You can also check my Nakiri vs Usuba knife comparison.
Type of Metal
One of the most important things to think about is the type of metal used to make the blade. If the blade is delicate or won't hold an edge, you're not going to get the best performance.
Most nakiri knives are made with high-carbon stainless steel. This steel is harder than low-carbon steel, so it will hold an edge for longer before it needs to be resharpened. Some knives are made with medium-carbon steel, which is often impregnated with other hard metals like chromium to make up for the reduced carbon content. Keep in mind that higher carbon steel is more prone to corrosion. You should wash your nakiri knife promptly after using it, and make sure it's thoroughly dried before you put it away.
Finally, a word about Damascus steel. Nowadays, Damascus steel refers to steel that's forged with rippling, overlapping layers. This looks beautiful, but it has no impact on the quality. Damascus steel can be low-carbon, high-carbon, or anywhere in between.
Blade Design
The actual finish on the blade might sound like a cosmetic concern. Who cares if your knife has a smooth or a patterned edge? As it turns out, there is a practical difference.
Most nakiri knives have either a hollow edge or one with divots hammered into it. These create hollow, irregular pockets, so vegetables don't have a smooth, vertical surface to stick to. That way, you can cut faster than you can with a smooth blade.
Some nakiri knives still opt for a smooth blade, but polish it to a bright sheen. This makes it harder for moisture to collect, so veggies are less likely to stick. One thing you should look out for is knives with etched or roughened sides. These sides collect water and vegetable juices, which actually makes the suction effect worse.
Handle Design
We've talked a lot about blades, but a blade is only half of the equation. Equally important is the handle; after all, it's the part you're holding on to. Look for one that has some kind of texture. Wood or plastic is fine, but the finish shouldn't be lacquered or polished. With wood, this means the material will need to be oiled from time to time to preserve its shine.
A handle can be straight or contoured, but if you're going to be using the knife a lot, look for one with a contoured handle. A simple, shallow curve can make all the difference between comfortable operation and cramped fingers.
Finally, consider the length. A shorter handle is lighter and will normally provide better balance. A longer one, on the other hand, lets you choke up or down on your grip as needed.
Weight and Balance
Finally, let's talk about the weight and balance. In general, you're going to want a more front-heavy knife, which makes it easier to slice with. That said, the ideal weight is a different question
Most people prefer a lighter knife, since they're easier to manage. They're also easier for making precise cuts with, which makes them optimal for fine tasks. Then again, heavier nakiri knives do have their own uses. They're better for chopping, which is great if you cut a lot of bigger vegetables.
Conclusion
As you can see, there's a surprising variety of well-made nakiri knives on today's market. Whether you're looking for an exquisite, premium knife or a more practical piece of cutlery, there's something out there that meets your needs. We hope my guide helped you find the perfect choice for you. Thanks for reading!
To find out more about kitchen knives have a look at my comparison Dalstrong vs Wusthof.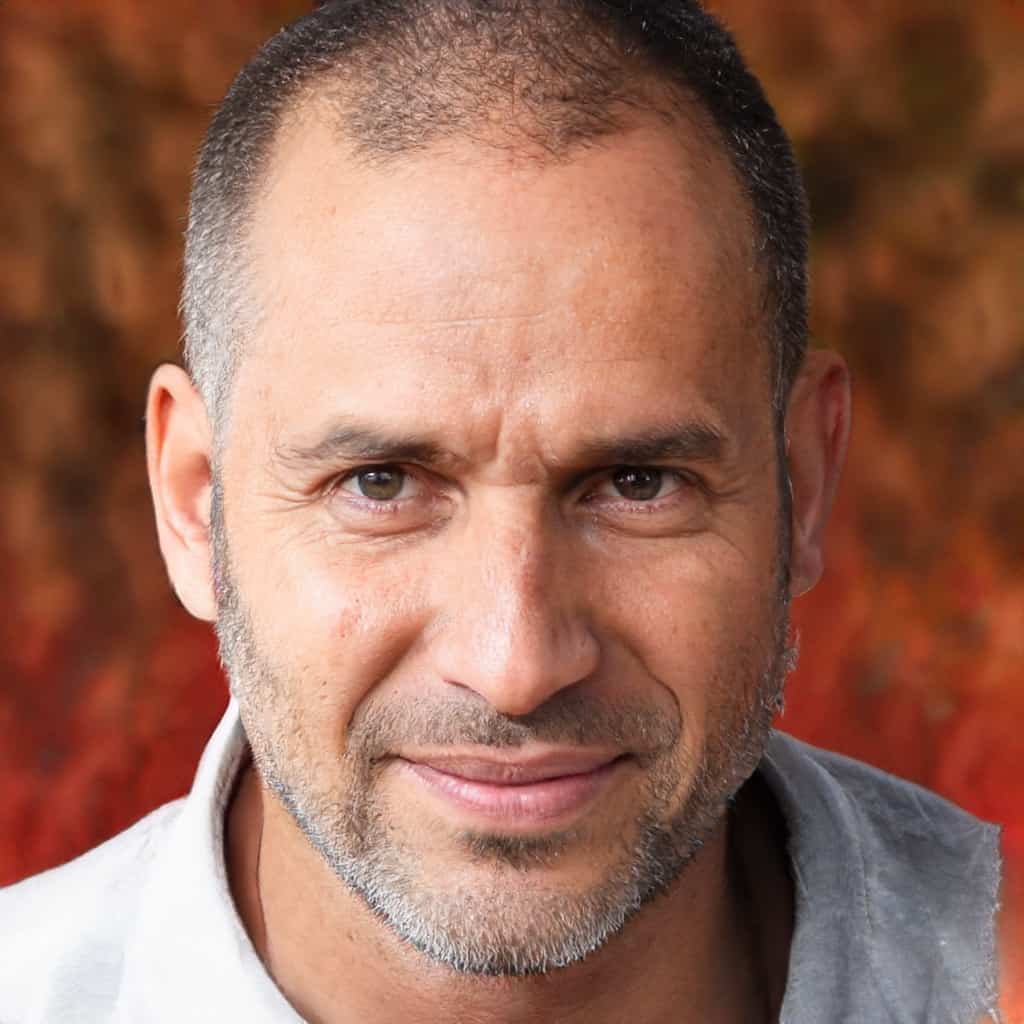 Gary Portman is the founder and main author of Knivesadvice.com. With his extensive knowledge and experience, he is committed to assisting people in choosing the perfect knife for their needs. Through his articles, Gary shares valuable insights on various aspects of knives. With his expertise, readers can make informed decisions and find a knife that is tailored to their preferences and requirements. You can find more info about Gary here.