If you cook a lot of vegetables, a nakiri knife is an essential part of your kitchen. But how do you find the best Japanese nakiri knife? There's a wide variation, and not all of them are suitable for all tasks.
In these nakiri knife reviews, we'll break down eight of the best quality knives on the market. By the time we're done, you'll know what works, what doesn't work, and which ones are ideal for your needs. Let's begin!
What Is a Nakiri Knife?
Before we begin, let's talk about what separates a nakiri knife from other types of knives. A nakiri knife is a Japanese knife that is specifically designed for cutting and slicing vegetables. They're designed with two distinctive features: a flat tip for safety, and a long, straight edge for slicing and dicing. Functionally, it's this length that separates nakiri knives from most other prep knives. With more blade to work with, you can make longer, smoother cuts.
In many respects, a nakiri knife looks a lot like a cleaver. However, a good nakiri knife needs to have a sharper blade. Instead of being designed primarily for chopping, nakiri knives are made for all kinds of vegetable processing. If the knife is well designed, you can mince garlic, slice tomatoes, and chop up carrots with equal ease.
Of course, there are times you might want to do a little chopping. You might need to cut up a butternut squash, or break open a melon. Some heavier nakiri knives are suitable for this task.
Nakiri Knife Basics
Now that we know what a nakiri knife is made for, it's time to discuss what features to look for. Here are the four main factors you should consider before you choose your knife. You can also check our Nakiri vs Usuba knife comparison.
Type of Metal
One of the most important things to think about is the type of metal used to make the blade. If the blade is delicate or won't hold an edge, you're not going to get the best performance.
Most nakiri knives are made with high-carbon stainless steel. This steel is harder than low-carbon steel, so it will hold an edge for longer before it needs to be resharpened. Some knives are made with medium-carbon steel, which is often impregnated with other hard metals like chromium to make up for the reduced carbon content. Keep in mind that higher carbon steel is more prone to corrosion. You should wash your nakiri knife promptly after using it, and make sure it's thoroughly dried before you put it away.
Finally, a word about Damascus steel. Nowadays, Damascus steel refers to steel that's forged with rippling, overlapping layers. This looks beautiful, but it has no impact on the quality. Damascus steel can be low-carbon, high-carbon, or anywhere in between.
Blade Design
The actual finish on the blade might sound like a cosmetic concern. Who cares if your knife has a smooth or a patterned edge? As it turns out, there is a practical difference.
Most nakiri knives have either a hollow edge or one with divots hammered into it. These create hollow, irregular pockets, so vegetables don't have a smooth, vertical surface to stick to. That way, you can cut faster than you can with a smooth blade.
Some nakiri knives still opt for a smooth blade, but polish it to a bright sheen. This makes it harder for moisture to collect, so veggies are less likely to stick. One thing you should look out for is knives with etched or roughened sides. These sides collect water and vegetable juices, which actually makes the suction effect worse.
Handle Design
We've talked a lot about blades, but a blade is only half of the equation. Equally important is the handle; after all, it's the part you're holding on to. Look for one that has some kind of texture. Wood or plastic is fine, but the finish shouldn't be lacquered or polished. With wood, this means the material will need to be oiled from time to time to preserve its shine.
A handle can be straight or contoured, but if you're going to be using the knife a lot, look for one with a contoured handle. A simple, shallow curve can make all the difference between comfortable operation and cramped fingers.
Finally, consider the length. A shorter handle is lighter and will normally provide better balance. A longer one, on the other hand, lets you choke up or down on your grip as needed.
Weight and Balance
Finally, let's talk about the weight and balance. In general, you're going to want a more front-heavy knife, which makes it easier to slice with. That said, the ideal weight is a different question
Most people prefer a lighter knife, since they're easier to manage. They're also easier for making precise cuts with, which makes them optimal for fine tasks. Then again, heavier nakiri knives do have their own uses. They're better for chopping, which is great if you cut a lot of bigger vegetables.
---
The 8 Best Nakiri Knives
---
1. Wusthof Classic 5″ Nakiri Knife
The Wusthof Classic 5" Nakiri Knife is made to be compact and easy to manage. With a length of only 5.1 inches, the high-carbon blade is short enough for anyone to handle without any trouble. Not only that, but it's extremely sharp, with a thin leading edge that cuts through even the toughest vegetables like butter. The only downside of this short design is that you can't cut through larger veggies like butternut squash. The blade just can't handle them, and will often end up getting stuck despite the dimpling on the sides.
The handle is molded from black polymer, with an ergonomic curve that makes it comfortable to grip. It also has a triple-riveted full tang, so you don't need to worry about breakage. Then again, the plain black material leaves something to be desired. It's not as attractive as wood, and it doesn't have the "premium" appearance you want from a high-quality knife. The blade is also bare and unadorned, which makes the whole knife look a bit plain. But from a purely practical perspective, you're looking at a highly effective lightweight knife.
Pros:
Comfortable, ergonomic handle

Ultra-sharp blade

Short and easy to handle

Comfortable, ergonomic handle
Cons:
Not very attractive

Not suitable for larger vegetables
The Final Verdict
The Wusthof Classic 5" Nakiri Knife might not be impressive to look at, but it's great at what it does. If you're looking for a short, razor-sharp nakiri knife, you've found it.
---
2. Shun Cutlery Classic 6.5" Nakiri Knife
The Shun Cutlery Classic 6.5" Nakiri Knife has an elegant, minimalist design that represents the best in Japanese craftsmanship. The 6.5-inch Damascus steel blade doesn't have the same busy, whirling pattern as most Damascus blades, instead opting for a more reserved, open pattern that looks almost like wood grain. It's sharp enough for any vegetable, and the edge is easy to sharpen. And at 7.5 ounces, it has a medium-heavy weight that's perfect for tough veggies like carrots and potatoes.
The handle is crafted from pakkawood, a wood veneer that's a popular choice for knife handles. It's fat and easy to grip, although this unfortunately increases the overall weight of the knife. This does make it easy to grip, and the handle is shaped irregularly to make it easy to grip for right-handed people. For 80 percent of the population, that's great news. But if you're left handed, you'll find that this knife has an awkward grip.
Pros:
Elegant pakkawood handle

Ergonomic grip

Attractive, Damascus steel blade

Beautifully designed for right-handed users
Cons:
Heavy

Poor choice for left-handed users
The Final Verdict
The Shun Cutlery Classic 6.5" Nakiri Knife's blade is a work of art, but the handle is more of a mixed bag. It's a great choice for right-handed users, but southpaws should look for a different knife.
If you are interested to hear more about Shun, you can check our Shun vs Miyabi comparison or how to sharpen Shun knives guide.
---
3. Shun Premier Nakiri Knife, 5.5 Inch Tsuchime Finished Blade, Wood Handle
The Shun Premier Nakiri Knife is one of the most beautiful – and pricey – nakiri knives on today's market. The blade is made from hammered Damascus steel, with an emphasis on the "hammered" part. There are some smaller whirls and changes in color and texture, but the top half of the blade has a shiny, lumpy finish that looks like a birds eye view of the ocean. The blade is also very thin, which allows for an exceptionally sharp cutting edge. At 5.5 inches, it's relatively short, but on the plus side, it's easy to manage.
The pakkawood handle is also well-engineered, with a smooth, comfortable finish and a dark stained appearance. In addition, the handle is lightweight, which helps to keep the balance towards the front, which is what you want for easy cutting and chopping. Then again, no knife is perfect, and this one is no exception. While the blade ships razor sharp, the steel is relatively soft, and it dulls surprisingly quickly. This means you'll have to sharpen it more often than many other knives. Given the price, we were a bit disappointed, but you're still looking at a beautiful, highly-effective knife.
Pros:
Short, easy to manage blade

Excellent balance

Razor sharp cutting edge

Beautiful aesthetic
Cons:
The Final Verdict
The Shun Premier Nakiri Knife is an absolutely gorgeous piece of premium cutlery. It's razor sharp, the balance is perfect, and the look is exquisite.
Curious what is the difference between nakiri and a santoku? Check here.
---
4. Yoshihiro VG-10 6.3″ 46 Layers Hammered Damascus Nakiri Vegetable Knife
The Yoshihiro VG-10 46 Layer gets its name from the 46 layers of Damascus steel folded into the blade. This creates an absolutely stunning rippled effect that combines with a beautiful hammered upper half. The VG-10 stainless steel has a high carbon content, as well as plenty of chromium for added hardness. It's also very thin, which means you get an ultra-sharp blade that holds its edge very well. Keep in mind, though, that thin blades are also easy to dull if you're hacking very hard objects. Remember that this is a vegetable knife, and not a knife for hacking at animal joints.
At 6.3 inches in length, the blade has a medium length. The handle is almost equally long, with an octagonal profile that's surprisingly comfortable to hold. It's made from redwood, which gives it a natural hue the color of red wine. The wood is unfinished, however, which means it will slowly fade to brown after multiple washings.
Pros:
Gorgeous blade and handle

Comes sharp and stays sharp

Easy to manage

Comes with a wooden sheath
Cons:
Handle will weather over time

Comes at a premium price
The Final Verdict
The Yoshihiro VG-10 46 Layer is a high-end, premium nakiri knife that looks beautiful, and can chop through any fruit or vegetable. If you want the best knife and money is no object, choose this one.
---
5. Yoshihiro VG-10 16 Layer  Nakiri Vegetable Knife 6.5"
The Yoshihiro VG-10 16 Layer is forged from the same hard, reliable VG-10 stainless steel as the 46-layer variety. The blade is slightly longer, at 6.5 inches, and is folded over fewer times. It's also significantly thicker, which can be a good thing or a bad thing. On the one hand, the blade doesn't have the same level of razor sharpness of a thinner one. On the other hand, it's durable enough to withstand hard chopping, and won't dull if you're spending an afternoon cutting up carrots. It's also well-balanced, which makes it comfortable to use for long periods.
The handle is made from mahogany, with a deep, red-brown color and a rich grain, and it's carved with an ergonomic shape that conforms well to your hand. Unfortunately, where the bolster meets the blade, part of the blade sticks out in front. The way it's designed, it doesn't present a safety risk. But if you're gripping forward on the handle, there will be a dull metal edge poking into your index finger. The blade is also etched, which makes it tend to stick more than most nakiri knives.
Pros:
Beautiful Damascus steel blade and mahogany handle

Good balance

Great for chopping

Ergonomic grip
Cons:
Blade has an etched finish

Uncomfortable edge on the bolster
The Final Verdict
The Yoshihiro VG-10 16 Layer is an excellent knife from a purely aesthetic perspective. And while the blade isn't perfect, its thick design makes it ideal for heavy-duty chopping.
If you are interested in our other reviews have a look at best Dalstrong knives and best Wusthof knives.
---
6. 

TUO Nakiri Knife 6.5 inch – 

Vegetable Cleaver
So far, we've looked at a few of the more premium nakiri knives on the market. But what if you're on a tighter budget? In that case, consider the TUO Nakiri Knife. The 6.5-inch blade is manufactured from DIN1.4116 stainless steel, which has a moderate carbon content, but makes up for it with high levels of chromium for added hardness. It's well-balanced and easy to swing, and with its moderate size, it's suitable for most fruits and vegetables. The handle is also made from pakkawood, which makes it easy to hold onto, as well as more attractive than you'd expect for the price.
That said, there are a couple of issues worth pointing out. The most significant concern is that the blade is thicker than most nakiri knife blades. This means it will have more of a tendency to get stuck, although the smooth finish does pull free with relative ease. A more minor concern is that the handle wood isn't sanded completely smooth, and there's a noticeable wood grain. This makes the handle tougher to clean than it would be if it were smoother.
Pros:
Good weight and balance

Comfortable grip

Attractive pakkawood handle

Very affordable
Cons:
Blade is relatively thick

Handle finish is a bit rough
The Final Verdict
The TUO Nakiri Knife is an affordable knife that punches far above its weight. If you're on a budget, it will get the job done without breaking the bank.
---
7.

Chef Gyutou 67 Layers VG-10 7 Inch Nakiri knife
The Bigsun Chef Gyutou Knife is striking first and foremost for its aesthetics. The Damascus steel blade is beautifully forged, with the ripples and swirls only marred by a gold Bigsun imprint. The handle is made from micarta, a composite material that's popular for knife handles. It's worked to look like wood, including a wood grain finish that provides plenty of grip. It's also ringed with colorful resin bands, which add character and flash to the appearance. Unfortunately, these bands mean that the handle isn't entirely smooth. If you're working for an extended period, the bumps in the handle can be uncomfortable.
The blade is forged from VG-10 steel. This is a high-carbon steel with large amounts of chromium for added hardness. It's sharp, it's easy to sharpen, and the dimples in the sides keep it from sticking in fruits and vegetables. It's also seven inches long, making it one of the longer blades on the market. As a result, it's able to make fast work of larger foods, but it's also heavier and harder to manage than a shorter blade.
Pros:
Beautiful Damascus steel blade

Elegantly crafted handle

Easy to clean

Extra long blade
Cons:
The Final Verdict
The Bigsun Chef Gyutou Knife is a solid choice for anyone who wants a beautiful nakiri knife with a long blade. That said, it's not comfortable enough for extended use.
---
8. 

KYOKU Samurai Series – Nakiri Japanese Vegetable Knife 7″
The KYOKU Samurai Series boasts a 7-inch blade forged from high carbon steel. The length, as well as the thickness, makes it perfect for chopping and heavy-duty work. That said, the cutting edge isn't as sharp  as many knives, so it's tough to make more precise cuts. You can always sharpen it more, but the thick design limits how much sharpness you're going to achieve. The weight is heavy, which is also good for chopping, but poor for anything else. Regardless of what you're doing, you won't have to worry about the knife sticking; while the blade isn't dimpled, it's polished smoothly enough that sticking is a non-issue.
The pakkawood handle is black in color, with a glossy finish and three rivets securing it through the tang. The middle rivet even has a patterned inlay, which is a beautiful touch. The handle is slightly curved, which provides a comfortable grip, and the finish is soft enough for extended use. It's also easy to clean, so you won't have to worry too much about maintenance.
Pros:
Good balance

Comfortable grip

Great for chopping

Long blade
Cons:
Blade is thick and imprecise

Heavy
The Final Verdict
The KYOKU Samurai Series isn't for everybody. But it's a great choice if you primarily need a heavy knife that's built for chopping.
---
Conclusion
As you can see, there's a surprising variety of well-made nakiri knives on today's market. Whether you're looking for an exquisite, premium knife or a more practical piece of cutlery, there's something out there that meets your needs. We hope our guide helped you find the perfect choice for you. Thanks for reading!
To find out more about kitchen knives have a look at our comparison Dalstrong vs Wusthof.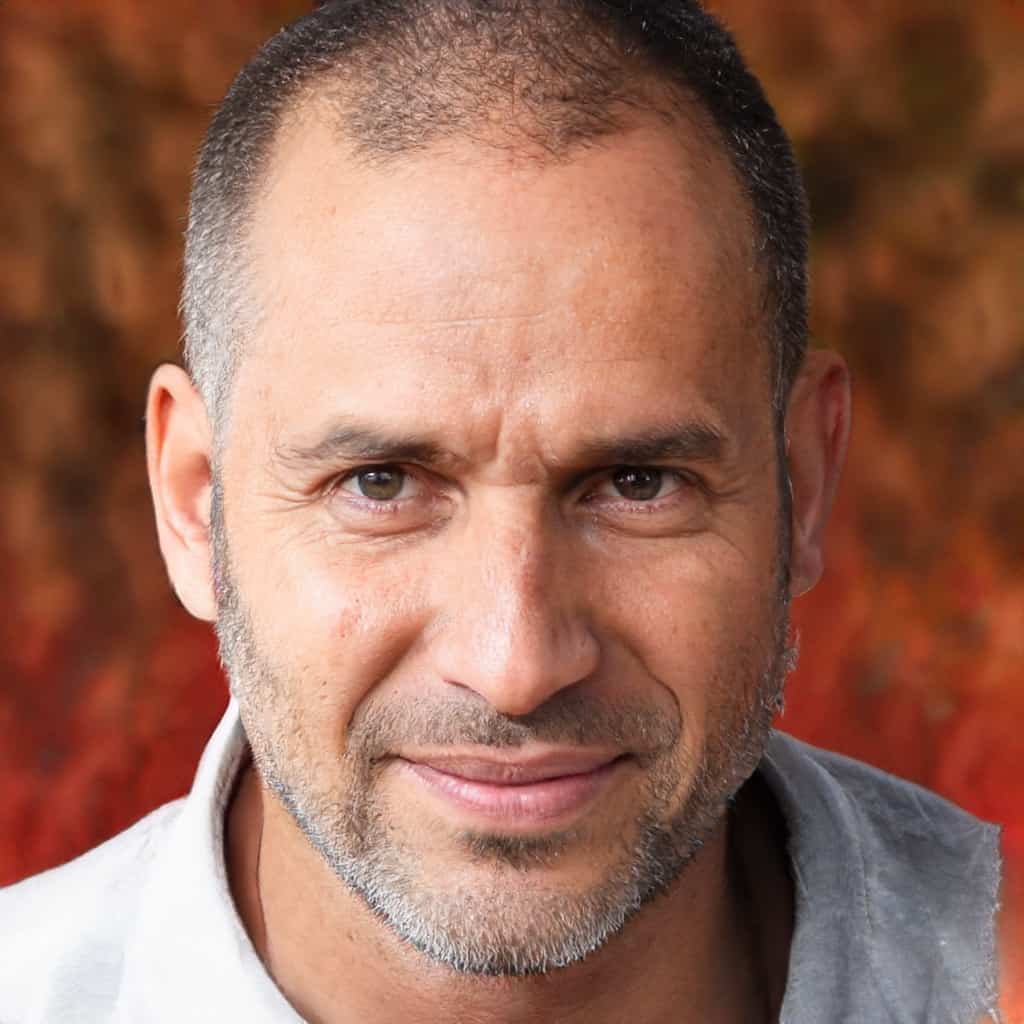 Gary Portman is the founder and main author of Knivesadvice.com. With his extensive knowledge and experience, he is committed to assisting people in choosing the perfect knife for their needs. Through his articles, Gary shares valuable insights on various aspects of knives. With his expertise, readers can make informed decisions and find a knife that is tailored to their preferences and requirements. You can find more info about Gary here.