As an experienced chef who has personally tested numerous knives, I can confidently say that few knife-making companies uphold tradition and quality quite like Miyabi. Despite being owned by the German company Zwilling J.A. Henckels, Miyabi continues to manufacture all of their blades in Seki City, which is widely regarded as the knife-making capital of Japan. It is through these time-honored blade-forging traditions that Miyabi ensures each of their knives meets the highest standards of quality and craftsmanship, establishing their prominence in the premium kitchen cutlery market.
I have found that Miyabi employs various handcrafting techniques in the production of their knives, resulting in blades that boast exceptionally sharp edges. If you're in search of knives capable of effortlessly slicing through even the most delicate food items, Miyabi knives are an excellent choice. In fact, I have found that their blades are even sharper than those of competing Japanese companies like Shun.
What sets Miyabi apart is their meticulous three-step sharpening process, guaranteeing that every blade arrives at your doorstep in perfect condition. Additionally, Miyabi knives are renowned for their overall hardness, thanks in large part to the high-quality stainless steel blends they utilize. These blends not only provide rust resistance but also impart impressive durability to the knives.
Beyond their exceptional performance, Miyabi knives are also celebrated for their exquisite Damascus finishes and aesthetic appeal. As a chef, I believe that high-quality kitchen knives should not only perform flawlessly but also look visually pleasing. Furthermore, Miyabi offers a range of handle options, including wood or composite materials, further enhancing the knives' attractiveness. It's no wonder why Miyabi has earned a global reputation as one of the most esteemed knife makers.
While some of their blades may carry a higher price tag, Miyabi offers options that cater to various budgets, making their knives accessible to a wide range of individuals. Whether you are seeking to add a final knife to complete your collection or wish to build an entire set from scratch, Miyabi's catalog offers something for everyone. So let's delve into the world of Miyabi and explore their finest knives, including single blades and comprehensive sets complete with wooden kitchen blocks. Prepare to discover the perfect culinary tools for your needs!
If you want to know how to sharpen your Miyabi knives, check my article on how to sharpen Miyabi knives.
---
The 7 Best Miyabi Knives Reviewed
---
1. Miyabi Kaizen 8-inch Chef's Knife
In my recent exploration of culinary tools, I had the pleasure of testing the Miyabi Kaizen 8-inch chef's knife, a jewel from their famed Kaizen line, though multiple sizes are available to cater to diverse preferences. Renowned for their visual appeal, these knives truly stand out. The gorgeous flower Damascus pattern engraved onto the blade isn't merely for show; it plays a vital role in safeguarding the blade's robust core, ensuring it stands the test of time and use.
Uncompromising Quality
The core of the Kaizen chef's knife is comprised of high-grade VG-10 super steel. For those unfamiliar with this Japanese steel variant, it is globally acclaimed for its superior edge retention qualities. Consequently, the longevity and durability of VG-10 steel-based knives are incomparable.
One memorable episode from my testing was when I used the knife to slice through a hefty chunk of frozen meat. Despite the immense pressure and toughness of the task, the blade exhibited no deformation, truly attesting to its resistance.
Hardness and Edge Retention
The blade boasts an impressive Rockwell rating of 63, a testament to its hardened resilience. A knife with such a high HRC excels in edge retention, guaranteeing its sharpness through countless meals. Miyabi has leveraged the age-old 3-step Honbazuke honing method to forge an enduring edge, adding to the charm of traditional craftsmanship imbued in the knife.
Cryodur Hardening Process: Corrosion Resistance and Strength
Another admirable attribute of the Kaizen chef's knife is the 4-step Cryodur hardening treatment that it undergoes. This unique procedure bolsters the blade's resistance to corrosion and augments its flexibility and strength. The Cryodur hardening process is key in creating a blade that is as durable as it is functional.
Ergonomic Design
The black linen Micarta handle of the Miyabi Kaizen chef's knife enhances the knife's overall aesthetic while providing a comfortable grip that feels like a natural extension of your arm. This ensures ease of operation even during the most demanding kitchen tasks. However, as a left-handed user myself, I noticed a slight drawback – the handle is right-justified, making it a tad uncomfortable for left-handed chefs.
Balance and Control
The Miyabi Kaizen 8" chef's knife features a full-tang design, guaranteeing a perfect balance, and providing seamless control during usage. Full-tang knives are revered for their high resistance to breakage and overall toughness, so you can rely on this knife for any cutting, chopping, or dicing task.
Pros:
Reasonably priced
Beautiful yet functional design
Constructed with high-quality steel
Excellent edge retention
Highly durable
Exceptionally sharp
Comfortable grip with a full-tang handle
Cons:
Handle is right-justified, posing potential discomfort for left-handed users
Conclusion
The Miyabi Kaizen 8″ chef's knife is a unique blend of aesthetics, durability, and performance. Despite the minor setback with the handle, it's a formidable tool that will cater to your kitchen needs and elevate your cooking experience. From slicing meat to dicing vegetables, it handles each task effortlessly. I believe it's an excellent investment for both professional chefs and culinary enthusiasts alike.
2. Miyabi Birchwood SG2 8-inch Chef's Knife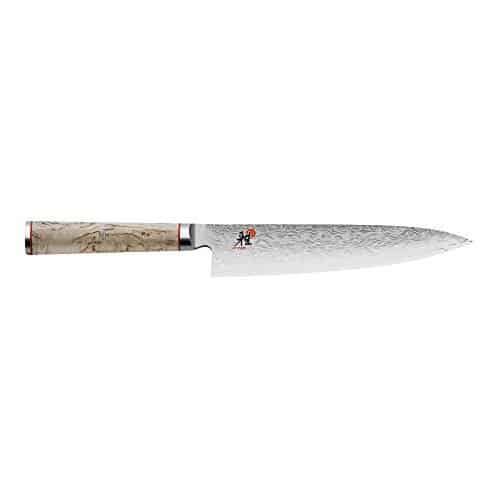 I recently had the unique opportunity to test the Miyabi Birchwood SG2 8-inch chef's knife. It's a name that resounds with high regard among culinary enthusiasts, and I had high hopes from the onset. Needless to say, not only were my expectations met, but they were far exceeded by this exquisite piece of craftsmanship.
The Superb Blade
Crafted from the remarkable SG2 stainless powder steel, the blade boasts some truly exceptional properties. Thanks to the unique steel composition, the blade demonstrates increased hardness and remarkable cutting characteristics. When pitted against the VG10 steel, the SG2 demonstrated superior rust and corrosion resistance, impressive edge retention, and less susceptibility to chipping, setting a new benchmark in knife construction.
Enhanced Durability
The SG2 micro-carbide powder steel core is meticulously encased within 100 layers of Damascus steel. This protective shell enhances the overall durability of the blade. Additionally, the knife also features the flower Damascus pattern, providing an aesthetically pleasing touch to its robust design.
Miyabi employs their patented Cryodur process to furnish users with optimal cutting performance. This involves heating the steel, momentarily quenching it to room temperature, followed by freezing and hardening at a staggering -196 degrees. The outcome? An exceptional corrosion resistance that had me in awe during the testing. The blade's hardness is also noteworthy, measured at an impressive 62-64 HRC.
Unrivaled Sharpness
Hand-honed using the traditional 3-step Honbazuke process, the Miyabi Birchwood 8″ chef's knife is honed to a 9.5-12 degree edge. It effortlessly ranks among the sharpest knives I've ever had the pleasure of using, retaining its sharp edge over extended periods.
Superior Grip
To add to its list of impressive features, the rounded handle of the Miyabi Birchwood 8″ chef's knife is carved from Karelian (Masur) Birch. More than just a handle, this is a piece of art in its own right. Given the wood's striking visual appeal, it's unsurprising to learn that it's the only type used in crafting the famed Faberge Eggs! The handle is ergonomically designed, providing a comfortable grip that's perfect for long-term use.
Balance and Control
Finally, the Miyabi Birchwood 8″ chef's knife features a full-tang design, which greatly boosts its resistance to breakage. This design also contributes to the knife's overall balance and control. However, it is slightly heavier than your average kitchen knife, necessitating a bit more caution in handling.
Pros:
Striking aesthetic design
High-quality SG2 stainless steel construction
Comfortable and beautiful wooden handle
Durable full-tang design
Cons:
Premium pricing might be a barrier for some
Heavier weight could require getting used to
Conclusion
The Miyabi Birchwood SG2 8″ chef's knife is a true masterclass in knife design and performance. Its beauty is matched only by its functionality, making it a coveted addition to any kitchen. Although it carries a higher price tag and is somewhat heavier, the investment is well worth the superior quality, durability, and performance you receive in return. Whether you're a professional chef or a home cook, this knife promises to elevate your culinary prowess to new heights.
If you want to learn more about Miyabi, check my full Shun vs Miyabi comparison.
3. Miyabi Birchwood SG2 7-pc. Knife Block Set
My encounter with the Birchwood SG2 8" chef's knife left an indelible impression, urging me to delve deeper into this remarkable range. I thus embarked on testing the entire Birchwood SG2 knife set, and I must confess, words fell short to encapsulate the remarkable experience.
Composition of the Set: All the Essentials and More
The set encompasses a comprehensive range of tools that any cooking enthusiast or professional chef would appreciate: a 3.5" paring knife, 7" Santoku knife, 8" chef's knife, 9" bread knife, and a pair of twin stainless steel kitchen shears. Additionally, it comes equipped with a 6" tungsten sharpening steel for maintaining the sharpness of the blades and a 12 slot bamboo knife block for secure storage.
The Signature Quality
Each knife, including the kitchen shears, boasts the same exceptional quality of SG2 stainless powdered steel. With a Rockwell hardness of 63, it ranks among the hardest, high-performing steels on the market. This level of hardness contributes to the blades' impressive durability and edge retention.
Enhancing their robustness, 50 layers of Damascus steel clad either side of the knife blade. This, combined with the SG2 steel core, amounts to an astounding total of 101 layers. This extensive layering positions the knives in this set among the most robust and durable on the market today.
Blade Craftsmanship
The blades in the Miyabi Birchwood knife set are Cryodur ice-hardened for increased hardness, flexibility, and remarkable corrosion resistance. Honed using the 3-step Honbazuke method, the blades showcase a striking mirror-polished edge. Each knife blade in the set features a Katana edge, a nod to the rich tradition of Japanese samurai swords, seamlessly blending tradition and modernity.
Handle Excellence:
The Karelian birch handle, admired in the individual knives, graces each tool in this set. Its attractive design is likely to satisfy even the most discerning of critics. Each knife in the set also features a full-tang design, a testament to their built-to-last promise.
Pros:
Versatile range of knives and tools
High-quality SG2 stainless steel construction
Sharpening steel included for maintenance
Attractive and comfortable Karelian birch handles
Exceptionally durable
Cons:
Premium pricing
Some blades might feel heavy for some users
Conclusion
All things considered, the Miyabi Birchwood SG2 7-pc. Knife Set offers an unrivaled culinary experience. While it comes with a premium price tag, the superior quality, durability, and performance it offers make it an investment worth considering. However, it's worth noting that some of the blades may feel heavy for certain users. Ultimately, this knife set is for those who appreciate the fine blend of tradition and innovation and are willing to invest in their culinary adventures. If you wish to learn more about the value proposition of these knives, I invite you to read the article "Are Miyabi Knives Worth It?".
4. Miyabi Koh 8-Inch Chef's Knife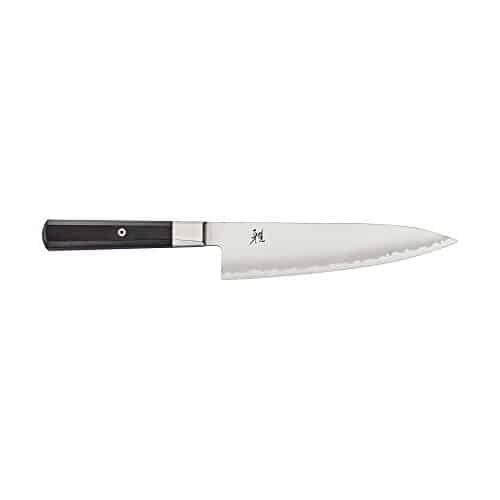 Another star in Miyabi's stellar constellation of knives that caught my attention is the Koh 8″ chef's knife. This knife distinguishes itself from others I've tested, primarily due to the unique composition of the steel it's crafted from. The first surprise was the absence of the iconic Miyabi Damascus pattern. Donning a simpler aesthetic, it radiates a minimalist elegance without compromising the stellar performance Miyabi is renowned for.
A Revolutionary Material
The Koh 8″ chef's knife is crafted from the revolutionary FC61 fine-carbide stainless steel, a material that effortlessly manages the varied demands of a chef's knife. A chef's knife is arguably the most versatile tool in a kitchen, thus requiring a construction that can effortlessly handle a myriad of culinary tasks.
Initially, the unconventional design raised some eyebrows, but the knife quickly vindicated itself with its impressive performance. FC61 stainless steel, with its fine-carbide distribution, fosters a long-lasting blade and typically results in superiorly constructed knives. With a Rockwell hardness of 61, this knife effortlessly blends strength and durability.
Blade Craftsmanship
The blade's longevity in sharpness can be attributed to the traditional 3-step Honbazuke honing method. The proprietary 4-step ice-hardening process, known as Friodur, freezes the steel, culminating in an extraordinarily hard and tough blade. In addition to these qualities, the blade showcases superior corrosion resistance, sharpness, and impressive edge retention.
The blade is hand-honed to a 12-degree angle, a feature that allows it to cut with scalpel-like precision. The rounded spine and bolster facilitate tireless cutting, slicing, and dicing of a wide array of food items, further accentuating its versatility.
Comfort Meets Style
The Pakkawood Handle The ergonomic faceted pakkawood handle of the Miyabi Koh 8" chef's knife further elevates the overall comfort and aesthetic appeal. Thanks to its full-tang design, it promises robust durability and precise control, making it an invaluable asset in any kitchen.
Although my personal experience with the knife was entirely comfortable, it's worth mentioning that some online reviews indicated a few users found it slightly cumbersome to use.
Pros:
Affordability
Simple, elegant design
Revolutionary FC61 stainless steel blade
Ergonomic, aesthetically pleasing Pakkawood handle
Cons:
May feel slightly cumbersome for some users
Conclusion
In the final analysis, the Miyabi Koh 8″ chef's knife delivers simplicity without sacrificing its impeccable performance. Though its minimalist design deviates from the traditional Miyabi aesthetic, its usage and comfort attest to its high-quality craftsmanship. This knife embodies a perfect blend of revolutionary material, craftsmanship, and ergonomic design, making it an excellent addition to any kitchen. However, potential users should be aware of its reported cumbersome feel for some.
If you are interested in my other reviews have a look at my Victorinox chef's knife or Gyuto knife reviews.
5. Miyabi Fusion Morimoto Edition 8-inch Chef's Knife

The Miyabi Fusion Morimoto Edition 8" chef's knife is a testament to the harmonious blend of Western ergonomic design and traditional Japanese blade style. Having reviewed multiple knives that claim to merge German and Japanese knife aesthetics, I can confidently assert that the Miyabi Fusion Morimoto Edition is the finest one I've had the pleasure of testing.
The Blade
The blade of this knife is meticulously crafted from the highly-regarded VG10 super steel, ensconced by 64 layers of softer steel. The flower Damascus design is breathtaking and makes a strong first impression. If one were to judge a book by its cover, this knife would certainly stand out.
As expected, the VG10 steel yields a razor-like sharpness, which is a prerequisite for any chef's knife. The exceptional cutting edge retention is a function of the steel's inherent properties, augmented by Miyabi's Cryodur process. This process of ice-hardening the blade not only preserves its edge over prolonged periods, but also enhances its flexibility and resistance to corrosion.
The Katana Edge
The Miyabi Fusion Morimoto Edition 8" chef's knife also boasts a Katana edge. A characteristic feature of most Miyabi knives, each blade is meticulously hand-finished using the time-honored 3-step Honbazuke method. The result is an exceptional edge that pays homage to the legendary Japanese swords.
The curved spine and heel of the knife garner high praise from chefs, as these features help reduce finger strain during prolonged usage. This thoughtful design choice is hardly surprising, given that the knife is designed by Masaharu Morimoto, the renowned Iron Chef himself.
The Handle
The handle of this knife is made from Durcon, an industrial polymer frequently utilized in knife handle production. The triple-riveted Durcon handle is aesthetically pleasing and comfortable to hold. As with other Miyabi offerings, this knife also features a full-tang design, enhancing its robustness and reducing the risk of breakage.
Pros:
Affordable
Designed by Masaharu Morimoto
Exceptional comfort during use
Beautiful Damascus pattern
Ultra-durable Durcon handle
Cons:
Conclusion
In essence, the Miyabi Fusion Morimoto Edition 8" chef's knife is a splendid synthesis of comfort, performance, and aesthetics. By fusing Western and Japanese knife styles, it offers the best of both worlds to culinary enthusiasts. From its exquisite Damascus pattern to the resilient Durcon handle, this knife embodies a level of perfection that leaves no room for any negatives. Its design, backed by the assurance of Iron Chef Masaharu Morimoto, makes this knife a valuable addition to any kitchen.
6. Miyabi Red Morimoto Edition 8-inch Chef's Knife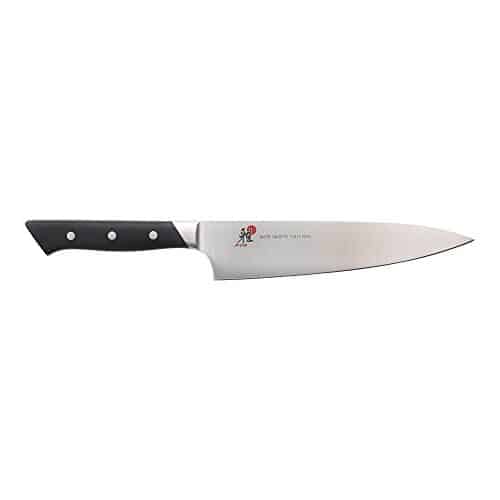 Just like its sibling, the Miyabi Fusion Morimoto Edition, the Red Morimoto Edition 8" chef's knife is a delightful representation of the harmonious fusion of Japanese and German knife craftsmanship. Mirroring chef Morimoto's culinary style, this knife embodies the best of both Eastern and Western techniques.
While it's easy to confuse the two Morimoto-designed knives, they are distinct in their make and performance. The Red Morimoto Edition 8" chef's knife uses a special formula, high-carbon German stainless steel, the same steel that Zwilling employs for its acclaimed Zwilling Professional S 8" chef's knife.
The Blade
The blade of this knife is forged from a single piece of the special formula steel, utilizing the patented Sigmaforge process. Following this, the knife undergoes the Friodur ice-hardening process, which amplifies the properties of the steel. With a hardness of 57 on the Rockwell scale, the blade exhibits impressive cutting edge retention and hardness.
Each blade is meticulously honed at an angle of 9.5-12 degrees per side using the traditional 3-step Honbazuke method. This knife excels in handling a wide range of food items, from intricate vegetable slicing to meat preparation, effortlessly.
The Handle
The Western influence is clearly seen in the knife's handle design. The ergonomic and ambidextrous handle is made from glass-bead-enhanced POM, a material known for its exceptional resistance to bacterial and germ growth, making it one of the top choices for handle materials. It's secured firmly with three rivets, ensuring a sturdy grip.
As expected, the Miyabi Red Morimoto Edition 8" chef's knife features a full-tang design. This provides an ideal balance and control, while minimizing the chances of breakage. That said, there are other knife models offering similar features but at a lower cost. Nonetheless, it's worth mentioning that this model frequently goes on sale!
Here are the significant pros and cons I've identified for the Miyabi Red Morimoto Edition 8" chef's knife:
Pros:
Beautiful fusion of Japanese and Western techniques
Designed by the renowned chef Morimoto
Comfortable grip
High durability
Crafted from a unique, high-quality steel formula
Versatile in use
Cons:
Can be pricey when not on sale
Conclusion
The Miyabi Red Morimoto Edition 8" chef's knife is an exceptional piece of culinary tool that combines the best of Eastern and Western knife craftsmanship. Its versatile functionality, comfortable grip, and high durability make it a desirable addition to any kitchen. While its price may be a bit steep when not on sale, the quality, design, and performance offered by this knife justify the investment. This knife truly mirrors the blending of cuisines that chef Morimoto is renowned for.
To find out more about kitchen knives have a look at my reviews about best Chinese chef's knives or sushi knives.
7. Miyabi Mizu SG2 8-inch Chef's Knife

As I held the Miyabi Mizu SG2 8" chef's knife for the first time, its beauty was striking. Crafted with precision by the skilled artisans at Miyabi, this knife held an aesthetic allure that was simply magazine cover-worthy.
The blade is comprised of the famed SG2 steel – a material often used by Miyabi, recognized for its exceptional quality and properties. With such a pedigree, I was confident even before the hands-on testing that this knife would not disappoint.
Craftsmanship Worthy of Recognition
The blade of the Miyabi Mizu SG2 is nothing short of a work of art. Forged from three layers of SG2 steel, it dons an exquisite hammered finish that not only adds to its visual appeal but also provides a functional advantage – preventing food from adhering to the blade. The application of the Cryodur process further enhances the blade's properties, rendering it incredibly hard, flexible, and impressively resistant to corrosion.
The Honbazuke Method:
One of the defining characteristics of this knife is its hand-honed edge, a process meticulously executed using the traditional 3-step Honbazuke method. The result? A Katana edge sharpened to perfection at an angle of 9-12 degrees on each side. During the testing, I used the knife to julienne a bell pepper, and the knife slid through the vegetable effortlessly, leaving perfectly uniform strips with a single stroke – a testament to the precision of Miyabi's craftsmanship.
The blade's 63 Rockwell hardness makes it one of the strongest and toughest knives I've ever tested. It maintained its razor-sharp edge even after extensive use in my demanding kitchen routine. The lifetime warranty offered by the company only solidifies the confidence in its long-lasting performance.
Handle Design
No compromise was made when it came to the handle of the Miyabi Mizu SG2. Crafted from Micarta, the D-shaped handle promises improved comfort during prolonged usage. The design also includes a metal end-cap that enhances balance during intricate cuts. Additionally, the handle boasts a mosaic pin and red spacers, which add a dash of elegance to the knife, marking it as a true work of art.
Pros:
Crafted from high-quality SG2 steel
Stunning blade pattern and overall design
Well-balanced for optimal control
Extremely sharp and durable
Comfortable, long-lasting handle
Cons:
May be considered expensive by some
Conclusion
The Miyabi Mizu SG2 8" chef's knife is indeed a perfect blend of aesthetics, comfort, and functionality. It effortlessly upholds Miyabi's renowned quality and craftsmanship. Although it comes with a heftier price tag than some other models, the exceptional features, performance, and the comfort it offers make it a worthy investment for anyone passionate about their culinary tools.
Which Knife Should You Pick?
As you can tell, there's plenty to choose from when it comes to Miyabi. Their range of products covers all ground, and every knife handles variety of kitchen tasks. That said, we truly believe you can't go wrong regardless of which knife you choose from this Miyabi knives review. Consider your preferences, expectations, and of course, budget, and rest assured that none of these knives will let you down! You can also check my article about what does Miyabi mean.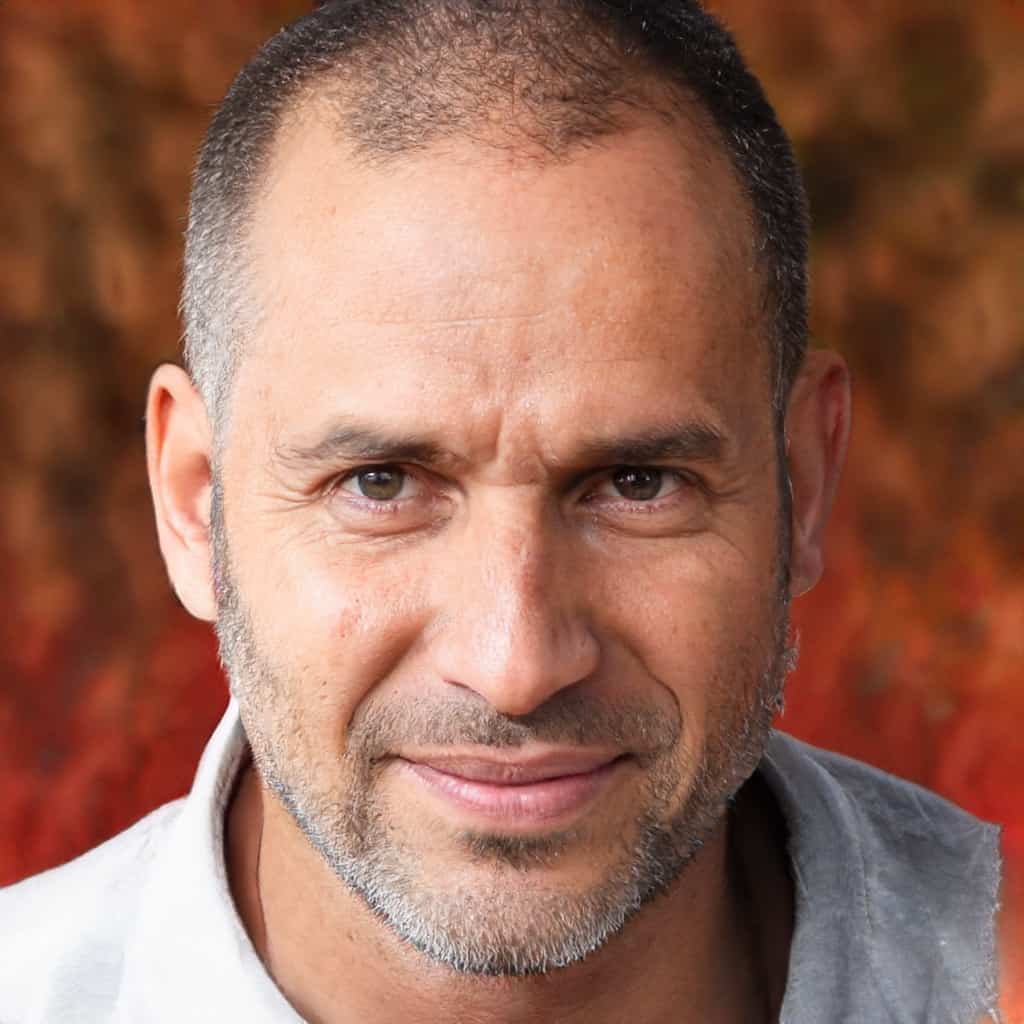 Gary Portman is the founder and main author of Knivesadvice.com. With his extensive knowledge and experience, he is committed to assisting people in choosing the perfect knife for their needs. Through his articles, Gary shares valuable insights on various aspects of knives. With his expertise, readers can make informed decisions and find a knife that is tailored to their preferences and requirements. You can find more info about Gary here.