Few knife-making companies honor tradition and quality as well as Miyabi. Don't be fooled by the fact that they're owned by German company Zwilling J.A. Henckels; they still produce all of their blades in Seki City, arguably the knife-making capital of Japan. They follow tried and true blade-forging traditions that ensure that each of their knives carries a standard of quality and care that make them a big player in the premium kitchen cutlery market.
In fact, Miyabi uses many handcrafting methods to make their knives, which results in most of their blades having sharper than average edges. If you're in the market for blades that can easily cut through even the softest food items, Miyabi knives are a great place to look. They even make sharper blades than other competing Japanese companies like Shun!
Even better, this three-step sharpening process ensures that every blade is perfect as soon as it reaches your door. Furthermore, Miyabi knives are renowned for their hardness overall. This is largely thanks to their high-quality stainless steel blends, which imbue the knives with rust resistance and great durability. 
Their knives are also well known for their Damascus finishes and aesthetic value; in our minds, high-quality kitchen knives should look good as well as perform perfectly. Add to these quality finishes wood or composite handles and it's easy to see why Miyabi is one of the best-known knife makers in the world. While some of their blades are pricy, others are quite affordable, making them suitable for a wide range of budgets.
Today, we'll break down the best Miyabi knives and show you some of their best pieces, ranging from single blades to full-on sets that include wooden kitchen blocks. There's something for everyone in their catalog, whether you need a last knife to complete your set or need to build up a whole collection from scratch. Let's dive in!
If you want to know how to sharpen your Miyabi knives, check our article on how to sharpen Miyabi knives.
---
The 7 Best Miyabi Knives Reviewed
---
1. Miyabi Kaizen 8-inch Chef's Knife
The Miyabi Kaizen line is praised as one of the most visually attractive lines of knives out there. For this particular review, we chose the Miyabi Kaizen 8-inch chef's knife, but there are other sizes available as well.
Inspired by the artistry of traditional Japanese craftsmanship, the blade pattern is a true work of art. The stunning flower Damascus pattern is not only aesthetically pleasing, but it's there to protect the resilient core.
The core is made of high-quality VG-10 super steel. On top of it, there are 64 layers of the above mentioned Damascus steel. You've probably heard of the VG-10 Japanese steel, famed for its unlimited ability to hold an edge. In addition, the knives made of the VG-10 steel are extremely durable.
We were certainly impressed with the blade's resistance to deformation. This is mostly due to its Rockwell rating of 63. At 63 HRC, it enables improved edge retention as well. In order to create a long-lasting edge, Miyabi relies on the antique 3-step Honbazuke honing method.
To provide with even better properties, the blade of this knife undergoes a 4-step Cryodur hardening process. This process is the main culprit for the blade's high corrosion resistance, improved flexibility, and strength.
The handle utilizes another high-quality material known as Micarta. The black linen Micarta handle feels like an extension to your arm, so you can handle heavy-duty tasks with ease. However, we were a little disappointed to find out that the handle is right-justified. Although left-handed users can use the knife as well, they'd probably find it uncomfortable.
The Miyabi Kaizen 8" chef's knife features a full-tang design. Therefore, balance and control won't be an issue. Full-tang knives are also known to be more resistant to breakage and are generally tougher.
Pros
Affordable
Attractive, yet functional design
High-quality steel
Edge retention
Durable
Sharp
Comfortable full-tang handle
Cons
2. Miyabi Birchwood SG2 8-inch Chef's Knife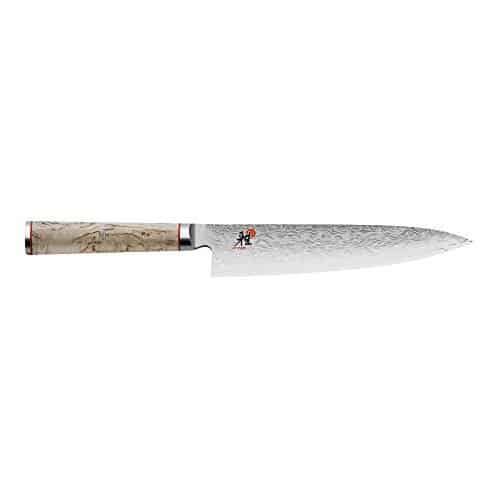 The Miyabi Birchwood SG2 8-inch chef's knife has an impeccable reputation, so we really had high expectations to start with. Not only did it meet, but it exceeded them!
Made from the SG2 stainless powder steel, it boasts some of the best properties. Due to the composition of the steel, the blade comes with increased hardness and better cutting characteristics. When compared to the VG10 steel, SG2 showed higher rust and corrosion resistance, superior edge retention, and less chipping.
The SG2 micro-carbide powder steel core is protected by 100 layers of Damascus steel. The Damascus steel protects the core and improves the overall durability. We certainly didn't mind the flower Damascus pattern either.
Miyabi uses their patented Cryodur process to provide users with the best cutting performance. The Cryodur process includes a few steps. First, the steel is heated, and then quenched momentarily to room temperature. Afterwards, it's frozen and hardened at -196 degrees. Thanks to this, the Miyabi Birchwood 8" chef's knife has extraordinary corrosion resistance. The blade hardness is measured at 62-64 HRC.
The Miyabi Birchwood 8" chef's knife is also hand-honed using the traditional 3-step Honbazuke process to a 9.5-12 degree edge. It's among the sharpest knives available today, able to hold its edge for long time intervals.
To make things even better, the rounded Birchwood handle fits perfectly into your hand. Note that the handle is not made from a regular Birch, but a Karelian (Masur) Birch instead. Fun fact: due to its striking appearance, Karelian Birch is the only wood used to make a Faberge Egg!
The Miyabi Birchwood 8" chef's knife features a full-tang design, making it highly resistant to breakage. Of course, it improves the overall balance and control. However, this knife is a bit heavier, so it should be used with precaution.
Pros
Striking designs
High-quality steel
Wooden, highly comfortable handle
Full-tang
Durable
Cons
If you want to learn more about Miyabi, check our full Shun vs Miyabi comparison.
3. Miyabi Birchwood SG2 7-pc. Knife Block Set
As you can tell, we were genuinely impressed with the Birchwood SG2 8" chef's knife. The impression the knife has left us with made us go for the whole knife set, and we were lost for words once again!
The set consists of 3.5" paring knife, 7" Santoku knife, 8" chef's knife, 9" bread knife, and twin stainless steel kitchen shears. In addition, it comes with 6" tungsten sharpening steel and 12 slot bamboo knife block.
Every knife, as well as the kitchen shears, are made of the SG2 stainless powdered steel. It is one of the hardest, high-performing steels on the market at 63 Rockwell hardness. For improved durability, there are 50 layers of Damascus clad on each side of the knife blade. Together with the SG2 steel core, there are 101-layers in total, putting the knives in this set among the strongest knives available today.
The blades in the Miyabi Birchwood knife set are Cryodur ice-hardened for better hardness, flexibility, and are highly corrosion resistant. The 3-step Honbazuke method gives them a striking mirror polished edge. Miyabi made sure to include the rich Japanese tradition into the design of these knives by introducing a Katana edge on each knife blade.
The Karelian birch handle is present among the models in this knife set as well. Due to its attractive design, it can satisfy even the harshest critics. Every knife is the set features a full-tang, meaning they are built to last.
All things considered, the Miyabi Birchwood SG2 7-pc. Knife set offers everything you need, and then some. However, the quality comes at a certain price, so the set is made for those with deeper pockets. For more information you can check our article are Miyabi knives worth it.
Pros
Versatile knives
High-quality steel
Sharpening steel included
Comfortable and attractive handle
Durable
Cons
Expensive
Some of the blades are heavy
4. Miyabi Koh 8-Inch Chef's Knife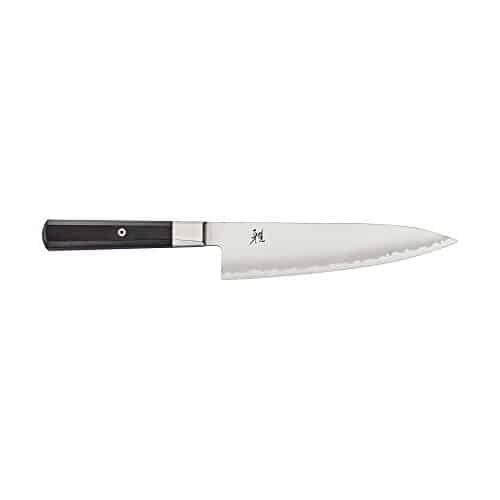 Another Miyabi chef's knife that deserves attention is the Koh 8" knife. It's unlike any other chef's knife we tested so far, mostly due to the composition of the steel it's made of. Also, we were a little surprised to see that the knife doesn't feature the recognizable Miyabi Damascus pattern. While it sports a simpler design, its performance is nothing short of perfect.
Crafted from the revolutionary FC61 fine-carbide stainless steel, it does its job almost effortlessly. As you know, chef's knives are the most versatile knives, so you need one that can handle a variety of kitchen tasks.
However, we had an open mind about it, and the knife proved to be worth our while. FC61 stainless steel with fine-carbide distribution offers long-lasting blade, and generally, the knives forged from it have a superior construction. At 61 Rockwell hardness, this knife is strong and durable.
Because of the 3-step Honbazuke honing method, the blade retains its sharpness for a long time. The proprietary 4-step ice-hardening process known as Friodur produces an exceptionally hard and tough blade by freezing the steel. Moreover, the blade is extremely corrosion-resistant, sharp, and has great edge retention.
The blade is hand-honed to 12 degrees angle that boasts scalpel-like sharpness. Thanks to the rounded spine and bolster, it allows tireless cutting, slicing, and dicing of all kinds of food.
The ergonomic, faceted pakkawood handle further increases the overall comfort, as well as beautiful design. Featuring full-tang design, the Miyabi Koh 8" chef's knife is an invaluable addition to any kitchen.
Even though we didn't feel any discomfort using the knife, we found a few Miyabi knives reviews online stating that some users found it to be a bit cumbersome.
Pros
Affordable
Simple design
Revolutionary FC61 stainless steel blade
Ergonomic, Pakkawood handle
Cons
Cumbersome for some users
If you are interested in our other reviews have a look at our Victorinox chef's knife or Gyuto knife reviews.
5. Miyabi Fusion Morimoto Edition 8-inch Chef's Knife

The Miyabi Fusion Morimoto Edition 8" chef's knife is the perfect combination of Western ergonomics and Japanese blade style. We've reviewed other knives that fuse German and Japanese knife styles. However, the Miyabi Fusion Morimoto is the best one we've tested out of the bunch.
The blade is made of the well-known VG10 super steel, which is encased by 64 layers of softer steel. This model sports the impressive flower Damascus design, so if we were to judge a book by its cover, we'd certainly consider this knife.
As you know by now, the VG10 steel produces razor-like sharpness. The cutting edge retention is what we except to see from any chef's knife. Although the high edge retention is mostly due to the construction of the steel itself, Miyabi uses the Cryodur process to further increase it. By ice-hardening the blade, not only does it preserve its edge for longer time, but it also becomes more flexible and highly corrosion resistant.
Miyabi Fusion Morimoto Edition 8" chef's knife also comes with Katana edge. We've grown accustomed to the Katana edge as Miyabi hand-finishes almost every knife they offer using the traditional 3-step Honbazuke method.
Many chefs speak highly of the curved spine and heel since it puts less strain on the fingers. This shouldn't come as a surprise since the knife is designed by Masaharu Morimoto, the Iron Chef himself.
The handle is made of Durcon, an industrial polymer widely used in the making of knife handles. The triple-riveted Durcon handle is extremely pleasant to look at, but it also feels as good as it looks. Of course, this is another full-tang Miyabi knife, so you needn't worry about breakage at all.
Pros
Affordable
Designed by Masaharu Morimoto
Unlimited comfort
Damascus pattern
Ultra durable Durcon handle
Cons
6. Miyabi Red Morimoto Edition 8-inch Chef's Knife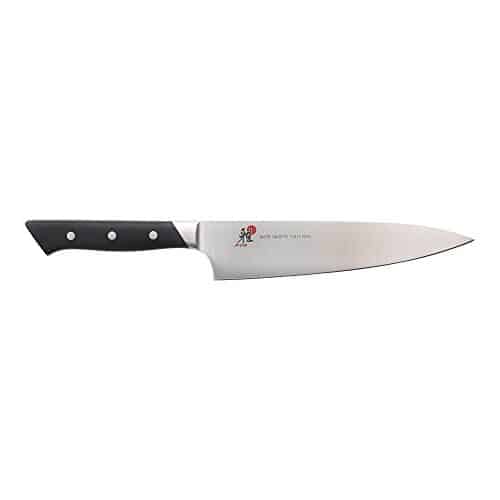 Another knife designed by chef Morimoto, the Miyabi Red Morimoto Edition 8" knife is a worthy partner in the kitchen. This knife is also a blend of the best Japanese and German techniques, similar to chef's Morimoto cooking style.
Although many people confuse this knife with the above mentioned model, they are nothing alike. For starters, the Miyabi Red Morimoto Edition 8" chef's knife is made of special formula, high-carbon Germany stainless steel. It uses the same steel that Zwilling uses for the Zwilling Professional S 8" chef's knife.
The knife is forged from a single piece of this super steel formula of superior quality using the patented Sigmaforge process. After that, the knife undergoes the Friodur ice hardening process, thus maximizing the properties of the steel. The blade is hardened to 57 Rockwell, so it has pretty solid cutting edge retention and blade hardness.
Honed at an angle of 9.5-12 degrees per side using the 3-step Honbazuke method, its performance knows no limits. The knife is able to handle slicing of complex vegetables, meat and all kinds of food seemingly effortlessly.
You can notice the influence of the Western-style knives when you look at the handle. The ergonomic and ambidextrous handle is made of glass-bead-enhanced POM. This material is known as one of the best handle materials as it is resistant to bacteria and germ. As you can tell, it is secured with three rivets.
The Miyabi Red Morimoto Edition 8" chef's knife is, as expected, a full-tang knife. This means that it offers balance and control, all the while being less prone to breakage. However, there are other knives that boast the same properties but come with a lower price tag. Bear in mind though, this model is often on sale!
Pros
Blend of Japanese and Western techniques
Designed by chef Morimoto
Comfortable
Durable
Unique, super steel formula
Versatile
Cons
Pricey when it's not on sale
To find out more about kitchen knives have a look at our reviews about best Chinese chef's knives or sushi knives.
7. Miyabi Mizu SG2 8-inch Chef's Knife

Last, but certainly not least, we have the Miyabi Mizu SG2 8" chef's knife. Another masterpiece crafted by the skilled Miyabi artisans, the knife looks like it should be on a cover of a famous magazine.
As the name itself suggest, it is made from the SG2 steel, the same steel Miyabi uses for a lot of their products. Given the quality and properties of the steel, we were certain that this knife will be worth our while even before we got our hands on it.
Miyabi Mizu SG2 consists of three layers of SG2 steel. It has a hammered finish that looks amazing and it prevents the food from getting stuck on the blade. The Criodur process alters the steel's properties, creating a blade that's extremely hard and flexible with high corrosion resistance.
Of course, it is hand-honed using the traditional 3-step Honbazuke method. Because of this, the Katana edge is sharpened to perfection at an angle of 9-12 degrees on each side. As you can tell, Miyabi puts extra attention to detail when producing their knives.
At 63 Rockwell hardness, it is among the strongest and toughest knives we've tested. It is highly unlikely that it will lose its edge even after constant usage. To back up this statement, the company offers a lifetime warranty for this knife!
As far as the handle is concerned, we couldn't find any downside to it either. It is made of Micarta and it is D-shaped for increased comfort. For better balance, the handle features a metal end-cap. In addition, it features a mosaic pin and red spacers, making this knife a true work of art.
Pros
High-quality SG2 steel
Amazing blade pattern and overall design
Well-balanced
Extremely sharp and durable
Comfortable, long-lasting handle
Cons
Some people find it to be overpriced
Which Knife Should You Pick?
As you can tell, there's plenty to choose from when it comes to Miyabi. Their range of products covers all ground, and every knife handles variety of kitchen tasks. That said, we truly believe you can't go wrong regardless of which knife you choose from this Miyabi knives review. Consider your preferences, expectations, and of course, budget, and rest assured that none of these knives will let you down! You can also check our article about what does Miyabi mean.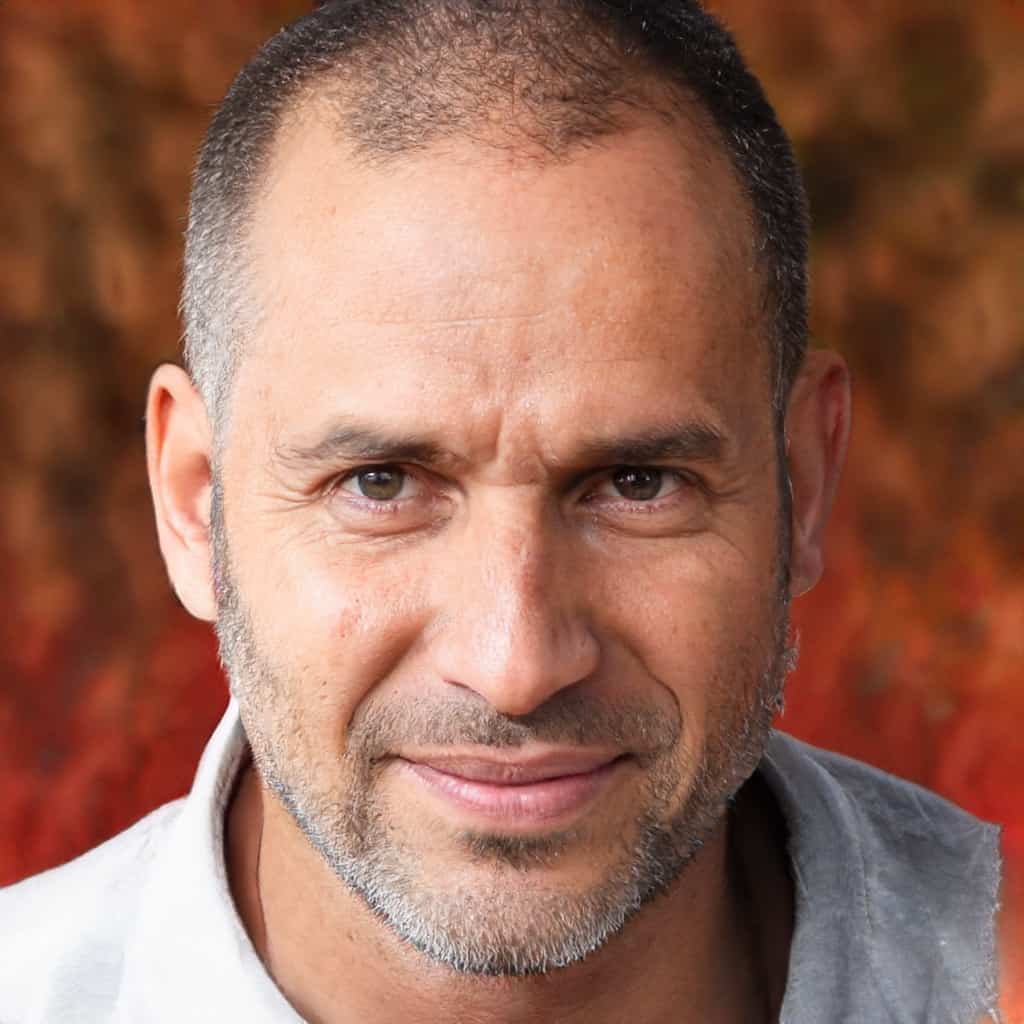 Gary Portman is the founder and main author of knivesadvice.com Using the knowledge he has gained through the years, he aims to help people choose the best knife based on their needs. You can find more info about Gary here.