A chef knife is one of the tools that are mandatory in every professional and amateur kitchen. It is a knife that is used in almost any cooking task, no matter the kind of food you are preparing. Buying the best chef knife under $100 can be difficult simply because the options are countless. There are big and heavy knives, and there are also lighter and smaller ones. You have to pick the knife that best suits your needs.
You must keep in mind a couple of things before you go online and search for a chef knife on the Internet. Before you buy any, you have to know what kind of knife you need for your particular use case, whether that knife is worth the price tag, and whether it's produced by a quality manufacturer. There are a lot of things you need to consider before buying a chef knife, and it can be a difficult task for some people that are just getting into cooking or starting to research the different kinds of cooking knives.
For that reason, we gathered some of the best choices for a chef knife that you are currently available on the market. The main reason for this post is to make the process of picking a knife that suits your needs easier and faster. The knives we picked are all very high-quality, will endure a lot of usage, and are also not overpriced. Remember, though, as a general rule, the more money you spend on a good chef knife, the higher the quality and durability you are going to get from it. Anyway, here are our top picks for the best chef knives under $100
---
The 9 Best Chef Knives Under $100
---
1. The Imarku Chef Knife
Let's start with a knife that is more suited to beginner cooks. The Imarku SC10-01 chef knife is an amazing choice for people that want an extremely high-quality knife that will do most of the kitchen work. This knife is proven to be very durable. The German stainless steel used to make the blade of this knife is considered one of the most quality steels, which gives the knife outstanding sharpness and strength.
Many chef knives are made to do various cutting tasks, but this knife brings that to another level. You can use this Imarku knife to do almost anything in your kitchen. From cutting soft and light vegetables to cutting and boning chicken with ease. The blade on this knife is 8 inches, which makes it a little bigger than some people may want, but nonetheless, we recommend this knife to anyone that wants a budget, expensive-looking, high-quality beginner knife.
Pros
Various purpose knife
Really nice and sleek looking
Great value for the price
Very sharp
Cons
A bit hard to use by absolute beginners
2. The Victorinox Fibrox Pro Chef Knife
Some of you may already know Victorinox; if you don't, well, this is one of the most well-known Swiss knife and cutlery making brand. When you look at this knife the first time, you might say that this knife does not have anything special on it, and it looks very simple and low quality. But we can assure you that this knife is simply breathtaking. The small and compact design of this knife makes it so it will be used in a lot of various cutting tasks in your kitchen. The standard size of this knife is 6 inches, but there is a 10-inch option as well.
But for everyday cutting tasks, the 6inch option will be far better than the bigger one simply because it will let you reach places that the 10 inch one cannot.
The grip on this knife is a thing worth talking about. It is a non-slip Fibrox handle. It is a material that gives you a grip even while soaked in water like nothing else.  All of these facts are enough to ensure the Victorinox Fibrox Pro a spot on our list.
Pros
Great reputation
Non-slip safe-to-use handle
Compact knife
Sharp blade
Cons
Check also our full Victorinox chef knife review.
3. The Mac Knife Series Hollow Edge 8″ Chef Knife
We can say that this knife is one of the most expensive and highest quality knives on our list. It comes from Japanese knife makers that do not usually make their knives from the most often used materials. They use some different metal alloys that makes their knife exceptionally sharp and magnificent, which we will take a look in a bit.
The first thing that you will see on this knife are the little holes that are on the blade, and you might wonder what they are and why are they there. With simple words, those are air pockets that are very useful when cutting food. They make it almost impossible for the food to stick on to the edge of the knife. Pair that with the incredible sharpness that this knife possesses, and you got yourself an exceptional and unique high-quality chef knife.
Let's talk a bit about Molybdenum, the material that these knife makers use in this knife to give the stainless steel a lot of attributes. It gives this knife exceptional corrosion resistance and also resistance to the acids that are common in kitchens like citrus acid and similar. Another thing in this blade is the higher amount of carbon, which provides a lot of strength and durability to this knife.
Since this knife is a bit more expensive on this list, we will recommend the Mac 8inch chef Knife to people that are a bit more experienced in the kitchen and want a knife that will do various cutting tasks while also providing amazing sharpness, durability, and strength.
Pros
Professional-grade knife
Durable
Incredibly sharp blade
Ergonomically designed
Cons
A bit high in the price range
You can also check which is the best sushi knife.
4. The Mercer Culinary Genesis Forged 7″ Santoku Knife
Let's take a look at a knife that is very similar to the one that we previously talked about, the Mac chef knife. This knife also originates from Japan, and it has a Japanese blade form called Santoku. It is different from a normal chef knife with its blade, its design is flat, and it makes these knives more suited towards chopping in an up and down manner instead of rocking the blade.
Similar to the Mac chef Knife, this one also has little holes on the blade which again, helps the food not to stick to the metal and provides more sharpness to it. The steel that is used on this blade is German stainless steel that is very resistant to corrosion and discoloration thanks to the high amount of carbon that mixed with the steel.
A lot of the strength and toughness that this knife has is thanks to its full-tang design. Chopping is not the only task that this knife can perform; you can use it also to mince, slice, or cut; however, the design of the blade makes chopping a much easier task.
A positive thing about this knife is that it is pretty lightweight; it is a fairly small blade size coming in with 7inches or smaller most of the time; however, options that are bigger than that exist. If you have smaller hands and want a smaller and compact knife, this one can be the best choice for you. We mentioned that this knife is very similar to the Mac chef knife, but there are considerable differences in quality, size, and, most of all, price. This knife is just a fraction in money compared to the Mac Knives, but don't let that fool you, this knife gives you an amazing experience for the money you give for it.
Pros
Multi-purpose knife
Nice design
Really durable
Resistant to damage and scratches
Well-balanced
Cons
It might be too small for some tasks
5.

Kutt Chef Knife Set, 8-inch Professional Kitchen Knife
When you look at the price of this product, you might say that you cannot get a good quality knife for that money; however, the German family-owned business Kutt will prove you wrong. They are not a very well-known brand in the knife making industry, but that are surely on the rise. With the purchase of this knife, you also get some handy tools, like an odor removing soap and a metal finger guard.
Despite the price tag of this knife, the Kutt chef knife will give you a feel that you have a high-end professional knife in your hands. The design of this knife is very impressive; the logo of the company printed very nicely on the blade gives it that extra bit of prettiness to the knife.
The blade on this knife is also a thing that would surprise you, although it is made from standard stainless steel. This knife always surprises its users with the incredible strength, sharpness, and durability that it has.
The handle on this knife is a beauty; not only the Pakka wood gives the knife a unique and beautiful look, but it will also give you amazing comfort and grip on use. We will recommend the Kutt chef Knife set for people that are looking to get the most out of the money they give.
Also, see our full Kutt Chef knife review.
Pros
Unique designed knife
Professional-grade performance
Budget-friendly
Very sharp
Cons
The blade could be stronger considering the price
6. The MAD SHARK Santoku-Style Chef Knife
Yet another knife with holes on the blade, what can we say these holes surely do an amazing job. And again, we bring you another Santoku style knife simply because they are amazing. This Mad Shark Santoku style chef knife brings a lot of advantages to the table. Be aware that even though this is a Santoku knife does not mean that you will get the same result as a traditional Japanese high-quality one and a non-Japanese one.
This knife, even though it is not made in Japan, it offers some decent things. Reportedly resembling German technology, this knife is a tool that serves a lot for the money that you give for it. Made from German stainless steel, this 5.9inch blade brings quite a bit strength, sharpness, and durability packed into it. The full-tang design of this knife also gives a bit of extra on the durability and stability of the knife.
The handle on this knife is made out of military-grade polymer, and it provides you an extremely good grip and a very comfortable feel in your hand. You will not believe how much this handle will surprise you if you haven't used a similar one yet. Coming in with an extremely cheap price, we will recommend the Mad Shark Santoku style chef Knife to people that want a cheap and decent quality santoku knife in their kitchen.
Pros
Durable and resistant
Impressive sharpness
Cheap
Sleek design
Cons
Cleaning the holes can be tough
Too small for some tasks
7.

Cangshan D Series German Steel Forged Chef's Knife, 8-Inch

On this knife, we have a reason to believe that this one will bring a lot to the table. The Cangshan D Series made it to the list of Best Knife by Best Review back in 2018. With this mentioned, you can make sure that this brand of knives will provide good quality and durability for the money. For under $100, Cangshan gives amazing well-crafted knives that can be used for a variety of tasks in your kitchen.
There are several sizes of this knife, including 7 inches, 9 inches, but most often, this knife comes with a size of 8 inches, which makes it more versatile and gives you more of a kitchen knife feel rather than a chef Knife feel.
The handle on this knife is actually a redesign of a previous one that they had only now it provides much more grip and comfort while also keeping the aesthetics of the knife.
We will recommend this knife to people that want a more unusual knife in their hands, and by unusual, we mean a different feel than a normal chef knife.
Pros
Various sizes to choose from
Multi-purpose knife
Has a great reputation
Durable
Cons
Grip not comfortable for all hand-sizes
8. The J.A. Henckels 31161-201

Classic Chef's Knife, 8 Inch
This Spanish knife brings very high-quality, durability, and comfort for the price you pay. The full-tang design of this knife ensures maximum comfort and precision while dicing, chopping, mincing, or slicing your ingredients. As with most of the German stainless steel knives out there, it uses very high carbon steel, which is again, very durable and sharp.
A thing that separates this chef knife from all of the others in this list is that this knife is actually dishwasher-safe, which will save you a lot of time trying to keep this knife clean and sharp. Most of the high-quality knives require hand washing and drying with a soft and dry towel after unlike this knife.
The handle is made out of a non-slip polymer that provides a lot of comfort and stability to this knife. We recommend this knife to people that want a good quality chef knife with extraordinary blade sharpness and strength.
Pros
Unique design
The non-slip feature is really effective
Very sharp blade
Dishwasher safe
Cons
Not very comfortable for extended usage
9. The SKYLIGHT C-6628

Chef Knife, 8-inch

This classic German knife has a design that is a pleasure to look at. The Sky Light C-6628 brings traditional German knifemaking back in business. The 8inch blade made out of standard German stainless steel brings a lot of sharpness and strength while cutting.
It is also good to mention that the blade on this knife is hand polished to perfection.
The handle is a standard polymer used in most of the German knives, and it brings a satisfying grip, balance, and comfort performing various cutting tasks.
Not the best blade on this list, but still a knife that is definitely worth trying and giving a chance considering the low price point that it has. All of us know that German stainless steel is one of the best materials that is currently on the market and this one is no exception, if you are looking for a very cheap but still good quality chef knife that will be in your kitchen for a lot of time, this knife can be the wise choice for you.
Pros
Very budget-friendly
Precise and well balanced
Comfortable to use
Cons
Requires a lot of maintenance
Concluding our Best Chef Knife Under $100 Guide
We know that choosing your ideal chef knife can be a challenging task to do. But hopefully, with this post, you learned some things that you might want to look at a knife before you buy one. Or even better if you give a knife from this list a try, we will assure you that you will not regret your decision. We have gathered chef knives under $100 that bring extraordinary quality and durability as well as comfort and aesthetics.
Before buying a knife, however, you have to know if you want a classic design chef knife or you want something a bit different, like the Santoku design. While both of these designs work amazingly well, they will always have a difference in performing some tasks. Where the Santoku knife shines the best, a classic design chef knife cannot, but keep in mind that a classic chef knife can do many different varieties of work in the kitchen compared to the santoku. We recommend buying a classic design chef knife at first, use it for a while and then when you get to know the pros and cons of it; you can try out the Santoku and see if you like it better than the classic design. Whichever of those two choices you make, you will always want to give the other one a try.
You might also like to learn which is the best knife set under $200.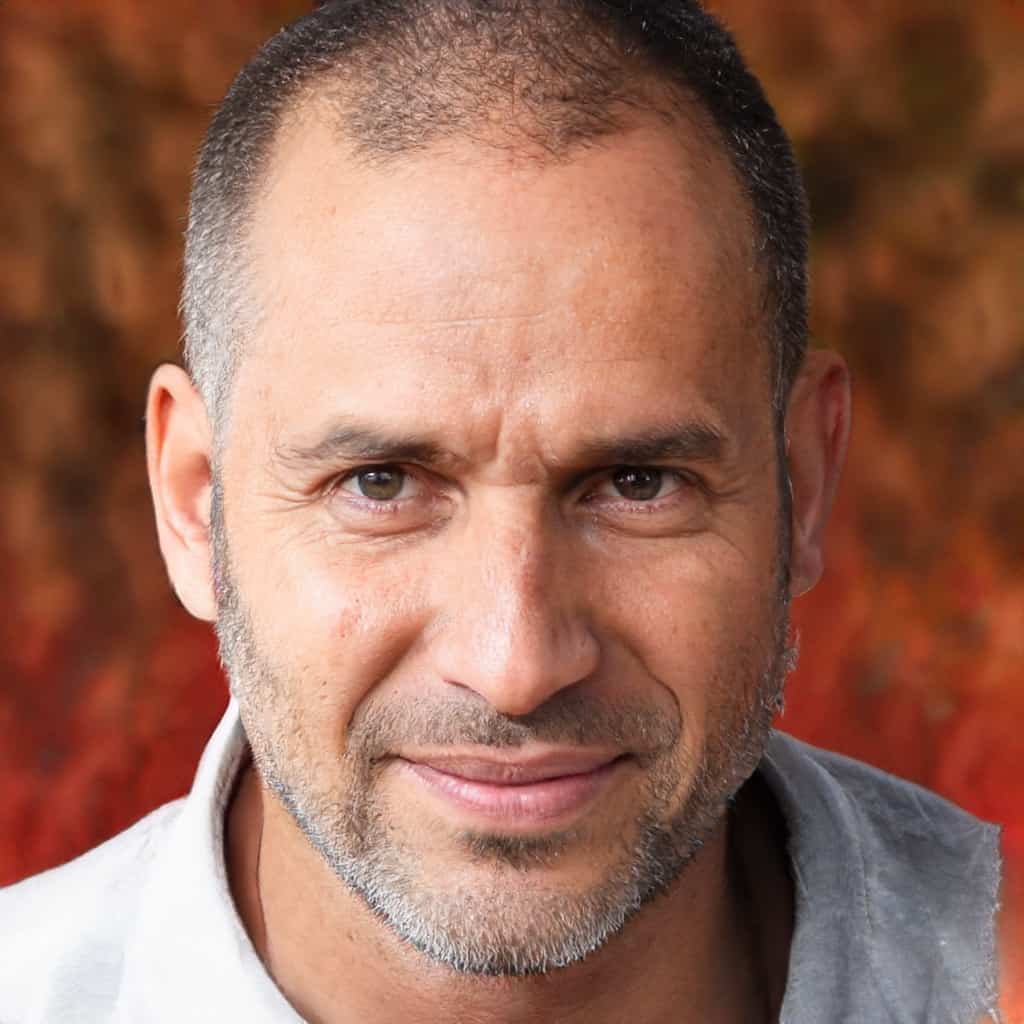 Gary Portman is the founder and main author of knivesadvice.com Using the knowledge he has gained through the years, he aims to help people choose the best knife based on their needs. You can find more info about Gary here.