Many people may not know the main task of bushcrafting knives, and that is to baton wood. Mainly bushcraft knives are knives designed in such a way that is going to make it easier for the user to carve wood and make different tools out of that wood. But, before we get to reviewing and picking the best bushcraft knife under $50, let's go over some basics.
What is a bushcraft knife?
A bushcraft knife is usually a full-tang design knife which has a thicker blade that again, will help the user baton and carve wood. You can say that a bushcraft knife does more of a job as an axe than a knife. Even though the idea of a bushcraft knife is generally the same, some people may like different elements of different bushcraft knives so in this post we made sure that we have bushcraft knives that are different from one another in some way that there are designs for everyone. But, before we get to that, let's go over the most important things when it comes to buying bushcraft knives.
Have a look at our picks for the best flipper knives under $50.
Brand and manufacturer
Some brands have gained a certain popularity because of how much effort they put in their products. And word gets out. If a brand has a lousy reputation and you've heard people complaining about their products, it is only reasonable that you should try to avoid them. After all, the knife market is quite a competitive one, and you can seek better options of brands that have proven history of satisfied customers.
The best way to learn about this is to do your research and get to know more about what to expect from each brands. With the blessing of the internet, most of this information is quite available to us.
Features
You should chose an item based on why, how and when you intend on using your bushcrafting knife. For instance, if you want to have an item that will be there for "just-in-case", then you shouldn't invest too much or put too much effort in choosing it. However, if you have serious intentions of using it, you should look for the basic features like safety, convenience, durability, value, price and other things that you deem important.
Reputation of knife
Certain knives have become best-sellers because they were good. And that should speak for their quality and it should tell you what to expect from them.
These are all very important aspects of knives, and with them taken into consideration, we've compiled a list of the best budget-friendly knives that might just meet your needs:
1. The Basic bushcraft camping knife by Condor Tool & Knife
This Condor Tool & Knife Bushcraft knife brings a clean looking full-tang design with a wooden handle to make it even prettier. This knife uses a high carbon stainless steel for the blade and although a high carbon alloy can make a knife stronger and more durable, it will make the blade more prone to corrosion and rusting.
The handle on this knife is a high-quality wooden handle that gives this knife a very good grip, aesthetics and comfort while using it. This knife also comes with a leather sheath on purchase to protect your blade and most importantly, yourself. We recommend this knife to people who want a simplistic yet strong and durable design for a knife.
Pros
Really durable
Simple design
Budget-friendly
Stainless steel blade
Cons
Requires a lot of maintenance
2. The Elk Ridge ER-555 Series Fixed Blade Knife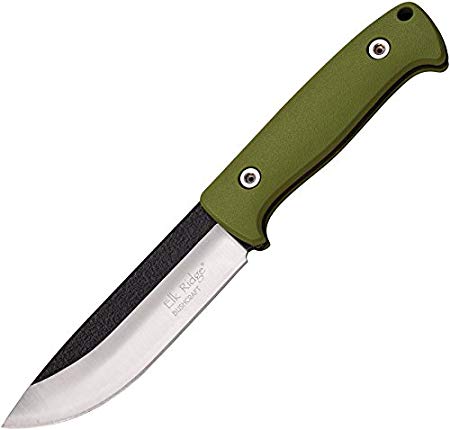 This Elk Ridge knife is a great budget bushcraft knife that can also do the job of a hunting knife pretty well. The blade on this knife is a pure stainless steel which has a satin finish that gives this knife that extra bit of aesthetics that it truly needs. There are some interesting tools that you get with the purchase of this knife and that is a Firestarter, a tool that a true bushcrafter will never go without.
The knife also comes with a nylon sheath that will protect the knife from damaging while it is not in use.
Pros
Has a handy nylon sheath
Multi-purpose knife
Budget-friendly
Sleek design
Cons
Not a really comfortable knife for extended use
3. The Schrade SCHF36 Frontier Fixed Blade Bushcraft Knife
Perhaps the best looking bushcraft knife on our list, the Scrade SCHF36 Fixed Blade bushcraft knife brings aesthetics and quality to the next level. The metal that is used for this blade is a very high carbon 1095 stainless steel with a black finish. The fact that this blade is over 5 inches long makes this bushcraft knife one of the bigger ones on this list.
The handle on this knife is TPE and it has a very pretty texture to it that not only brings aesthetics but also comfort and grip. This full-tang beast of a bushcraft knife is made for heavy duty tasks. Chopping, throwing, carving, cutting, nothing can beat this piece of pure metal.
The sheath that comes with this knife is black nylon which is actually in a pretty high-quality design, but that's not the only thing you are getting with this knife, you are also getting a sharpening stone and a ferro rod which is just icing on the cake. We strongly recommend this knife to true outdoorsmen and bushcrafters who want the most strength out of a budget bushcraft knife.
Pros
Great design
Comes with a sharpening stone
High-quality material used in it, makes it durable
Multi-purpose
Cons
Can be too large for some tasks
If you want to learn how to maintain your outdoor knives have a look at our guides on how to sharpen a Hawkbill knife or how to fix a pocket knife that won't close.
4. The Morakniv Craftline Pro S Bushcraft Knife
The Morakniv Craftline Pro S bushcraft knife is a knife that has a very simplistic design. It is almost like it does not belong in the topic of bushcrafting but trust us, it does. This knife packs an extremely sharp high quality stainless steel blade that you do not want to mess with.
The TPE rubber handle that this little beast has is an ergonomic handle designed to suit your hand and give you the best comfort while providing amazing grip and zero slippage even while doing the most heavy duty tasks. Compare these attributes that this knife offers with the price you need to pay for it and you got yourself a nearly perfect, mid-size bushcraft knife.
The sheath that also comes with this knife is made out of plastic, yes, it's not the best material to make a sheath out of but it gets the job of protecting the blade of the knife just fine. Recommended towards those who want a durable and strong knife in the most extreme situations.
Pros
Beginner-friendly knife
Really safe due to zero slippage feature & TPE rubber
Durable and strong
Multi-purpose
Very sharp blade
Cons
Protection sheath is plastic and not durable
5. Morakniv Companion Fixed Blade Bushcraft Knife
It is not a surprise that another Morakniv knife is in our list, this Morakniv Companion bushcraft knife packs a lot of punch for a knife of this price. The steel for this blade is a high carbon stainless steel alloy that is made for heavier duty outdoor tasks such as chopping wood or carving wood. Don't be scared to abuse this knife, it will handle it all.
The grip on this knife comes with a pattern that will reduce slippage, increase grip and maximize comfort while using this knife. This knife also comes with a high quality plastic sheath to increase protection of the knife while it is not in use.
Pros
Good grip
Safe for beginners
Heavy-duty knife
Really durable
Cons
Plastic sheath for protection
Conclusion
We see that bushcraft knives can be a bit of a trouble to pick but hopefully with this list we have given you some examples on some of the best bushcraft knives that you can currently get for under $50. There are some great options for a bushcraft knives for this money but if you are a person that loves bushcrafting, hiking or backpacking often, then giving some more money to get yourself a high-quality knife can sometimes be a wiser choice than to give less money for one and let it give up on you when you need it the most.
Have in mind couple of this before you buy yourself a bushcraft knife. Remember, what makes a  bushcraft knife a bushcraft knife is the ability to withstand a lot of pressure and abuse. So when looking for a knife you must always make sure that the materials that the knife is made from are strong and durable enough to endure harsh conditions. Another thing that you should look at in a bushcraft knife is its blade. The blade on such a knife should be made from a stainless steel which would ideally be reinforced with high amounts of carbon.
If you like the idea of holding a big, robust full-tang knife that can serve you doing various outdoor tasks, then a bushcraft knife is a perfect choice for you.
You may also want to check out our Glock knife review article or our guide about the best budget OTF knife.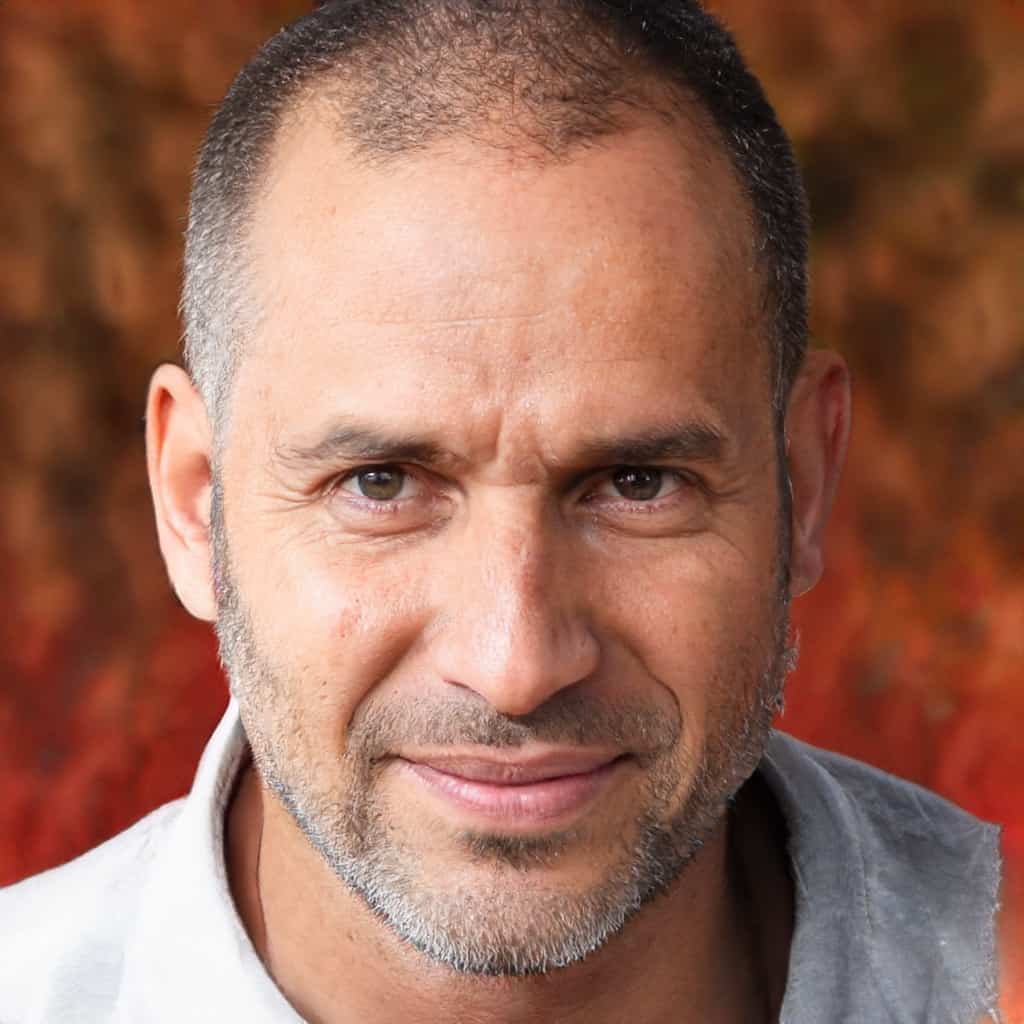 Gary Portman is the founder and main author of Knivesadvice.com. With his extensive knowledge and experience, he is committed to assisting people in choosing the perfect knife for their needs. Through his articles, Gary shares valuable insights on various aspects of knives. With his expertise, readers can make informed decisions and find a knife that is tailored to their preferences and requirements. You can find more info about Gary here.