Do you want to buy a full-fledged knife set but lost track in the myriad of choices? Here is a detailed review of the Emeril 19-piece knife set!
---
A Superior Knife Set
What do you think a good knife set should have? Many people have no idea apart from its good looks and sharpness. If you are one of those people, check out our quick checklist for a good knife set.
First off, we need to have a clearer idea of what kind of knife set we need. This shows our purpose. Our purpose is the most important thing to know before buying a knife set. For example; if you are buying a knife set whose design is more suitable to meat cutting tasks and you have more of a vegan or vegetarian diet, then this knife set is useless even if it costs 3000 dollars.
Secondly, consider your budget. Indeed, "knifeland" is a realm with so many options and price range yet, it is possible to find a good-quality knife set even if you have a very tight budget. So, you need to know what to look for in a knife set and what characteristics are desirable in a blade. The next section will be about that.
If you are interested to read more of our articles you can check our review on Emojoy 16-piece kitchen knife set or our comparison between Nakiri and Santoku knives. 
---
Desirable Qualities of a Knife
As a knife buff, people keep asking what is a must-have in a good knife and I have answered this question maybe a thousand times. There is not one indispensable quality in a top-quality knife but a bunch of them. However, the three most important ones are suitable for every type.
Full Tang
A good knife needs to have a full tang blade as you might already know. What is a full tang blade? It simply means that the blade needs to extend down the handle to gain more stability and durability.
Bolster
A bolster works as a safety valve in case of an accident. This is the part that is blunt between the handle and blade which adds safety and prevents finger cuts if your handle slips.
Weight Balance
When talking about weight balance, we emphasize the balanced weight between the blade and handle. The importance of it comes from the fact that many preparation sessions last quite long and the knife should not exhaust you.
We will go into more detail in our review. To learn more about knives and Emeril, in particular, keep on reading.
---
Emeril 19-Piece Hollow Handle & Forged Knife Block Set
Emeril is the brand of the famous American chef Emeril Lagasse and as every cook, Emeril coddles his knives more than any other cookware in the kitchen. So, his purpose is to provide everyone with good-quality knives that make things much easier.
To learn more about knives have a look at our full comparisons between Henckels and Wusthof knives or Japanese and German knives.
Knives and Testing
Upon buying this knife set for our tests, we were not sure the overall quality of the set as it sits at a very affordable for a 19-piece set. We even thought that they would put so many irrelevant kitchen tools to inflate the numbers. We always see it in kitchen products. "600-piece cutlery set", "350-piece plates set" are quite usual and when you see those sets in detail, you see nothing but trash most of the time.
However, we were surprised that Emeril did not pump things up. There is a total of 17 knives and a pair of kitchen shears along with a simplistic wood block that is worth its salt. Let's get into the details one by one.
Main Knives
Chef's Knife: A chef's knife is mainly suitable for different purposes in the kitchen such as cutting, slicing, dicing and mincing. This is the first knife that every cook uses. In our tests, we liked its sharpness and toughness. The knife has a hardness level of 60 when it comes to the Rockwell Hardness Scale.
Santoku Knife: This knife is the Japanese equivalent of the chef's knife in western-style kitchenware. This is good for slicing, dicing and mincing as its name means in Japanese. During our tests, we noticed that its steel is not of the best quality but still above average. There are some design flaws too but still, it is good for the price.
Serrated Utility Knife: A utility knife is a smaller version of a chef's knife and it is suitable for slicing fruits and vegetables as thin and small as possible. Thanks to its serrated edge, this knife does not need honing at all. We particularly loved its balance and it is quite lightweight for easier use.
Other knives
Serrated Bread Knife: A bread knife, as the name suggests, is convenient to use for slicing bread, pizza, and even some soft fruits and vegetables. This bread knife is peculiarly good for cutting the bread into slices without having to push it down and squishing it.
Slicing Knife: A slicer has a long and thin blade with a pointed tip and it is perfect for slicing an array of meat or big fruits. During our test, we wanted to give it a try with a watermelon. The result was incredible. It cut watermelon as if it was a kiwi.
Sandwich knife: It is a knife whose blade is very sharp and the edge is as thin as possible so that it will slice cheese or salami in the thinnest way to make better sandwich ingredients. We liked its flat blade as it is very well-designed.
Butcherknife: If you want to trim your meat cuts and slice meat into roasts and steaks, this is your knife. At the time of our tests, we were expecting something heavier however, it is perfectly lightweight.
Paring knife and bird's beak knife: These are two similar knives; so, it is safe to categorize them under the same descriptions. These are for peeling fruits and they do what they do the best in this set.
Steak Knives: There are 8 of them in this set and if you lack some table knives, these can replace your table knives.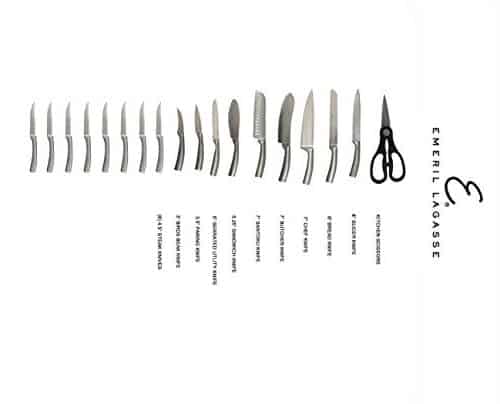 Design
Let's start with the negative side to get it out of the way. The handles are not the most desirable ones. I would prefer a wooden handle. Indeed, these handles are easier to clean but for a more comfortable and tighter grip, wooden handles would be better.
Other than that, the high-carbon stainless steel type used in the Emeril 19-piece set is the best one that this price range can buy. Once you buy this set, we believe you will not need any upgrade for a long time.
Overall, the knives have a score of 58+ hardness level on the Rockwell Hardness Scale which is pretty high. Another test is the sharpness test, Total Card Cut (TCC). Over 550, it is incredibly sharp while under 100 means the knife is dull. The average in this set is about 520 which is quite good. If you hone them well, you will have everlasting sharp knives.
Pros
Good price for great quality
A broad range of knives for different tasks
Cons
Below average Santoku quality
---
Conclusion
Long story short, we endorse this set of knives as they are high-quality but affordable. We liked their sharpness and production technique and we loved what our tests showed.
To find out more about kitchen knives have a look at our Wüsthof Classic vs. Gourmet comparison or our review about Miyabi knives.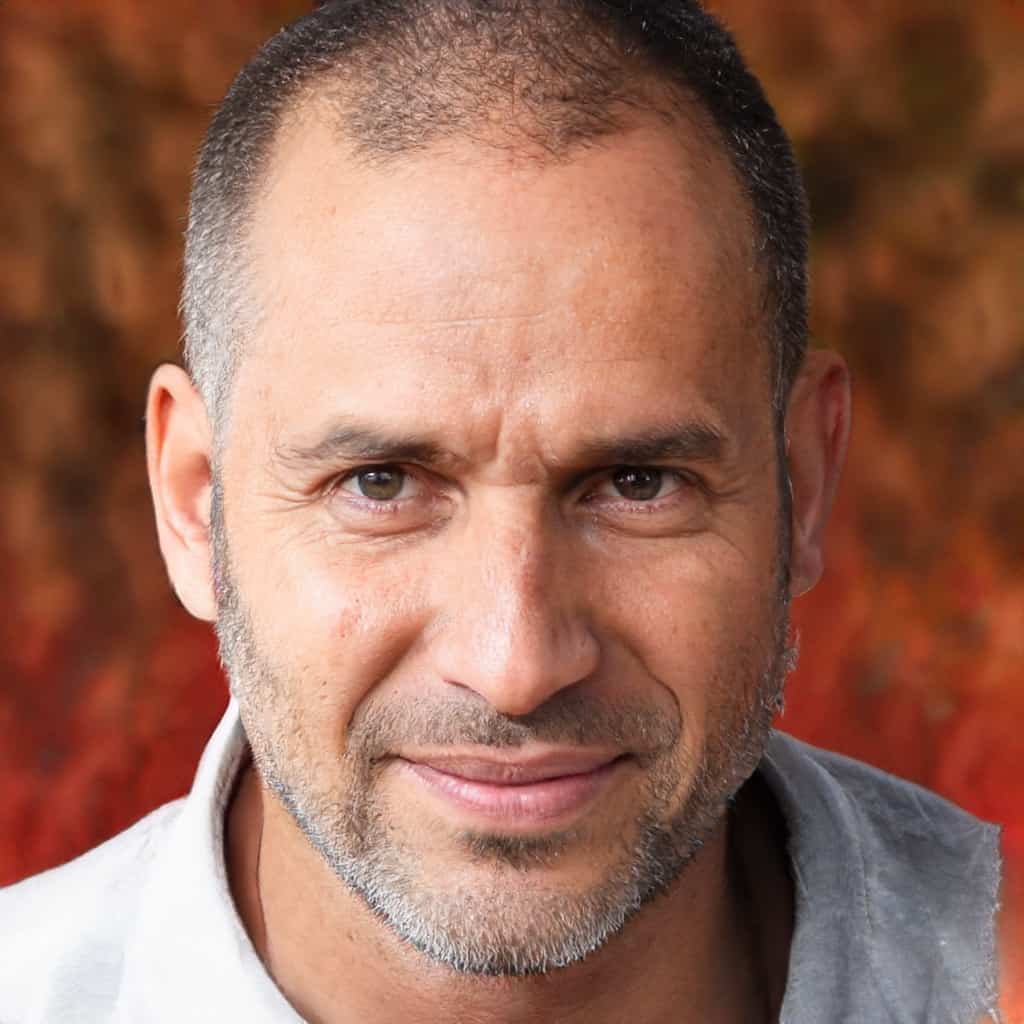 Gary Portman is the founder and main author of knivesadvice.com Using the knowledge he has gained through the years, he aims to help people choose the best knife based on their needs. You can find more info about Gary here.