You want to buy a new knife set or do you want to learn more about a full-fledged knife set? Then, check our review of the Emojoy knife set consisting of 16 pieces.
---
A Good Knife Set
Before we start our Emojoy knife set review, we would like to introduce you to what a good knife set should possess. What properties should there be? What materials should be?
First off, we should be thinking of buying knife sets depending on our budget. It means that buying a good knife set under 100 dollars is not a dream. Yes, the higher budget you have, the better knives we will acquire. However, it does not mean you will not get good quality knives.
Secondly, your purpose is the deciding factor. If you are predominantly a meat-eater, you need a boning knife, fillet knife or paring knife to separate the meat from the bone. Of course, you always need some basic knives. We will get into more details in our review.
Lastly, you need to consider knife properties, as well. A good knife needs to have some aspects to think. For example; its tang is vital as it increases its stability and durability. A good blade needs to be full tang. Full tang means that the blade does not end where the handle starts but continues inside the handle.
We will get into more details later on. But before everything else, let's start to learn about Emojoy's 16-piece knife set.
To find out more about kitchen knives have a look at our Emeril 19-piece knife set review or Hampton Forge knife set review.
---
Emojoy Knife Set, 16-Piece Kitchen Knife Set with Carving Fork
To begin with, Emojoy is a good quality brand with affordable prices. The engineers and designers use the highest quality that this price level can afford. So, you will not have to worry about the overall steel quality if you end up with this set of knives.
Design
The knife set includes 12 pieces of knives, a carving fork, a pair of kitchen shears as well as a knife sharpener and a wooden block.
The whole set comes with good looking wenge wood handles with its unique natural color. If you have a dark color kitchen furniture, this set will blend in easily; yet, it also has a black color option. The wenge wood is a great choice when it comes to design and this is not only because of its classy look. Wengewood naturally prevents slipping, thus, it takes extra safety measurements.
Another thing is that it has well-designed bolsters. The bolster part in knives makes provision against kitchen accidents. This part is the transition part between the handle and the blade part of a knife. So, thanks to its thick bolster, a slip will not end up with an unfortunate accident.
If you are interested to read more of our articles you can check our comparison between Shun Classic and Shun Premier or our selection of the best knife sets under $100. 
Knives
As we mentioned before, there are 12 knives, fork and scissors as part of this set. Let's get into the details of those.
Main Knives
8-inch Chef's Knife: A Chef's knife is the most basic knife in a knife set. You will use it for a range of purposes including, slicing, mincing, dicing and cutting. This is the first blade that you will use in your prep session.
5-inch utility knife: This is a mini version of a chef's knife and it is used for cutting vegetables or fruits or simply slicing off the fat from meat.
8-inch Santoku knife: This has become popular among knife sets in recent years. This is the Japanese version of a Chef's knife and the primary usage is for slicing, dicing and mincing as the name suggests so in Japanese.
Other Knives
8-inch Carving Knife: This knife's main area of usage is cutting thinner slices of meat. You can also use it for veggies in julienne cutting. I do it so and it works fine for me.
8-inch bread knife: This knife is serrated which means its sharp side has a sawlike pattern so it is perfect for cutting slices of bread without pushing them down and squishing it. Another use is for soft fruits and vegetables.
6 pieces of steak knives: These can be used as table knives as well as cutting straight and thin meat slices.
3.5 inches paring knife: It is good for peeling fruits and veggies or trimming and segmenting them. You can effectively use it for removing meat from the bone, as well.
A pair of kitchen scissors: This is a handy tool to use for different purposes in the kitchen. You can skin off of poultry or trim fat meat with it. On the other hand, you can just open up packs or for other kitchen purposes.
7-inch carving fork: This is something that you might already have. You can use it to pick up and serve all types of meat, fruits or other foods.
8-inch sharpening steel: Every blade needs to be in shape. You need to hone your knives more often than not.
There is also a big wooden block to keep your kitchen orderly.
Testing
When we got this knife set at home, everyone started to cut some fingers, it is so sharp and easily slices everything. I mean my friend thought it was like his normal knife at home and pushed down the watermelon and squished it as if it was a kiwi.
The high-carbon stainless steel is forged so well that we could not differentiate it from another set of knives at home that is two times more expensive. I mean it is something that exceeded my expectations.
The chef's knife is quite stable and its lightweight allows faster use. The only problem we had with one of the knives was with the bread knife. The knife is a serrated one; however, its sharp-end still pushes too much power on the bread and flattens bread unintentionally.
The sharpening steel is a good surplus here as it works quite fine.
Pros
The material used in this set is top-notch for this price
It has a good range of knives that you can use multipurpose
Cons
The serrated knives are a bit troublesome to use
---
Conclusion
To sum up, Emojoy offers a great knife quality for its price range. We liked what it could do. Does it have negative sides? Yes, for example; serrated edges could cause issues later. However, we just liked its price/performance ratio.
For more of our articles have a look at the best electric fish fillet knives or the best fish fillet knives.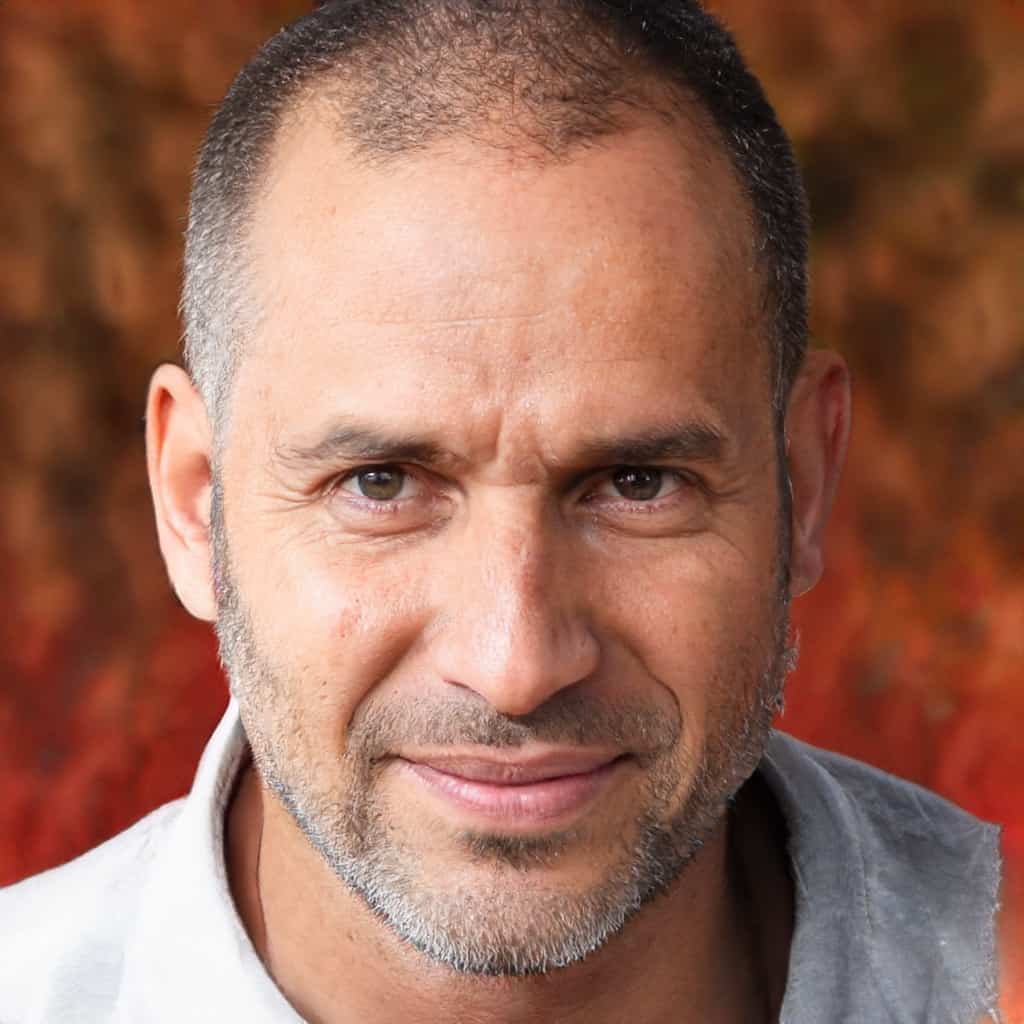 Gary Portman is the founder and main author of Knivesadvice.com. With his extensive knowledge and experience, he is committed to assisting people in choosing the perfect knife for their needs. Through his articles, Gary shares valuable insights on various aspects of knives. With his expertise, readers can make informed decisions and find a knife that is tailored to their preferences and requirements. You can find more info about Gary here.