One of the most essential things that any cook, whether personal or professional, needs in their kitchen to be successful, is a knife set. No matter what you are doing, a solid set of sharp and functional knives will make it easier and more enjoyable. But shopping for knives can get complicated fast, so when you are trying to find the best knife set for under $100, you want to make it as easy as possible. 
That's why we did the hard work for you and gathered together 7 of the best knife sets that won't break the bank. Whether you are looking for a new set for your kitchen, a set to take to work that will help you serve your best to your customers, or a set for someone equipping their first kitchen, with a little planning and this list, you should be able to find the perfect knife set.
What Is A Knife Set?
A knife set is a set of several knives that are packaged and sold together often at a much lower price than being purchased piecemeal. In most situations, the knife set will come with several of the "usual" kitchen staple knives, like a chef's knife and a bread knife. In larger sets, you will frequently get many additional knives, such as specialty knives and steak knives.
Some knife sets will not only include additional or specialty knives, but they may even have additional features or storage options. Many of the best knife sets under $100 even come with sharpeners, kitchen shears, and a knife block for a gorgeous and safe countertop knife storage option.
Why Knife Sets Under $100?
Times are tough for a lot of folks right now, and even if you don't fall into that category you still may not want to just toss money at an expensive knife set when you can get the job done for less than a hundred bucks. This can be particularly handy in several situations, such as family kitchens, renovation or remodel scenarios, or even gifts.
If your family is like many, you may not want to put a really expensive knife set in the kitchen because it may get misused or abused in some way. If you are remodeling or renovating your kitchen, you may simply want a new set to accent your new kitchen, that doesn't interfere with your remodel budget. Finding the best knife set under $100 can even make great gifts around the holidays, or for recently married, graduated, or otherwise independent children that may be trying to outfit their first "grown-up" kitchen.
What To Look For In A Knife Set Under $100
When you're looking for the best kitchen knife set under $100, things can get complicated and confusing pretty quickly. So, to help simplify your search outside the bounds of our picks for the 7 best knife sets, there are a few things to keep in mind when comparing knife sets. You want to consider the contents of the set, how they're made, any additional features or storage they come with, and of course, any warranty coverage they may come with.
The Number & Type Of Knives
This is arguably one of the most important things to consider when you are looking at potential knife sets since there is no point in buying a set if it doesn't come with what you need. The main knives that should come in just about any potential knife set should be a chef's knife, a serrated bread knife, and some sort of utility knife. More is good, but if you are looking at a set and one of these three are missing, you should probably consider a different set.
Additional knives that you will find in some of the best kitchen knife sets under $100 may also include knives like carving knife or slicing knife, vegetable knife, paring knife, cleaver, and a thin & flexible boning or filet knife. Steak knives will also usually be found in better sets, usually in a set of 5 or 6.
Construction
The construction of the knife set should be a major factor and will cover things like the type of metal used in the blades, the handle material, and more. The tang type of the knives is also an important part of the knife construction as well since knives will full tangs don't have a potential point of failure in the joinery. 
Many knives will have rivets in the handles as well to help keep the handle and the blade united as a single piece. These rivets should be solid and absolutely flush with, or even recessed from, the surface of the handle. You should not be able to move the blade at all, no matter what, and when you use the knives you should not be able to feel the rivets in your grip.
If you can spend a bit more, check the best knife sets under $200.
Features
Features of the best knife block sets under $100 will always include a block, but some smaller sets may not always include one. However, this is a great feature and should be used if possible, since it provides safe and clean storage for the knives. 
Additional, non-knife items in the set are also considered features. This would include a sharpening stone or honing bar, as well as kitchen shears that can be used to cut through small bones and ligaments easily. Not all sets will have these though, and they should generally be seen as "extras" and not necessities.
How Are They Stored?
The vast majority of knife sets, and most of the best knife sets under $100, will come with a knife block for storage. This is convenient and attractive countertop storage that prevents storing knives in drawers, which can be dangerous and result in damage to the blades themselves.
While knife blocks are attractive, convenient, and safe, they aren't perfect and they do require some care on the part of the owner. Since knife blocks are generally made from wood, that means they are porous and that any knives stored in the block must be completely clean and dry. If dirty or damp knives are stored in the block, they can begin the growth of mold or bacteria.
Warranty
Warranties are more useful than many people think, and with the availability of knives with warranties versus knives without, there really is no reason not to make sure that the set you are buying has robust warranty coverage. Many knife companies now offer lifetime warranties with 100% satisfaction guarantees, so whether it breaks or just doesn't feel right in your hand, in many cases you can simply return it and get another.
---
The 7 Best Knife Sets Under $100
---
1. McCook MC29 Knife Sets, 15 Pieces German Stainless Steel
The McCook MC29 Knife Set is a beautiful and stately knife set that is available in either a 15 or 20-piece set and comes with a solid walnut-tone block for storage. The block is also equipped with self-sharpening slots, so anytime you put a clean, dry knife away it slides past the ceramic stones and refreshes the blade edge.
While the knives are easily sharpened, the blades are made from German stainless steel and are tempered to be extremely hard. The full-tang blade and the rivetless handles provide nearly unbeatable strength and longevity. The set includes a chef knife, slicing knife, santoku knife, serrated utility knife, regular utility knife, paring knife, and 6 steak knives.
Pros:
Knife blade material is designed to be easily sharpened

Handles are very comfortable to grip

Sharpeners can be used upon storage, retrieval, or when needed
Cons:
Knives are hand washable only
Final Verdict
Anyone looking for an affordable set of solid knives that will last for years will have a great option in this set. They even have sharpeners, which helps prolong their practical use and lifespan.
---
2. 

Farberware Self-Sharpening 13 Piece Knife Block Set With EdgeKeeper Technology
Farberware is a famous cookware brand across the United States. If you are looking for a set of knives that is durable, top-notch and affordable, you had better check a Farberware. The blade material is high carbon stainless steel so, it makes the blades sharp, precise and accurate.
What are the included knives in the set?
There is a total of 11 knives, a pair of shears and an EdgeKeeper storage block. The chef knife and the slicer are 8 inches long while the set features a 5-inch Santoku. The only serrated knife in the set is the 5.5-inch utility knife and there is also a 3.5-inch paring knife. The knives finish with 6 pieces of steak knives.
In addition to that, you will acquire multifunctional kitchen shears and lastly, you will have the EdgeKeeper storage block.
How about the EdgeKeeper block?
As you may have noticed, the set lacks a sharpener. So, you might be thinking of how you will hone your blades. The engineers in Farberware came up with a good idea for you to save time. The knife block has built-in ceramic sharpener slots on it. So, every time you remove or insert a knife, you hone your blades.
Design and Care
The Farberware knife set has a set whose design is for everyday kitchen use. There is a perfect knife for you for different tasks such as mincing, slicing, chopping, slivering or whatever you need.
All the knives are full tang which makes them more durable while the blades are fully forged.
To maximize your knives' lifetime, you need to handwash it with warm water and mild detergent. Right after washing, you should dry it.
Fore more options on self-sharpening knives, check our guide on the best self-sharpening knife sets.
Pros
Farberware's set has so wide range that you can do all the basic tasks with this set
It has an extraordinary built-in sharpener
Cons
The overall sharpness of the blades is questionable
---
3. 

Astercook Knife Set,15 Pieces Chef Knife Set
The Astercook Knife Set is a 15-piece knife set that is available with the choice of either a black block or sunlight-tone acacia wood block. The knives are made from high-quality German stainless steel and are high carbon for excellent rust resistance.
Not only does this set come with a chef knife, slicing knife, santoku knife, bread knife, utility knife, paring knife, and 6 steak knives, but it also includes a set of kitchen shears. Also included in the block is a sharpening rod to keep your edges razor sharp. The one-piece construction is the pinnacle of low maintenance.
Pros:
One-piece construction is super-easy to clean and care for

Included sharpening rod is far better than self-sharpening blocks

Includes handy shears
Cons:
A natural wood block can begin to harbor bacterial growth
Final Verdict
This set is great for those who want one of the best knife block sets under $100, while also getting a set that is super easy to clean and maintain.
---
4. Cuisinart C77WTR-15P Classic Forged Triple Rivet
The Cuisinart C77WTR-15P Classic is a triple-riveted knife block set from one of the most trusted names in kitchen cutlery. The state-of-the-art high-carbon stainless construction is one of the most rust-resistant formulations on the market, and the full tang blades will never come loose because there is no joint to fail. 
This set includes a chef knife, slicing knife, santoku knife, utility knife, standard paring knife, bird beak paring knife, and even 6 steak knives. It includes a separate sharpening steel rod, as well as all-purpose kitchen shears. Three choices in block tone are available as well, white, black, or gray.
Pros:
 White handles look nice and clean in your kitchen

Forged high-carbon is very durable

Added control with the extra-wide safety bolster
Cons:
Final Verdict
One of the best kitchen knife block sets under $100 would naturally be from one of the long-time leaders in kitchen quality, Cuisinart. Not only does it have everything you need, but it also comes with some great additional features as well, which make it a great value.
If you want knives which are easy to clean, see our guide on the best dishwasher-safe knife sets.
---
5. Farberware Forged Triple Riveted Knife Block Set, 15 piece
It may seem like a hard feat to find a decent quality knife block set under $100, but this triple-rivet block set from Faberware is inexpensive and loaded with everything you'd need. The handles are full tang and designed to have an ergonomic grip so they stay comfortable in your hand. This 15 piece set includes all of the usual types you'd expect to see in a knife block, plus sharpening steel and a pair of scissors.
Pros:
Full tang handles are triple-riveted for extra strength

Blades are magnetic, so you have the option to hang them on a magnetic strip

Lightweight and easy to work with
Cons:
Final Verdict:
With such an affordable price point, many people would probably be hesitant to invest in these, but Farberware is one of the best budget-friendly brands of kitchen tools and accessories around. If you want to learn more about knife sets, check our full reviews on the 5 best Japanese knife sets or Emeril 19-piece knife block set.
---
6. Cuisinart C55-12PCER1 Advantage Color Collection 12-Piece Knife Set
For anyone that prefers a more fun and unique knife set, the Advantage Color Collection from Cuisinart may be the perfect choice. There are 6 knives in the collection, and while it may not come with a block, each comes with a coordinating protective cover to keep your hands safe. These knives are made from stainless steel and the colored layer is a ceramic coating. This gives double benefits because not only are the knives aesthetically pleasing, the ceramic is non-stick so you can cut anything you want without food getting stuck to them.
Pros:
Fun colorful knives make a great gift for a first apartment

Protective covers keep your hands safe

The ceramic coating doesn't come off easily
Cons:
Does not come with a block
Final Verdict
If you're one of the many people that love colorful kitchen tools and accessories, the Cuisinart Advantage Color Collection would be a fun addition to your space.
---
7. 

Emojoy Knife Set, 15-Piece Kitchen Knife Set with Block Wooden
The last one on our list is the Emojoy knife set. It has a total of 15 pieces in the set. All the blades in the set are high carbon stainless steel which gives extra sharpness, precision and accuracy. Let's get to the details of the knives.
What are the included knives in the set?
There is a total of 12 knives, a pair of kitchen scissors, a knife sharpener and a wooden block. Its chef's knife sizes 8 inches and is with a curved blade. The next one on the list is the 8-inch long slicing knife to slice things up.
Then, we have an 8-inch santoku knife which is the Asian cuisine version of the chef's knife. The 8-inch bread knife is suitable for slicing bread and tomatoes and prevents squishing. 5-inch utility knife is for smaller tasks in the kitchen. Then, we have the 3-and-a-half-inch long paring knife and lastly, 6 pieces of steak knives.
You can store your knives in the Pakkawood knife block which looks extremely chic and delicate. You need to handwash it if need be.
The kitchen shears are multifunctional which you can use not only for snipping herbs but also for skinning off of poultry or removing the fat from the meat.
Design and Care
Emojoy's default handle color is rosewood which looks elegant and durable for a knife. The block is natural wood and keeps your kitchen clean and orderly.
The overall design is to increase the durability and stability of knives, especially thanks to its sturdy bolster. As it is made of stainless steel, there will be no rust, stains or pitting for sure.
When it comes to caring, this one is as delicate as a baby. You should not be using the dishwasher at all. If your dishwasher has a name and two legs and can speak, for sure. However, not suitable for machines.
Pros
Santoku knife is a great surplus for different purposes
The chic and elegant Pakkawood handles and block make the set more attractive
Cons
The care is troublesome as you need to handwash everything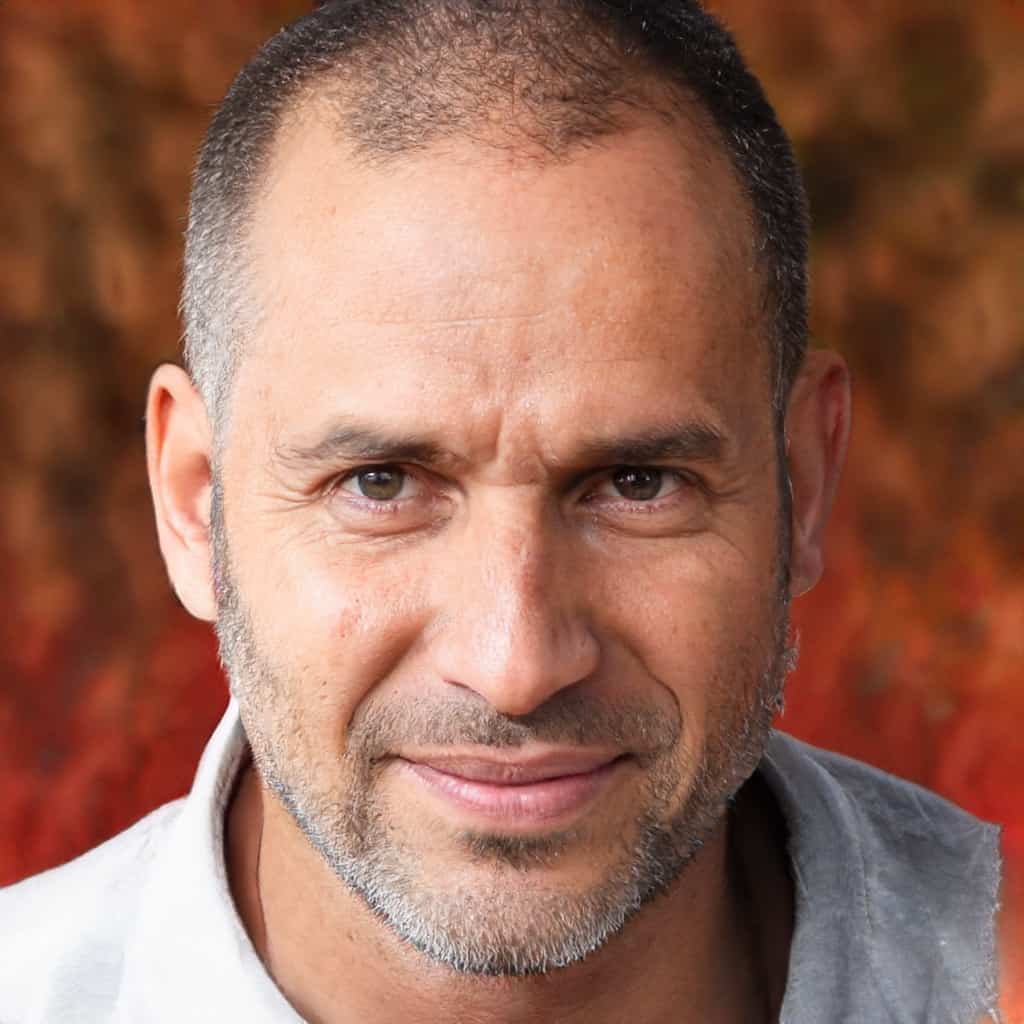 Gary Portman is the founder and main author of knivesadvice.com Using the knowledge he has gained through the years, he aims to help people choose the best knife based on their needs. You can find more info about Gary here.