Would you like to buy a set of Hampton's but cannot decide if it is worth buying? Here is a detailed review of Hampton Forge for you to decide!
---
A Good Knife Set
Before everything else, we would like to give you good details about what to look for in a good knife set. We believe it will be of great help to people who have no extensive knowledge about knives.
So, first things first. First, we need to decide on two things. The first one is the budget. The world of knives is full of options and a cheap set of knives does not always mean a bad set of knives. You can always find hidden gems that are cheap but valuable.
Secondly, we need to think about our purpose. What are you going to use this knife set for? If you are going to remove meat from its bone, you need to use a specific type of knife. However, if you have a vegan or vegetarian diet, you do not need a carving knife or slicing knife.
If you are interested to read more of our articles you can check our Emojoy kitchen knife set review or our review on the 7 best Oyster knives. 
---
Good Qualities of a Knife
In this section, you will get to know some characteristics of a good knife. This is what a knife enthusiast would look for in a set.
Full Tang
Full tang means that the blade extends down the handle and does not simply finish where the handle starts. If you are looking for a stable, durable and precise knife, you should look for a full tang blade.
Bolster
A bolster is a good safety measure in a blade. This is the unsharpened part between the handle and blade that adds stability and prevents you from having kitchen accidents. This is a must for blades if you want to keep away from danger.
Weight Balance
When we talk about weight balance, we point out to a balanced weight between the blade part and the handle part. This is important just because it will be vital when you are going for a long marathon of prepping session.
So, let's get to our Hampton Forge Kobe 13-piece Knife Block Set review.
---
Hampton Forge
Hampton Forge is a cutlery manufacturer whose headquarters is in Eatontown, New Jersey. The New Jersey-based company has been producing kitchenware for nearly 30 years. The company has been focusing on easing a home cook's life by combining quality and affordability. This kitchen set we are going to introduce is a great example of that.
Hampton Forge HMC01B460A Kobe
The Kobe series is one of the greatest models of Hampton Forge. In this set, there is a total of 13 pieces, including 11 knives, a sharpener, and a storage block. Let's get into its details.
Knives and Testing
When we test a knife, we usually test it with cutting cards. It is called total card cuts and if the score is higher than 550, it is extremely good and sharp while we can consider it dull if this score is less than 100. In our tests, this utility knife scored more than 500 which is great for this price level.
This set of knives has a great variety of knives while being quite multifunctional in regular kitchen tasks and ready for any preparation session. There is a 7-inch Santoku knife, an 8-inch slicing knife, a 6-inch boning knife, a 4.5-inch utility knife, a 3.5-inch paring knife and 6 pieces of 4.5-inch steak knives.
Main Knives
7-inch Santoku knife: Santoku knife is a type of knife that is the Japanese equivalent of a chef's knife. In this set, there is a lack of a chef's knife but we have a santoku here. Santoku is a multitasker that can mince, dice and slice. During our tests, we noticed that this is meritedly the flagship of this set. It is highly sharp as a razor and solid as a rock.
4.5-inch utility knife: This specific type of knife is the smaller version of a chef's knife and it excels in everyday tasks. It is usually longer than a paring knife and shorter than a chef's knife so that it will cut things into even smaller pieces.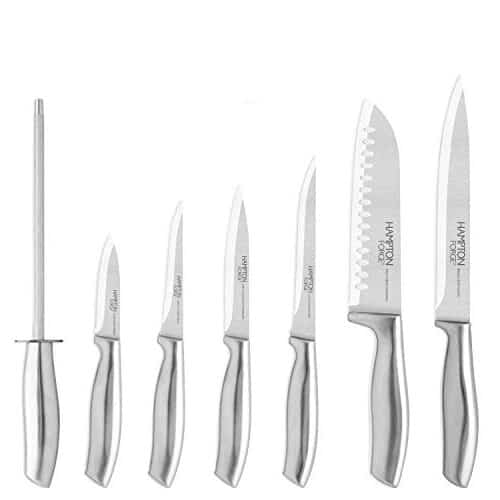 Other knives
8-inch slicing knife: Slicing knives have a long and thin blade with a pointed tip and this is perfect for slicing an array of meat or big fruits. The knife here is good for smoked meat, poultry and fish. At the time of our test, we did not have cooked meat but a watermelon. It simply treated the watermelon as if it was a mango.
6-inch boning knife: Boning knife has a sharp-pointed and narrow blade and it is suitable for food preparation for removing the bones of poultry and meat. Do not use it to crush bones as it is not a cleaver. The only problem with the knives we had here. After testing with bones, we saw some nicks and jags on the blade and needed honing right after it. Otherwise, it does what it does well.
3.5 Paring knife: When you need to peel fruits, trim vegetables or slice them, this is the knife that you need. We tested it and normally, there is a number of stability and maneuverability problems regarding small blades. It had quite minor problems but was above average overall.
Steak Knives: These are the knives that can be used as a table knife. They are quite well and sharp; yet, we did not comprehensively test them.
To find out more about kitchen knives have a look at our comparisons between Nakiri and Santoku knives or Wüsthof Classic and Wüsthof Gourmet knives. 
Design and Features
The set has a modern look thanks to its sleek look. Its silver color adds even sturdier appearance to the set.
The blades have a superior sharp hollow-ground edge which is good for a precision edge for clean cuts. All of the blades are made of high-carbon stainless steel that is corrosion, rust, and pit-resistant.
One thing we did not like about the knife is the handles. The knives would be much more stable with wooden handles that has three rivets. Yet, the handles do not slip even when they are wet so, it is quite nice safety-wise.
How to Care
The knives are dishwasher-friendly; however, we always recommend you wash them by hand to maximize their lifetime. If you want to use your knives for a long time, you need to wash them with warm water. Then, rinse it and dry it. You should not be leaving them soaking in water or dirty overnight.
Another thing you should note is that you need to use your knives according to their purposes. They work most efficiently when you use them properly. So, in this set, you have a boning knife to remove meat from bones; so, this task needs to be done for that.
One last thing is that you need to sharpen your knives as often as possible. If you hone your knives after every use, these knives will stay sharp forever and you will protect them from denting.
Pros
Good range of knives with high quality
Afordable for home cooks
Cons
---
Conclusion
To sum things up, we recommend this set if you are looking for an affordable and good quality knife set. Does it have deficiencies? Sure thing. However, you will have a good set for beginners and you can upgrade it later.
For more of our articles have a look at our comparison between boning and fillet knives or our review on Cutco knives.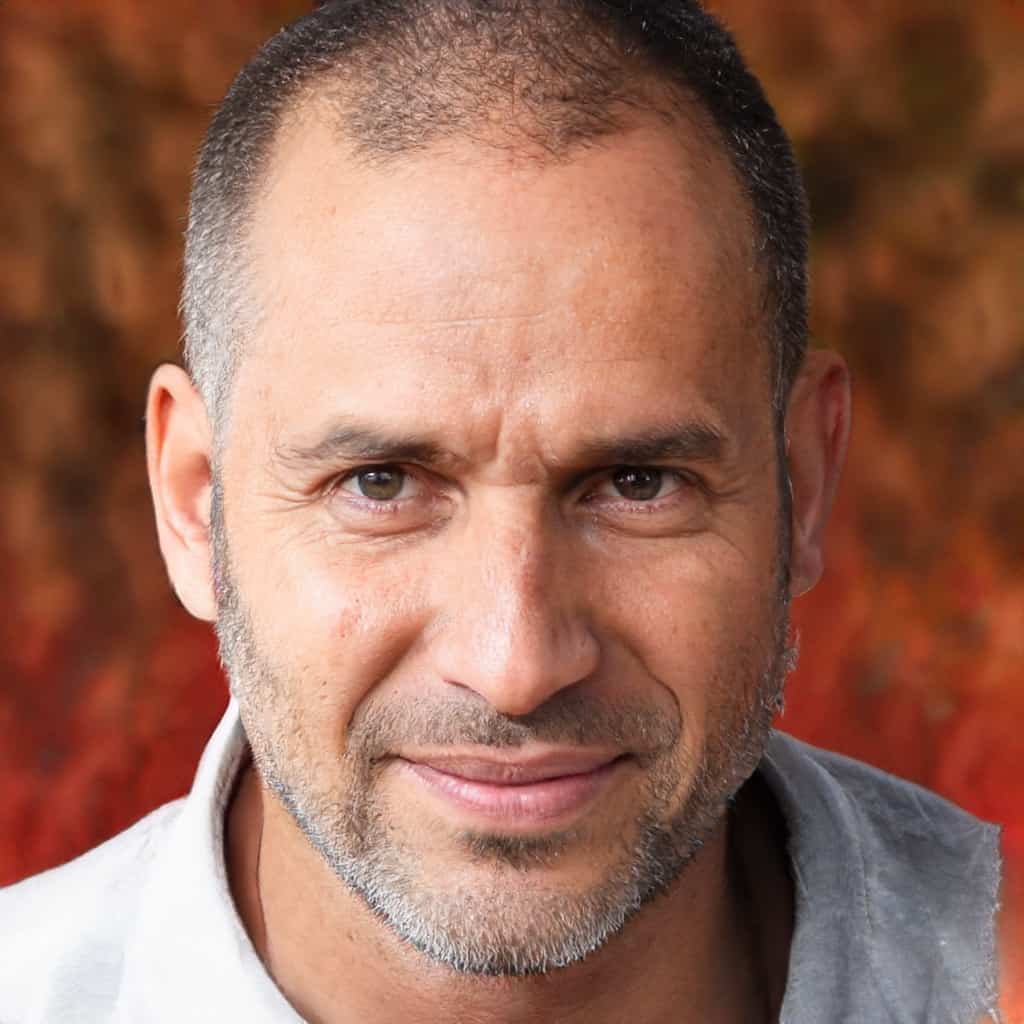 Gary Portman is the founder and main author of Knivesadvice.com. With his extensive knowledge and experience, he is committed to assisting people in choosing the perfect knife for their needs. Through his articles, Gary shares valuable insights on various aspects of knives. With his expertise, readers can make informed decisions and find a knife that is tailored to their preferences and requirements. You can find more info about Gary here.