Ever wondered what kind of knife the Sabatier 16-piece Knife Set is? Here is a review that is good enough to learn all the details!
---
A Great Knife Set
Before starting our review, we thought it would be useful to give information about choosing a great knife set. To achieve this, we decided to devote this section to this topic.
What do you think a good knife set needs to have? Yes, sharpness and good design are two of the desirable features. Other than that? No idea. Now, you will have an exclusive idea.
First off, we would like you to start asking the right questions to reach the right destination. The first question is "Why am I going to use these knives?". Your purpose is important. Sure, there are multifunctional knives in every knife set; however, if you buy a cleaver as a vegan or vegetarian, we cannot call it "money well spent" right?
The second question is "How much money can I spend on a knife set?". Nobody wants to spend more money than they expected in the first place. The world of knives is full of options and there are low-quality ones and high-quality ones in every price range. Finding the hidden gems is what actually matters.
To find out more about kitchen knives have a look at our review of Emeril 19-piece knife block set or Emojoy 16-Piece kitchen knife set review.
---
Good Features in a Knife
There are several qualities of a good knife and it is impossible to count every one of them here. So, we are going to talk about a few in this section before beginning our review.
---
Material
Humanity and knives are almost agemates. People have used stones, wood and many more. However, over the years, we have found the perfect material for producing knives. At least up until we invent lightsabers. This material is stainless steel. You can also take a look at Damascus steel; however, do not even consider buying ceramic knives as they are not durable, hard and stable enough.
---
Handles
Handles are one of the two major parts of a knife along with the blade. So, handles are crucial as they are the deciding factor when it comes to weight balance, grip, and safety. For example; when a triple-riveted handle is much more stable than no rivets.
---
Fine Edge
Your knife needs to meet your expectations with its sharpness. However, to get the sharpness you want, your blade needs a well-design. Also, the blades' edge can be serrated or non-serrated, it needs to be fine with your purpose.
Long story short, let's dig deeper with our review.
---
Sabatier Stainless Steel Hollow Handle Edgekeeper Knife Block Set 16-piece Bamboo
Sabatier is a French brand that has more than two hundred years of experience under its belt. They are saluting from Thiers, the French cutlery capital, and they have been producing high-quality knives at affordable prices.
If you are interested to read more of our articles you can check our Nakiri vs Santoku comparison or Wüsthof Classic vs Wüsthof Gourmet comparison.
Knives and testing
The whole set includes a total of 16 pieces with 14 knives, a pair of kitchen shears and an elegant-looking bamboo storage block. In our tests, we simply loved their sharpness and durability. The knives come sharp as a razor and even after extensive use, they still stay sharp. If you want to learn more about how to keep them sharp for your whole life, you need to read on till our "How to Care" section.
Another thing we noticed in our tests, they are strong as a mother. These knives passed our little compression test with great scores and qualify as one of the strongest knives in the knife-landia.
Before getting into the details, we would like to talk about their overall hardness. There is a scale called the Rockwell Hardness Scale and this set of knives sits at 58+. The weakest link is the steak knives as expected but even their score was 58 which beats many other famous knives in the market.
Now let's introduce the knives shortly.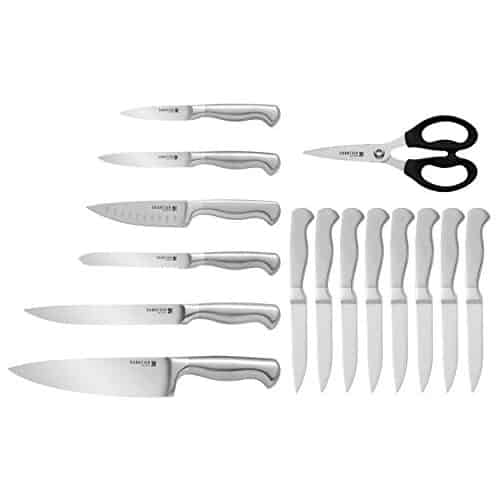 Main Knives
8-inch chef's knife: This is the most basic knife in any knife set. A western-style multifunctional type of knife is suitable for chopping, dicing, slicing, mincing. When you start your prepping, this will be the first knife at your arm's length.
5.5-inch serrated utility knife: A utility knife is a type of knife that is the smaller version of a chef's knife. You can slice and cut small vegetables even smaller with this knife. The serrated edge is good for not pushing down the food that you are cutting.
5-inch chef's knife with kullens: Kullens are an inseparable part of a Japanese santoku knife which is the oriental equivalent of a chef's knife. Here in this set, we do not have a Santoku knife but a chef's knife with kullens. So, this knife is another multifunctional knife with a smaller but thinner blade.
Other knives
8-inch slicer knife: A slicer has a long and thin blade with a pointed tip (sometimes a round tip) and it is perfect for cutting an array of meat or big fruits. You can slice fruits like watermelons as well as smoked meat with this knife.
4.5-inch fine edge utility: This is a smaller version of the previous utility knife but with one difference: Its edge is flat rather than the serrated edge.
3.5-inch paring knife: A paring knife is suitable for peeling fruits and vegetables or some small tasks.
8 pieces of flatware style steak knives: These are knives that can replace your regular table knives. Overall, these specific steak knives are the weakest link of this set.
Design
Let's start with its handle. The handles of the knives here are quite comfortable and easy-to-use. Thanks to its hollow structure, they are lightweight and they create a perfect balance. It provides the cooks with optimal control thanks to its ergonomic design. One criticism could be directed to the material. Even though it is still non-slippery, I would have liked a wooden handle for better aesthetics and stability.
The primary material of the blades is high-carbon stainless steel. High carbon is good for long endurance and stainless steel is perfect for stain-free and corrosion-free knives.
How to Care
Many people who do not know about how to care for a good knife complain about their steel knives rusting. However, if you know how to take proper care, you will not have such issues. So, these knives should not be in the dishwasher. Even the knives that brand themselves "dishwasher-friendly". If you want to maximize the lifetime of your knives, you should wash it by hand with warm water and a mild detergent, then rinse it and dry it immediately.
In addition to that, the Sabatier engineers have integrated ceramic rods into the block to keep knife edges as sharp as possible. However, a good knife needs honing regularly. If you have a sharpener, hone your knives as often as you think of them so, you will not have dull blades at any point.
Pros
Affordable and high-quality knives
Extremely sharp and resilient
Cons
---
Conclusion
To sum up, we strongly recommend you buy this product if you have a tight budget and are looking for a blade that can be multifunctional and everlasting. Does it have negative sides? Yes, sure. But we can say that it is a hidden gem for this price range.
If you want to learn more about kitchen knives, check our full review on the best knives for trimming meat or our recommendations of 5 knife sets we reccomend.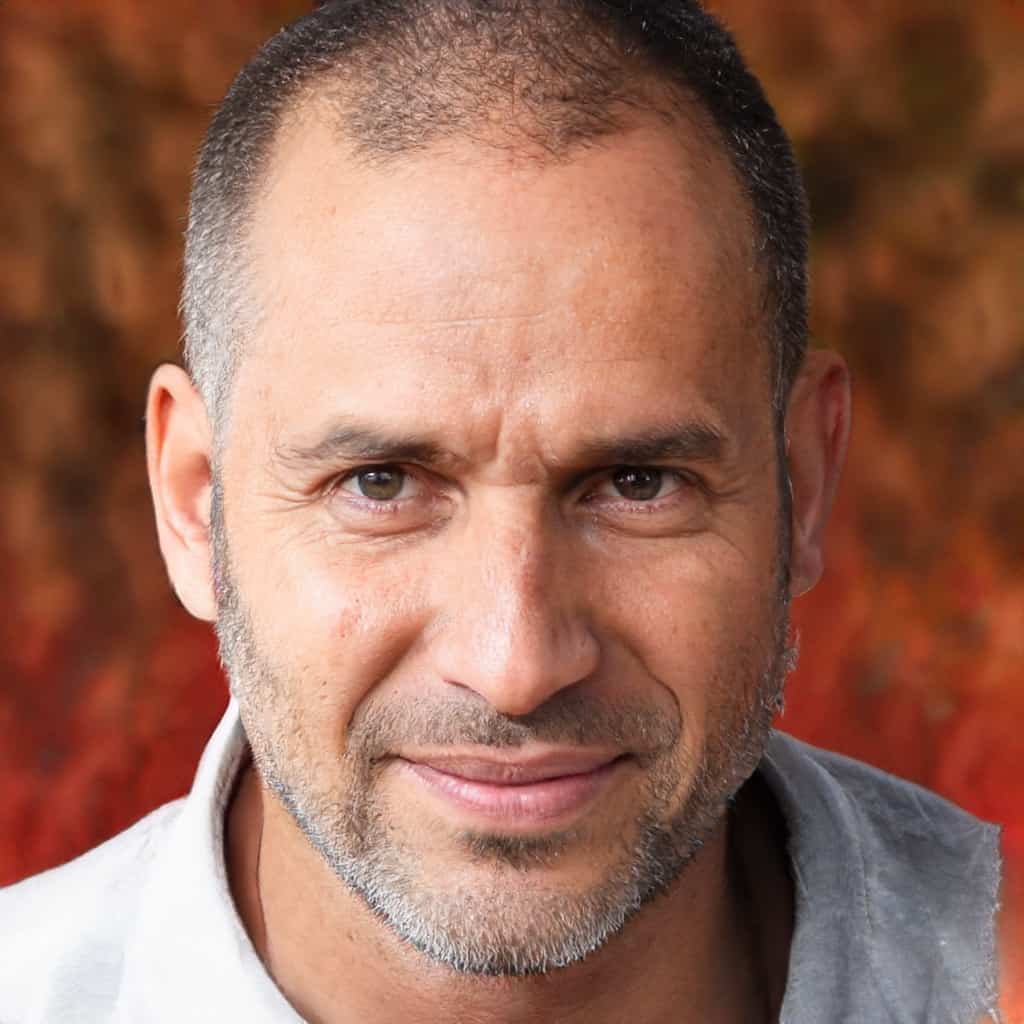 Gary Portman is the founder and main author of knivesadvice.com Using the knowledge he has gained through the years, he aims to help people choose the best knife based on their needs. You can find more info about Gary here.