Do you want to modernize your knives and in need of a new set? Here is our Calphalon Classic Self-Sharpening knife set review for you!
---
How to choose a good knife set?
When choosing a knife set, you should consider buying a good one as you buy knives once and for all if you take care of them properly. So, what aspects do you need to look for in a set of knives?
Three things are important: The first one is the budget. A small, high-quality set with a variety of functions is much better than a big but low-quality one. The second one is your purpose. Are you going to use it for bones or for chopping vegetables? It results in different solutions for your knife problem.
Finally, the last one is "the feel". Everyone has different hands and different requirements. The weight, size and other anatomical differences in a blade end up with a different feel.
If you want to learn more about Calphalon, check our full comparison between Calphalon vs Cuisinart knife sets or out review of Calphalon self-sharpening knives.
---
What are the must-have features in a blade?
All of us use knives and blades every day; yet, it does not mean we care much about what they do. The material or other properties are as important as what their purpose is.
First off, you need to look for a few things in a blade if you do not want to wind up on Amazon, looking for a better knife set. The primary thing you need to see in a top-quality blade is the full tang. Full tang means that the blade is a single-piece blade going all the way under the handle part. They excel in durability and stability while performing the best.
Then, we have the bolster. This is essential for safety purposes. A knife without a proper bolster can cause unfortunate accidents. The last thing we recommend you to look for is weight. Apart from the fact that most professional chefs employ heavier knives for stability purposes, one of the most important things is the balance between the blade and handle.
So, we have a set for you that fills up everything we mentioned: The Calphalon Classic Self-Sharpening Cutlery Knife Set.
---
Calphalon Classic Knife Set with Sharpening Technology
The full set includes 12 pieces, with 10 razor-sharp knives and a kitchen shears as well as a knife block that can hone your knives. We will surely get into the details of each piece; however, before we get that let's learn more about its design features.
Design Features
All the knives in this set are made of high-carbon, stainless steel. When your blade's material is stainless steel, you will not need to worry about potential rusting, pitting, stains or any other damage on the blade with proper care. If you do not know how to care, we are going to give you a detailed description at the end of our review.
Another thing is that the company used forged steel instead of stamped steel. Forged steel is way better than stamped steel when it comes to durability and sharpness. In addition to that, all the blades are full tang. As we told you about full tang, it is also a much-desired feature in a blade.
The handles have three rivets to add more security in your grips and all the handles have identification labels that make them stand out in the storage block.
If you are interested to read more of our articles you can check our review of Hampton Forge knife set or Nakiri vs Santoku comparison. 
Knives in the Set
As we said, there are 10 knives and a pair of kitchen shears in the set. Let me introduce you to the knives and their purposes one by one.
Main Knives
8-inch Chef's Knife: This is the most basic knife in any knife set. Even though it could come with different sizes ranging from 6 to 12 inches, 8-inch is good for many people. Normally, the longer a knife, the easier you slice things. However, if you want to assume more control over the knife, you should use a smaller one. You can use Calphalon's Chef's knife for various purposes like chopping vegetables or mincing herbs.
6-inch serrated utility knife: Utility knives are usually suitable for smaller tasks in the kitchen. If you are going to turn already-small tomato slices into shives, you should be using this. The serrated knives are even better to finish this as they have more contact points with the food.
5-inch Santoku knife: Santoku knives are getting more and more popular in the U.S. This type of knives are the Japanese equivalents of chef's knives. Santoku has three main purposes: Slicing, mincing, and dicing. Calphalon's santoku is great for having skinny slices of fruits and vegetables.
Other knives
4.5-inch Paring knife: Calphalon's 4.5-inch Paring knife can be considered as too long for a regular paring. When you want to trim the excess fat from your meat, this knife is your ace boon coon. It cuts or peels fruits with ease.
6 pieces of Steak knives: These are the knives that we use for daily purposes. For example, you can use them as your table knives or just to cut simple things that do not require a specific type of knife.
Kitchen Shears: These are simply the scissors that specialize in kitchen-related missions. You can snip herbs, open up packs or skin off chicken. Calphalon's befitting shears are very convenient and lightweight.
All in all, the people who set this knife set must have extensively thought about what people extensively use in the kitchen. When it comes to the general quality during our tests, we loved how they keep sharp and steady. Not a single jag or stain happened.
One bad thing is that the blades do not come sharpened. You need to hone a bit before your first use.
Knife Block
We all know that a better-sharpened knife can make you save time and effort. We would recommend you hone your knives before and after every use for the perfect cutting experience. Yet, it can be a bit time-consuming. However, the Calphalon Classic knife set solves this problem by adding ceramic sharpeners on the knife block.
There are 3 sharpeners so, every time you use your chef's knife, your storage block will automatically sharpen your knife. This makes your life in the kitchen easier.
When it comes to other features of the knife block, the case has a blonde rubberwood color and it looks quite elegant in the kitchen.
One bad thing about the block is that you will still need to use a good sharpener from time to time to sharpen all the knives as there are only 3 sharpeners.
How to Care
Many people are asking how to take care of stainless steel. They even tell the stainless steel is full of stains. The care is simple but not many people know about it. The first rule is that you should not use a dishwasher. Just wash it with warm water by handwash, rinse it and dry it. If you leave it soaking in your sink, it will rust or get stained.
Another thing people do in the wrong way is to scrape food off with the sharp side of the knife. You need to use the backside. One last thing is that you should use a plastic chopping board instead of granite or something.
Pros
The set has a good range and variety of knives
Considering the price, it can even be a steal for such high-quality
Cons
The storage block takes up space. Having a small kitchen might be troublesome
---
Conclusion
Afterall, Calphalon promises great overall quality and as we saw in our tests, it meets the expectations and requirements. We think that this set undercharges so, we strongly recommend to those who need a complete and able set.
To find out more about kitchen knives have a look at our selection of the 5 best fillet Knives for salmon or our review on Emeril 19-piece hollow handle & knife block set.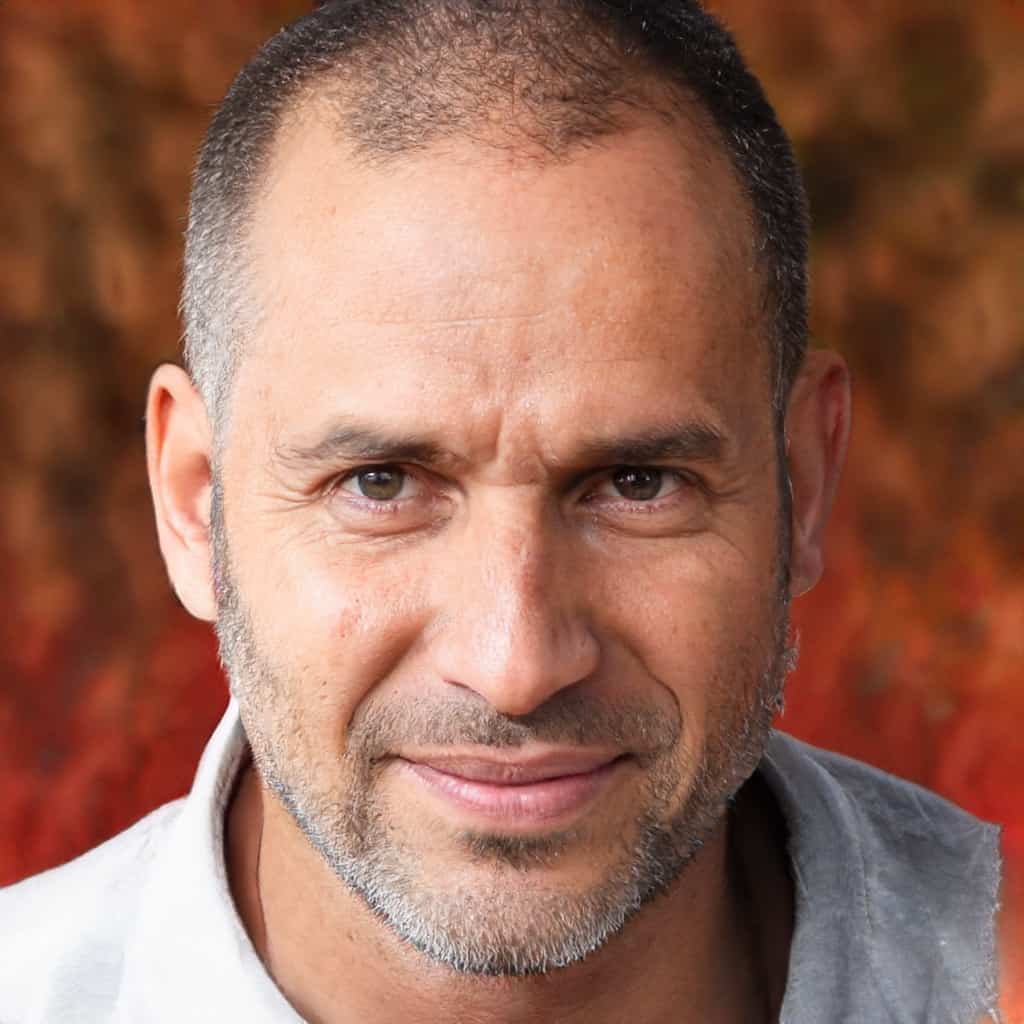 Gary Portman is the founder and main author of Knivesadvice.com. With his extensive knowledge and experience, he is committed to assisting people in choosing the perfect knife for their needs. Through his articles, Gary shares valuable insights on various aspects of knives. With his expertise, readers can make informed decisions and find a knife that is tailored to their preferences and requirements. You can find more info about Gary here.