Do you want to buy a set of knives but cannot choose which one is good and which one is trash? Here are 5 best knife sets to buy!
---
A Short Sneak Peek to Calphalon vs. Cuisinart
When people decide to buy a new knife set, they go on Amazon.com and search "Knife Set" and bang. Thousands of knife sets are there for you to buy. After a while, people give the screen a blank stare and cannot decide. This is all because not many people know what to look for.
So, we decided to give you a little bit of hint. A good knife has some characteristic features. The first feature is a full tang blade. Full tang blades increase maneuverability, stability, and endurance. The only advantage that a half tang blade has is the price.
Secondly, there needs to be a thick bolster to create enough safety measures and a good balance between handle and blade. A bolster is crucial as it prevents accidents in the kitchen in case of a slip. Slips happen all the time so, it is better to take caution.
Let's get to overall views of Calphalon and Cuisinart, then. Calphalon is a brand with 50 years of experience in the kitchenware and cutlery business. They have been getting more and more popular among American cooks as they produce good-quality products that endure. The Ohio-based company manufactures elegant looking products.
Cuisinart is a 40-year-old brand that has been trying to ease up lives of home cooks with a motto of "Savor the Good Life". The company puts great emphasis on its design adding colors to our everyday life.
---
Calphalon Classic Self-Sharpening Stainless Steel 15-piece Knife Block Set
As we said, Calphalon's full-fledged set is here to please amateur cooks and culinary hobbyists. We will be discussing its design and features in this section.
Design
The knives have an elegant look that could fit into your kitchen with its not too big, not too small block. They come well-sharpened and the engineers thought a lot about its design.
Let's begin with its handles. The handles have an ergonomic design that makes it easy to grip comfortably. The overall attribute is a very tight and safe grip and the handles do not slip at all even when it is wet. The last thing about the handles is that there are the self-identification labels on the handles. They are there so that you will understand which one is which even when they are in the block.
The blade is a full tang. Full tang, as we mentioned before, increases stability, maneuverability, and durability of the knife in general. This great characteristic feature would be enhanced if there were three rivets on the handle to clinch the knife.
The knives utilize high-carbon stainless steel as the primary metal composition and all have heat treatment to increase the lifetime of knives.
If you want to learn more about Calphalon , check our full Calphalon knives review or Calphalon self-sharpening knives review.
Features
There is a total of 15 pieces in this set, including 13 knives and a pair of kitchen shears along with the wooden block featuring a ceramic sharpener on it. Let's take a deeper look at the knives.
Main Knives
8-inch chef's knife: A chef knife is the most basic knife type in a western-style knife set. This knife's primary area of usage is pretty much everything such as cutting, slicing, mincing and dicing. So, you can use it to slice your tomatoes or chopping green onions.
7-inch Santoku knife: This knife is the Japanese version of the chef's knife. Its name means "slicing, dicing, mincing" in Japanese so these are the main objectives of this specific knife. Yet, it can perform well with slicing as it has a flat blade.
6-inch utility knife: This is the simpler version of a chef's knife. You can slice the vegetables even thinner with this knife.
Other Knives
8-inch bread knife: As the name suggests, you can slice bread, pizza or some soft fruits with it. The bread knife here has a serrated edge which makes the slicing process easier. This prevents pushing the bread down and squishing it.
3.5-inch paring knife: The main purpose of this small knife is to peel fruits and vegetables or cutting them into even smaller pieces.
8 pieces of steak knives: As you can guess, you can use them as normal table knives. Of course, these are good for separating meat from its bone, as well.
Kitchen Shears: A pair of kitchen shears is quite useful and suitable for many tasks. You can trim the excess fat from the meat or skin off chicken meat. If you want, you can even use it for daily purposes like opening up boxes and so on.
How to Care
First off, let's get this out of the way. You should not wash the knives in the dishwasher. They are not dishwasher-friendly. If you take proper care, the knives last for your whole life. Taking good care is a simple action, not rocket science.
So, wash it by hand with warm water. Then, you should rinse it and dry it as soon as washing finishes. Do not leave it soaking in water as it speeds up rusting and corrosion process.
Another thing to mention is that there are many different knives for different purposes. Plus, these purposes are there for a reason. Do not use it for doing a variety of tasks that the blades cannot take.
Pros
The huge variety of knives is a big surplus
The overall sharpness is very well
The toughness on the Rockwell Hardness Scale is 58+ which is so good
Cons
The block takes up big space, not suitable for small kitchens
Cuisinart C77PW-8PB Pakka Wood Collection 8-Piece Knife Set
The other side of the comparison is this. We will again take a deeper look into the features and design as well as maintenance. If you do not want the whole set or are in need of completing the set, you can buy the knives one by one, too.
Design
It has elegant wooden handles whose premier material is pakka wood. Pakka wood comes from Africa and this material makes great handles as they do not slip at all even when they are wet. The design of the handle is very tight and safe and has three rivets that make the handles even greater.
The blades are ruthlessly sharp with fine edges. The finish is quite smooth and that makes it so sharp. However, the blades are not excellent. Yes, the knives excel at sharpness but durability is an issue here.
To find out more about kitchen knives have a look at our Cuisinart knives review or our selection of the best knives for cutting meat. 
Features
There is a total of 8 pieces in the whole knife set, including 6 pieces of knives and sharpening steel along with the pakka wood block to hold them all. The knives are as follows: an 8-inch chef's knife, an 8-inch serrated bread knife, an 8-inch slicing knife, a 7-inch santoku knife, a 5-inch utility knife, and a 4.5-inch paring knife.
We explained the other knives' features in the previous knife set's review with only one exception which is the slicing knife. The slicing knife in the set is used for cutting slices from cooked meat or poultry which can be an extra purpose for this knife.
One thing I would like to point out the features is its bolster design. Cuisinart, just like Calphalon, has bolsters, too but this time bolsters regulate the weight balance pretty well as the bolsters are excessively wide.
The metal composition of this set is high-carbon stainless steel; yet, Cuisinart utilized lower-quality steel here, the general quality is not bad but lower than Calphalon's.
One good thing is that the knives go through good quality control and they come razor-sharp; so, you do not need to hone it yourself upon unboxing.
How to Care
Just like we said before, these are not dishwasher-friendly blades so, wash it by hand. The other things we mentioned stay the same as in Calphalon.
Pros
The whole set has a chic design thanks to its pakka wood material
They cosset on handles and it has nice three-riveted handles
Cons
They cosset on handles and it has nice three-riveted handles
Which one do we choose? Calphalon or Cuisinart?
To be honest, it is a hard choice. They both have advantages and disadvantages. So, I would just think of their durability, stability, endurance and material quality. I think Calphalon is a slightly better one here in this matchup.
To find out more about specialty knives have a look at our selection of the 7 best fillet knives for saltwater fish or the 7 best brisket knives.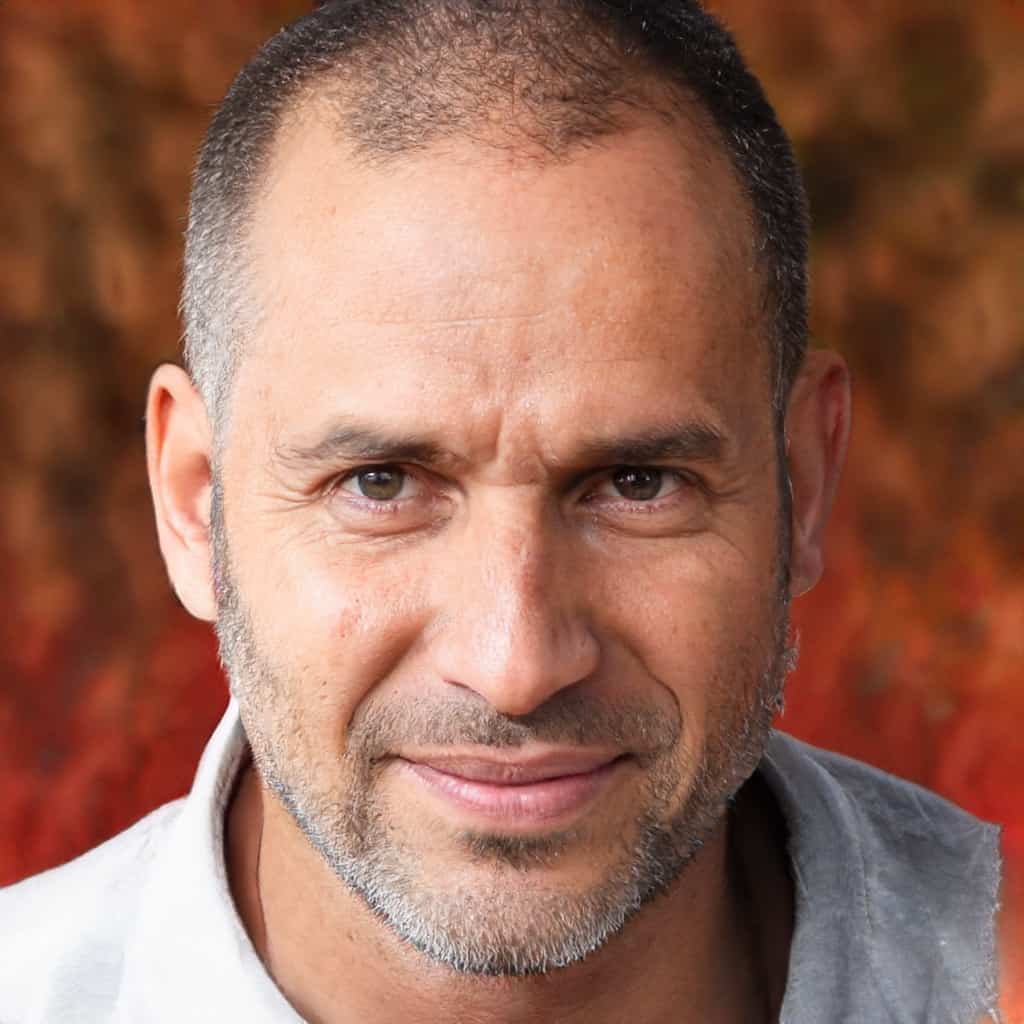 Gary Portman is the founder and main author of Knivesadvice.com. With his extensive knowledge and experience, he is committed to assisting people in choosing the perfect knife for their needs. Through his articles, Gary shares valuable insights on various aspects of knives. With his expertise, readers can make informed decisions and find a knife that is tailored to their preferences and requirements. You can find more info about Gary here.