Cooking is an art, and as such, it should be taken seriously. Just like professional painters have multiple brushes and brush sets, a cook requires the right "tools" as well. There are people who use a single knife for cutting everything, but they are probably not familiar with the benefits of having multiple knives. In this article, we talk about knives and take a closer look at the ones that specialize in cutting meat. In addition to that, we came up with a buying guide and a top list of the best knives for cutting meat out there.
We'll start this article off by talking about the various types of knives out there. Then, we'll explain some of the benefits of having a special knife only for cutting meat. We'll then move on and talk about some of the key factors you need to keep an eye on before buying a new knife for cutting meat, followed by our top picks.
If you find this intriguing, or if you're in the market for a new meat cutting knife, stick around, and you'll likely learn a thing or two.
---
What types of knives are out there?
There are various types of knives, and they all have their own purpose. Knowing these things will make cooking easier for you, and you'll enjoy it more. You won't have to go through the extra effort needed to slice a certain type of meat if you use the appropriate knife. One of the most common knives in a set is the Chef's knife. Usually, professional chefs have this knife stamped or forged. It is used for nearly everything around the kitchen, from chopping, slicing tofu or tomatoes, or even stakes. Next is the utility knife. It is basically a mini version of the chef's knife, and it usually used for slicing smaller sized meat or veggies. Another important type of knife is the Santoku knife. Santoku means "three virtues'. These are slicing, dicing, and mincing. This type of knife is great for veggies and herbs.
Other types of knives in a set include the boning knife, bread knife, the claver, and the steak knife. The boning knife, as the name suggests, is used to separate the bone from the meat. The bread knife, yep, you've guessed it, is used for cutting bread, although it can come in handy when cutting a cake. The claver is the hulk of all knives. It allows you to cut through the bones with a chopping motion. It also might come in handy when cutting watermelon or pumpkin. The steak knife is basically a table knife and is used for cutting cooked meat mostly. In addition to that, it can be used for spreading butter.
For the purpose of this article, we'll stick to the types of knives that are specialized for meat. With that being said, let's have a look at why you should have a meat cutting knife.
---
Why do you need a special knife for cutting meat?
So, why do you need a special meat cutting knife? Well, one reason is that cutting raw meat is not very easy. As a matter of fact, it can be if you use the proper knife for it. Butchering, trimming, and preparing the meat takes a whole lot of work, and if you don't have the proper tool, you'll struggle. That is why having a good quality knife will make a big impact on your efforts. It'll simplify your work, and in addition to that, it'll be neat as well. However, there are two different types of meat cutting knives. This depends on what type of meat you are cutting, raw, or cooked meat. The best knives for cooked meat are meat carving and meat slicing knives.
The best knives for raw meat usually depend on the type of meat you are planning to prepare. For example, a boning knife is perfect if you want to remove the bone from fish or chicken. On the other hand, if you want to slice, cut, or trim the meat, the cimeter knife will do an excellent job if you look to cut the bone then you'll need a meat cleaver. As you can see, there are a lot of different situations where different types of knives are needed. By knowing this, you'll save a lot of time and energy and be able to enjoy cooking way more than before.
---
How to Find the Best Knife for Cutting Meat?
Now that we know what types of knives there are available and what are the benefits of having specialized knives, it is time to have a look at some other things. Here we'll have a closer look at some of the key factors you need to keep an eye for when selecting a new meat cutting knife. There are loads of knife manufacturers and stores out on the market these days. Therefore this choice might not be as simple as it seems. There are a couple of key factors you'll need to look at before making a choice, and we're about to start things off with the basics:
---
Know the Basics
Ever heard of the saying "measure twice, but cut once"? Well, in our case, it's "Measure twice, but buy once." Knife shopping is similar to clothes shopping, and you'll need to know your size. If you are looking to equip your kitchen with a set of knives, make sure you pick knives that are 8 inches long. These are perfect for chopping, slicing, and dicing various foods. When it comes to raw meat, you'll need a slicer. The size you should be looking for is 4-6 inches, also look for a thinner knife, this makes it more convenient.
Handles
There are cases when you don't pick the knife; it picks you. Kind of like picking a pet. Before buying a knife, it is essential that you pick it up, hold it for a little while and see how it feels. The trick with the handles is to find a balanced and comfortable one; this will make things way easier for you.
Maintenance
If you want your knife to last longer, you'll need to take care of it. Many people are too lazy to do this and, in most cases, just leave the knife unwashed or put it in the dishwasher with the other dishes. It is highly important that you take good care of your knife in order to serve you well. It also helps if you choose a more durable and stainless knife.
Quality of the Knife
There are two types of knives, stamped or forged. The thing with forged knives is that they tend to be of higher quality simply because they're crafted out of molten steel. This means that the blade is tough. In addition to that, it features a bolster and heel for added protection. Furthermore, they are less likely to bend and tend to last longer. However, this does not mean that the stamped knives are bad. Putting aside the fact that they are the opposite of forgetting knives, they are still good and can perform tasks.
Cooking Style
Last but certainly not the least factor is the cooking style. This is very important if you are considering buying a whole set of knives. Think about your style and what would suit you best. You can always add additional knives to your set that are sold separately. If you are looking to slice meat, you should consider a stronger knife. If you are really into fine slicing, the Santoku will do magic for you.
You may also see which are the best knives for slicing brisket.
---
The 5 Best Knives for Cutting Meat
We've now learned why you should get a specialized knife; we also know what are the key factors when selecting a knife for cutting meat. It is time to have a closer look at some examples. In the following text, we've put together a top list of the best knife for cutting meat. In addition to that, we've added a short description along with a highlight of the good and the bad things about each model. So without further ado, let's get things started:
---
1. Victorinox Fibrox Pro
The Victorinox Fibrox Pro is the first model on our list. If you read our list of best boning knives for deer, you may already be familiar with this one. It is great for carving and slicing. As a matter of fact, it is designed by professionals for professionals. Once you use the Victorinox Fibrox Pro, your whole kitchen experience will be on another level. This 12-inch knife is crafted from top-quality carbon. This ensures that it is built to last. In addition to that, this knife features a Granton blade made out of stainless steel, which only makes it more durable.
The Victorinox Fibrox Pro is an ergonomic knife as it features a black fibrox / nylon handle. This will ensure that you'll get a firm and comfortable grip each time. In addition to that, it prevents any slips or accidents. The construction of the knife is stamped, which means that it is lightweight.
Pros
Features alternating scallops
Very easy to maintain
Enables fine slicing
Lightweight
Stain-resistant blade
Cons
Some users have reported that the nylon sometimes handles easily detach from the blade
For more information about Victorinox Knives, you can check our full Wusthof vs Victorinox comparison or  Victorinox chef knife review.
2. DALSTRONG Boning Knife Gladiator Series
The second product we have on our best knife for cutting meat list is the DALSTRONG Boning Knife. This is an award-winning design knife. It is made out of a single piece, ultra-sharp, wear-resistant, and precision-forged high carbon stainless cutlery steel. This knife was specifically designed for trimming, skinning, butterflying, deboning, and filleting meat. It is the perfect knife for cutting pork, wild game and beef.
The shape of the blade allows for easier maneuvers, especially around the bone and joints. In addition to that, this knife has a narrow blade, which is specially designed to glide along the contours of the bones. This results in easier separation of the bone from the meat. Furthermore, it features a tapered tip, meant for those hard to reach areas.
In order to maintain the perfect balance between blade sharpness and maximum resilience, the edge was perfectly crafted by experts to a 16-18 degrees per side. The blade has a polished and sturdy design, it has enhanced flexibility and hardness, due to the way it is skillfully tapered.
As far as the handle goes, this knife boasts with a triple-riveted black pakkawood one. It provides a secure and comfortable grip. In addition to that, it makes is flexible and easier to maneuver. It is also polished and laminated, giving it that shiny look.
Pros
Very ergonomic
Top-quality
Great value for money
Extra sharp
Cons
The grip is not ideal for lefties
To learn more about Dalstrong you can read our comparison on Dalstrong vs Wusthof knives.
3. Mercer Culinary Genesis 10-Inch Carving Knife
Moving on further on our list, we have the Mercer Culinary Genesis Carving Knife. This knife is best used for carving and slicing large roasts, turkey, or ham. It has a single-piece construction that is precision forged, made out of high carbon stainless steel. The Culinary Genesis is also corrosion and rust-resistant. It is fair to say that this is a very durable knife.
When it comes to comfort, this knife features a patented ergonomic Santoprene handle. It guarantees a firm and comfortable grip, even in wet conditions. This feature ensures efficiency and safety, as well. The handle is approved by the National Sanitary Foundation, which speaks for itself.
Pros
Sturdy construction
Ergonomic handle that is approved by the National Sanitary Foundation
Very sharp edge
Amazing balance
Cons
4. Victorinox Swiss Army Boning Knife
Another product of Victorinox on our list. This time we have a boning knife. The "S" shaped edge on this knife provides amazing control. When combined with the thin blade and enhanced flexibility, you get the perfect knife for separating poultry, fish, or meat from the bone. Not only that, but this knife is also great for slicing too. It can slice through joints and cartilage. It is also useful for skinning too.
This knife is highly ergonomic too. It was designed for professionals who spend the whole day with a knife in their hand and comes recommended by high profile chefs from all around the world. It features a terrific Fibrox Pro handle, which provides an excellent grip and minimizes the tension in the wrists while you work.
Pros
Cuts through meat and bone with complete ease
Holds sharpness for an extended period of time
Super sharp edge
Simple to maintain
Cons
Somewhat weak grip under wet conditions
5. J. A Henckels International
The final entry on our best knife for cutting the meat list is the J.A. Henckels International knife. It has the shape and heft of a typical chef's knife. It is designed for multiple purposes around the kitchen. But the thing at which it excels is removing the bone from white meat. It features a forged blade that is constructed out of stainless steel. In addition to that, maintaining the knife is quite easy. The handle is quite ergonomic and comfortable. Overall, this compact knife features a strong blade, precise edge, sturdy tip, and is very ergonomic and comfortable to hold.
Pros
Great for peeling and cutting fruits and vegetables
It is a forged original
Extremely safe to handle
The blade is made out of stainless steel
The grip is ergonomic and comfortable
Cons
Some users don't like the fact that it is very short
Concluding our Best Knife for Cutting Meat Guide
We've got to the end of our article, and it's time for a summary. We hope you've enjoyed this article and found it informative first and foremost. That now you know what types of knives there are on the market. What are the benefits of having a special knife for cutting meat? If you were looking to equip your kitchen with a set of knives, you now know what the things you need to take into consideration are. Such as the type of blade and probably the key factor being the cooking style and what you intend to use the knife for.
In conclusion, it all comes down to that. Simply because of the fact that there is no single best knife for cutting meat. It all depends on the type of meat you plan to use it. In addition to that, another key factor is the state of the meat. Is it cooked or raw, do you plan to skin it, trim it, slice or dice it? Whatever the case may be, there are different types of knives for different occasions. The trick is to get yourself a set of knives that you'll have the most use for. You can start by asking yourself what is it you cook the most.
To find out more about kitchen knives have a look at our Cangshan knives review or best Schmidt Brothers knives review.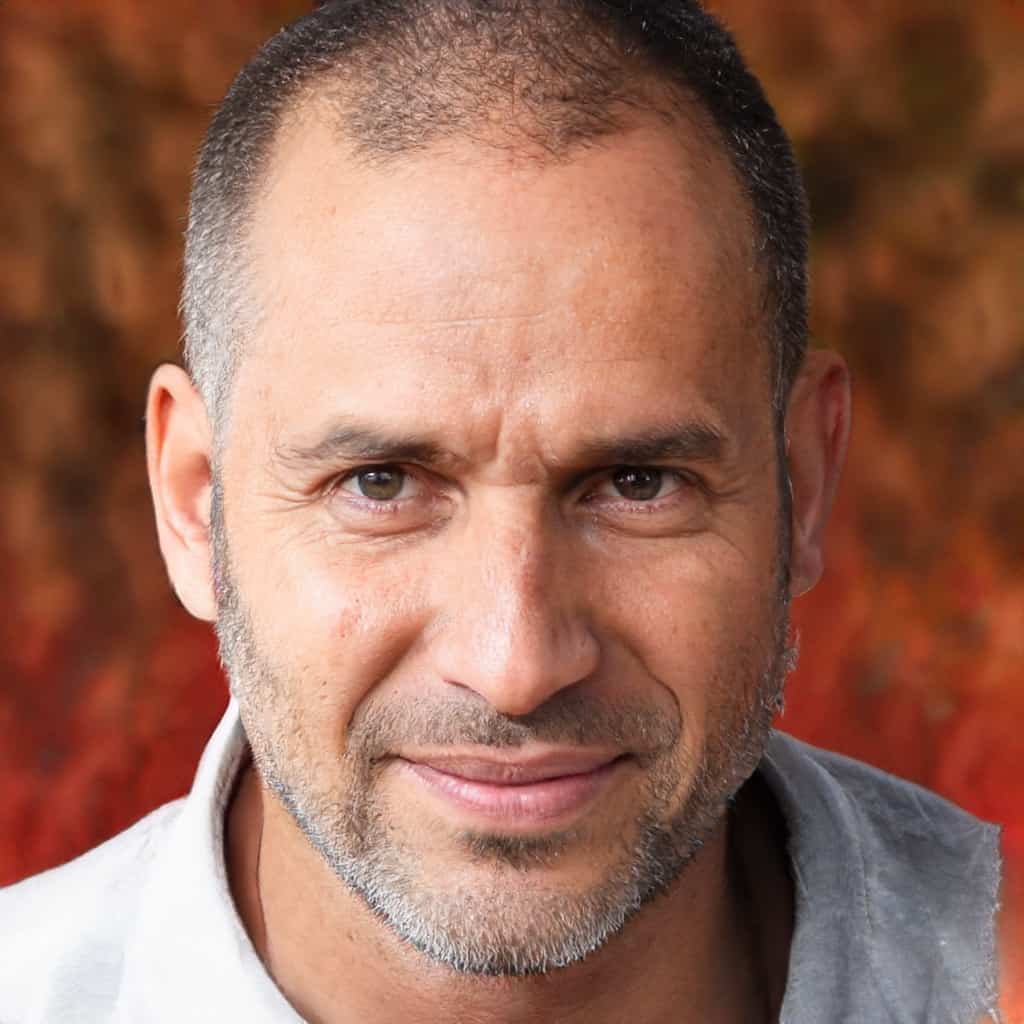 Gary Portman is the founder and main author of knivesadvice.com Using the knowledge he has gained through the years, he aims to help people choose the best knife based on their needs. You can find more info about Gary here.