Crafting knives for the modern kitchen without sacrificing the efficiency and longevity of traditional German knives is what the brand says they do. In this Schmidt Brothers knife review, we'll see if they practice what they preach. Read on to find out whether Schmidt Brothers' knives are worth the investment as we test the best-rated knives they have to offer. But before we get to that, let's take a moment to talk about the steel they're made of.
Whether you're a professional cook or an enthusiastic home chef, a good knife is a must. Luckily, there are thousands of options available from brands that we all know and love, like Shun, Wusthof, or Zwilling. However, we decided to upgrade our knife collection with a few knives from Schmidt Brothers as well.
What steel are Schmidt Brothers knives made of?
Unfortunately, the company hasn't named the exact steel they use in their production process. The only information publicly available is that they use a 100% German stainless steel. As you probably know, the steel that the blade is made of pretty much determines how the knife is going to perform.
Usually, the best knives are made of high-carbon steel as they can keep a sharp edge for a long time period. So, is the fact that Schmidt Brothers use a German stainless steel a bad or a good thing? It's not as simple as you think!
High-carbon steel is more vulnerable to rust, it tends to brittle, but it's highly wear-resistant. Contrary, stainless steel is resistant to rust, less brittle, but it's less wear-resistant as well. However, keep in mind that almost every knife manufacturer alters the steels they use by putting them through different treatments, like for example heat treatment or cryogenic treatment.
But, after what has been truly exhausting research, we were able to discover that the steel used by this company is high-carbon stainless steel, combining the best of both worlds! There are a number of reviews that dismiss Schmidt Brothers' knives solely because it's believed that their knives are made of simple stainless steel. Regardless, we got to the core of things and discovered the whole truth!
That said, let's proceed to list the best Schmidt Brothers knives currently available on the market.
---
1. Schmidt Brothers Carbon 6, 8-inch Chef's Knife
To kick-start this list, we chose the Schmidt Brothers 8″ chef's knife from the Carbon 6 line. It features sleek, yet extremely simple design, with as little details as possible. However, its performance is anything but simple as it proves to be a powerful workhorse that's going to stick by your side for years to come.
This chef's knife is as versatile as other high-end chef's knives; only it's cheaper. It's ideal for every kitchen task that includes slicing, dicing, butchery, and of course, fine work. In our testing, the knife worked as a charm regardless if we dared it to cut large vegetables, slice cheese, or cut meat. It showed precision, provided enough balance, and was a joy to work with.
This incredible performance is due to the quality of the steel it's made of. We already cleared up the confusion regarding what steel the company uses, but to be more precise, it's crafted from 1.4116 German steel. Don't let the numbers confuse you; the 14116 steel is better known as X50CrMoV15, which you've probably heard of.
X50CrMoV15 is top-of-the-line high-carbon stainless steel that's found in some Wusthof, Victorinox, and Dalstrong knives. Due to the composition of the steel, the Schmidt Brothers Carbon 6 8″ chef's knife is extremely hard. The higher chromium and small molybdenum addition makes the knife highly corrosion resistant. Increased vanadium content contributes to the blade's toughness.
Contrasting the high-polished blade is an unpolished, flame-scorched handle. We really like the design, but we were more impressed by how good it fit in our hands. The handle is complimented with the patented Schmidt Brothers Curve for increased comfort. The curve is described as 'a place to put your forefinger to rest and guide the knife with ease.'
Pros
Great value
High-quality X50CrMoV15 steel
Versatile
Hard, tough, and durable
Attractive design
Schmidt Brothers Curve
Comfortable
Cons
If you are interested in our other reviews, have a look at Kai knives review and Wusthof vs. Victorinox comparison.
2. Schmidt Brothers Bonded Teak 15-piece Knife Set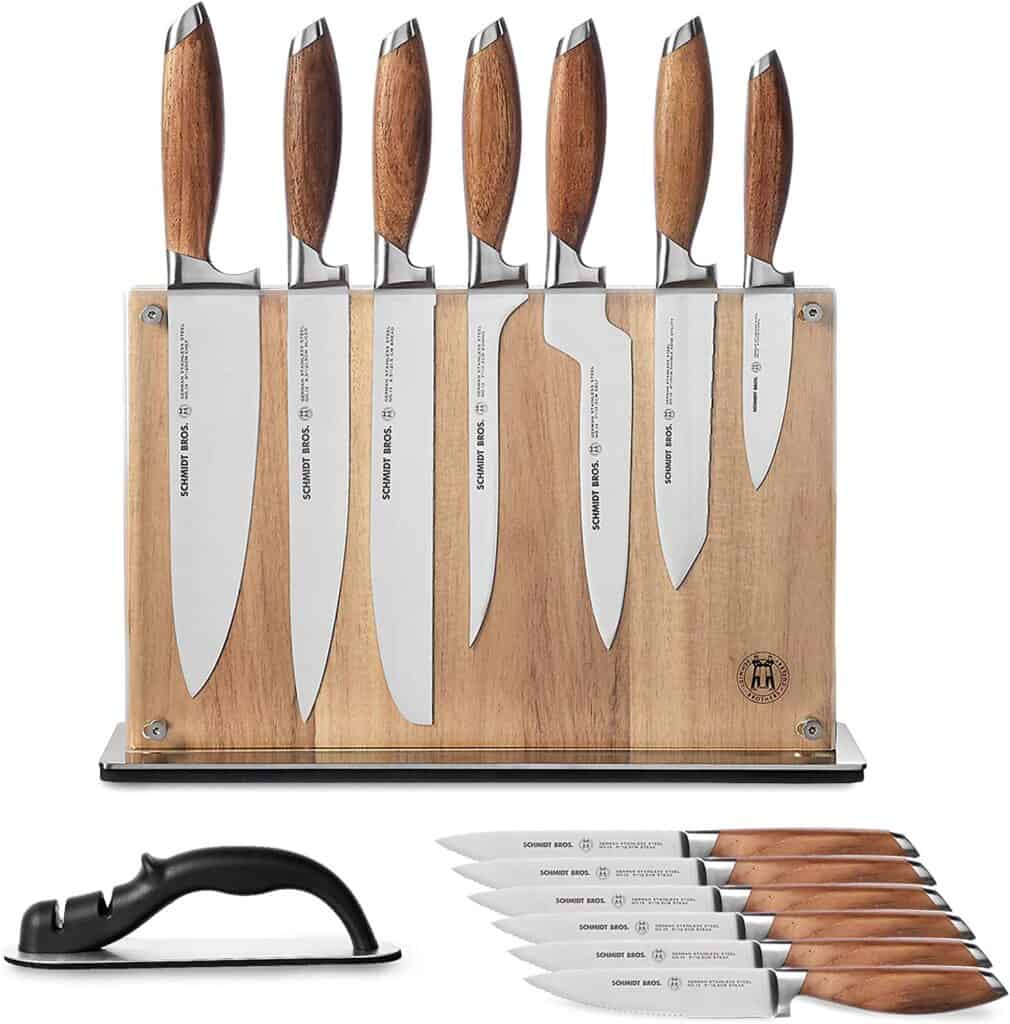 The 15-piece Bonded Teak knife set by Schmidt Brothers is made with home chefs at mind. It includes all the essential knives needed for a home kitchen to be considered well-equipped. Of course, professional cooks can use them as well, but we found them to be better suitable for home kitchens.
This 15-piece knife set consists of 8.5″ bread knife, 8.5″ slicer/carving knife, 8″ chef's knife, 6″ serrated double-bevel utility knife, 7″ boning knife, 4″ paring knife, 7″ deli knife, and six 5″ steak knives. There's also a two-stage sharpener included, and a beautiful acacia and Acrylic magnetic knife block to store your knives.
Every knife in the set is made of the above mentioned high-carbon stainless steel known as X50CrMoV15 steel. The knives show high strength, hardness, toughness while being corrosion resistant as well. This means that the set is built not only to perform but to last.
On a negative note, though, we would sacrifice a steak knife or two for kitchen shears and a nakiri knife. However, not a lot of people seem to mind this, so we can't say it's really a drawback. Of course, every knife features the patented Schmidt Brothers Curve that's engineered for a comfortable grip and to reduce slippage.
The handles are made of teak wood, which is considered a high-end wood in a number of industries. Even though the handles look amazing, we believe that the brand should've put a bit more attention to detail. The handles seem to be untreated as they are prone to water damage and discoloration. If you decide to get this set, make sure to oil the handles regularly and avoid contact with water.
Pros
Enough knives to handle everyday tasks
High-quality steel
Beautiful design
Schmidt Brothers Curve
Hard, tough, and durable
Cons
Kitchen shears not included
Handles need extra care
Handles need extra care
3. Schmidt Brothers Zebra Wood 7-piece Knife Set
The first thing we thought when we saw the set is that it will fit perfectly in every kitchen. You can buy the Zebra Wood knife set with 15 pieces as well, but since we already tested a 15-piece knife set, we decided to go for a 7-piece this time.
Truth be told, it doesn't differ much from the above mentioned Bonded Teak set that we just reviewed. Aside from its appearance, the quality of the knives included seems to be the same.
Every knife is made from the extraordinary X50CrMoV15 steel. They deliver everything that we expected; strength, toughness, and longevity. We found them to be extremely sharp and precise, but we needed to sharpen them after a month of constant use. If you don't abuse your knives as much as we do, though, you needn't worry about sharpening them for half a year at least.
We were genuinely impressed by the 8″ chef's knife as it handles every task with ease. However, in addition to the chef's knife, included in the set are 8.5″ bread knife, 8.5″ slicer knife, 7.5″ santoku knife, 6″ serrated utility knife, and 4″ paring knife, so we gave them a go as well.
They all performed well, but we have seen better bread knives than the one included in this set. More often than not, we reached for the chef's knife instead of the bread knife when we were cutting through the crust. As you can tell, we're big fans of kitchen shears, and although not a deal-breaker, we prefer sets that come with shears as well. We were disappointed to discover that there's no sharpener included either.
The handles of these knives are made of zebrawood but bear in mind that you'll need to provide them with extra care to prevent discoloration.
Pros
Beautiful design
High-quality steel
Strong, tough, and durable
Sharp and precise
Budget-friendly
Cons
Zebrawood handles need extra care
Kitchen shears and sharpener not included
4. Schmidt Brothers Bonded Ash 4-piece Jumbo Steak Knife
Steak knives are not only useful in the kitchen, but they often take part in our table setting as well. When the occasion doesn't call for bringing out fancy china and even fancier cutlery, we all reach for steak knives. But, these steak knives are so functional and pretty to look at that even your in-laws won't complain!
Crafted from the same X50CrMoV15 steel, they are ready to perform at any given time. They perform as well as any of the knives mentioned above and show the same strength, toughness, and durability. At 5″ length, they don't look nor feel bulky.
Of course, Schmidt Brothers' steak knives also feature the patented curve that allows comfortable grip, reduced slippage, and ease of use. Although they don't come with a traditional knife block as other sets, they are delivered in a black wood box that keeps them protected, doesn't take too much space, and is visually appealing.
These steak knives feature a full-tang construction that only further increases their strength. The full-tang design plays a major role in the overall balance of the knives. In addition, they are less likely to break as compared to partial-tang steak knives.
Once again, we would've loved to see a sharpener in the set, but luckily, we can always use the sharpener we got with the Schmidt Brothers Bonded Teak 15-piece knife set. However, they kept their edge even after several dinners, so we feel like we wouldn't have to sharpen them that often.
The ash wood handles need some TLC to keep their good looks. Other than this, they feel extremely comfortable and look absolutely amazing!
Pros
Beautiful design
High-quality steel
Full-tang construction
Strong, tough, and durable
Comfortable and balanced
Sharp with good edge retention
Cons
Conclusion
Taking everything into consideration, the Schmidt Brothers knives seem to deliver what they promise they will. We couldn't find any major drawback, but the brand needs to pay more attention to details. Although the blade is more important than the handle, Schmidt Brothers could've and should've come up with a finish for their handles that would prevent discoloration. As we're wrapping up this Schmidt Brothers knife review, we leave with the hope that they actually will. Maybe then they'll deserve 10/10 points!
For more interesting knife articles,  you can check Cangshan knives and Dalstrong knives reviews.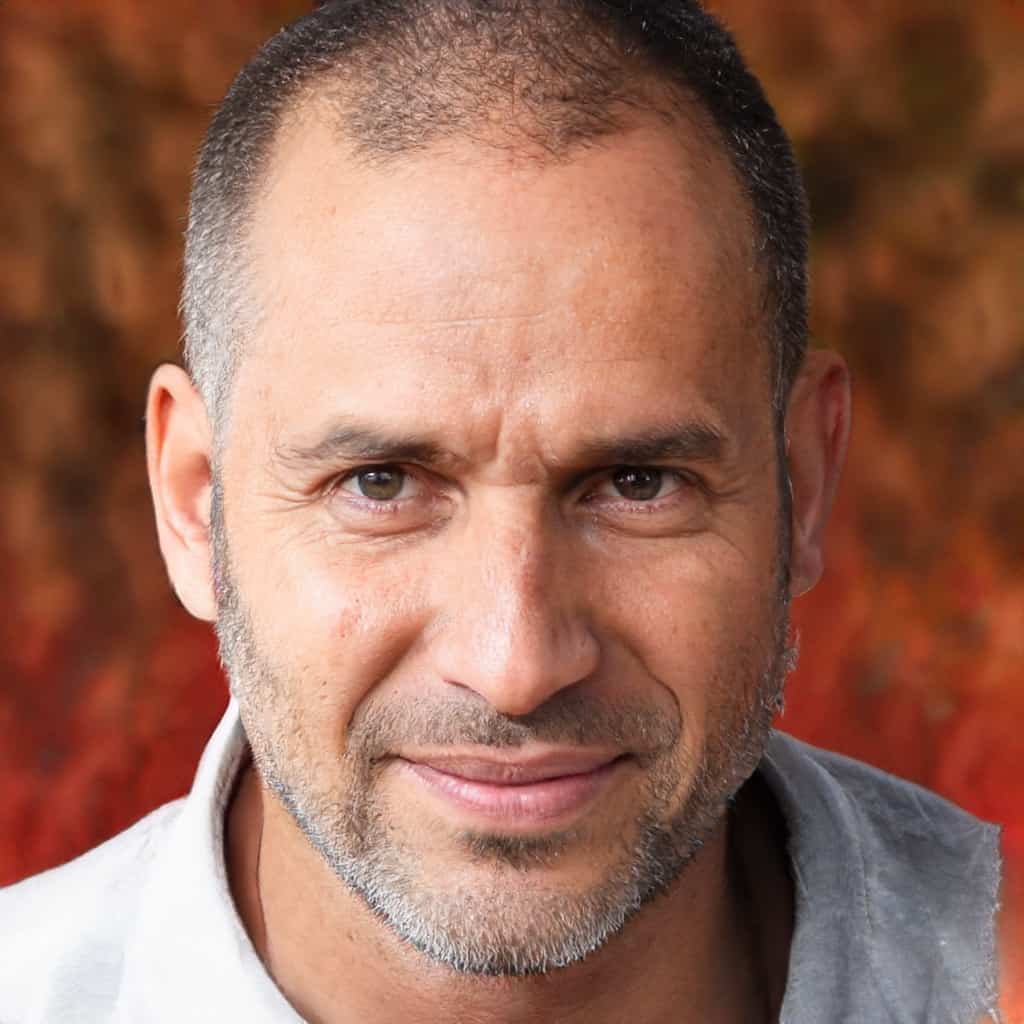 Gary Portman is the founder and main author of Knivesadvice.com. With his extensive knowledge and experience, he is committed to assisting people in choosing the perfect knife for their needs. Through his articles, Gary shares valuable insights on various aspects of knives. With his expertise, readers can make informed decisions and find a knife that is tailored to their preferences and requirements. You can find more info about Gary here.