Are you in the hunt for an exquisite addition to your culinary arsenal? Allow me to introduce you to the grace and artistry of Damascus Knives, a personal favorite in my years of chefdom. Get ready to explore the cream of the crop of the best Damascus chef knives!
---
A Quick Guide to Buy a Knife
The knife landscape is a vast one, filled with options that range from terrific bargains to costly blunders. After years of trials and errors, and countless cuts and chops, I've fine-tuned a system to help you distinguish between a culinary gem and a dud. Here's my quick guide to make your knife buying journey a breeze.
Begin with three key considerations. First off, let's talk about budget. It's not rare to come across great knives over 1000 dollars, but trust me when I say, I've found some exceptional ones for less than a hundred. Secondly, your purpose matters. As a seasoned chef, I swear by boning, paring, or fillet knives for meat lovers. But if you're looking for versatility, nothing beats a good old chef's knife.
The final factor is one that I hold dear – the feeling. Even the best knife can fail you if it doesn't sit well in your hand. As a left-handed chef, I can vouch for the impact of the knife's size, weight, and orientation on your comfort and control.
---
What to look for in a blade?
Though these considerations are vital, they don't fully dictate the blade's quality. From my culinary battlefield experience, I've identified three key blade aspects you should never overlook.
The soul of any knife lies in its tang – this is your non-negotiable. A full tang blade, where the metal extends into the handle, offers superior balance and precision. It might be tempting to save a few bucks with a half tang, but take it from me, the longevity of a full tang blade makes it more cost-effective in the long run.
Next up, let's ensure safety with a proper bolster. This crucial element separates the handle and blade, keeping your fingers safe from culinary mishaps. I'd advise you to never compromise on a knife with a bolster.
Lastly, don't overlook the weight. Although I've seen my fellow chefs favoring heavier knives for their stability and sharpness, I personally believe it's not necessary for home use. Lighter knives can provide exceptional control and are easier to handle.
---
Damascus Chef's Knives
Damascus Chef's knives are a breed apart, created from the beautifully patterned Damascus steel. In my many years of experience, I've come to admire their visual appeal that adds an air of sophistication to the kitchen.
As a chef, I found these knives to be invaluable allies. They are jack-of-all-trades, capable of tackling diverse kitchen tasks, including chopping, slicing, mincing, and dicing.
Having shared my insights, let's dive into my handpicked selection of the best Damascus chef's knives! Trust me; these knives have been personally tested and have earned their place in my culinary heart.
If you want to learn more about kitchen knives, check my full review on the best kitchen knives under $100 or my review on Sabatier knives. 
---
1. TUO Damascus Chef's Knife
From my own personal experience, the TUO Damascus Chef's Knife has lived up to the reputation of its creators, a brand that has been a prominent player in the cutlery industry for over two decades. Offering exceptional quality and a remarkable aesthetic, this knife brings to the table (literally!) a blend of affordability, performance, and elegance.
Design and Aesthetics
Let's dive straight into the captivating design of this knife. With an exceptional Dragon pattern adorning the blade, this knife does not fail to steal the spotlight. If you are as diligent about your cutlery care as I am, you'll be glad to know that this blade retains its luster impeccably with regular maintenance.
Adding to the elegance of the Japanese style Damascus chef's knife is its uniquely crafted handle. Fashioned from pakkawood, a luxury wood hailing from Africa, the handle stands out in a crowd and adds a touch of sophistication that sets it apart from other choices in the market. As a result of this, whenever I gifted this knife, the recipients always overestimated its cost, thanks to its classy, upscale appearance.
The true goal of the TUO Damascus Chef's Knife's design is to offer maximum durability and sharpness over extended periods. With my first-hand experience, I can attest that the knife's practicality is a direct result of TUO's experienced craftsmanship.
Performance and Features
Now, let's discuss what this knife brings to the cutting board. The TUO Damascus Chef's Knife incorporates Japanese AUS-10 Damascus Steel, a high-carbon stainless steel manufactured in Japan. To boost durability, the blade is encased within 66 layers of soft steel. As a result, concerns about rusting, jagging, and pitting are virtually eliminated.
I remember a time when I was preparing a dinner party for friends, and I was astonished by the ease with which this knife sliced through a butternut squash. The blade was so sharp, the squash seemed to fall apart even before I finished my cutting motion.
Care and Maintenance
When it comes to care, this knife demands a certain level of attention. Like many high-quality stainless steel knives, it is not dishwasher-friendly. Instead, it requires a gentle hand wash with warm water, followed by an immediate dry. Despite being made of stainless steel, this knife isn't immune to rust; it's just more resistant, provided you follow the right care regime.
Further, remember this knife is not a jack of all trades. It has been specifically designed for precise cuts and should not be used to break bones or perform similar heavy-duty tasks.
Pros
Superior design aesthetics for both the handle and blade
High stability, offering ease of use
Exceptionally sharp blade that retains its sharpness over time
Durable and rust-resistant
Cons
Requires honing after each use
Requires careful manual cleaning and maintenance
Not suitable for heavy-duty tasks like bone breaking
Conclusion
Overall, the TUO Damascus Chef's Knife is a testament to the excellent craftsmanship and innovative design ethos of the brand. It couples functionality with aesthetics, making it a worthy addition to any kitchen. While it requires careful maintenance and can't handle heavy-duty tasks, it excels in precision cutting, making it an ideal companion for intricate culinary tasks. With proper care, this knife will serve you well for a long time, proving its value for money.
2. Fanteck Professional Damascus Chef Knife
In my recent culinary explorations, I had the pleasure of working with the Fanteck Professional Damascus Chef Knife. This knife, presented in a stunning box and boasting a V-shaped edge, proved to be a proficient tool, capable of chopping, mincing, slicing, and dicing a variety of ingredients with flawless precision.
Design and Appearance
The first thing that struck me about this knife was the aesthetically pleasing design of its blade. The detailed pattern, running from the top to the bottom of the blade, lends it an authentic, oriental flair. This is contrasted by the simplicity of the handle, a design choice that prioritizes stability over frills, a trait that I greatly appreciated in the midst of fast-paced food prep.
The knife is balanced by three rivets, contributing to its stability and offering an extra layer of security during use. While the ergonomic handle may appear rather simple, it's clear that the engineers at Fanteck have kept the adage 'less is more' in mind. This simplicity ensures that nothing detracts from the knife's overall performance.
Features and Performance
The Fanteck Professional Damascus Chef Knife is not just visually appealing but also incredibly robust, thanks to its 67 layers of expertly crafted steel. This offers the knife an impressive level of strength and stain resistance. As for hardness, the knife scores a remarkable 62+ on the Rockwell hardness test, a score typically hard to achieve for most knives.
During one of my detailed veggie chopping sessions, I put this knife to the test. It was a breeze slicing through an array of vegetables, from juicy tomatoes to crunchy carrots, demonstrating its superior sharpness and strength.
What makes this knife truly stand out is the specific techniques applied in its creation, including vacuum heat treatment and nitrogen cooling. However, one feature that didn't quite live up to my expectations was the included mini-sharpener. Despite its convenient inclusion, it felt more like a gimmick than a valuable add-on. I found that using my own sharpener yielded far superior results.
With an 8-inch blade and a 5-inch handle, the knife sits comfortably in the hand. Weighing in at 9.2 ounces, it offers a good balance between weight and control.
Care Instructions
Like most high-quality chef knives, the Fanteck Professional Damascus Chef Knife is not dishwasher-safe. Hand washing with warm water, followed by thorough drying, ensures that the knife stays in optimal condition. Leaving the knife to soak can accelerate rusting, so it's essential to clean and dry it promptly before returning it to your knife storage block.
Pros
Exceptionally sharp, making food prep easy and efficient
Modern technology ensuring durability and hardness
Well balanced in terms of weight and control
Stylish design, with a beautiful blade pattern and simple yet functional handle
Cons
Included sharpener does not match the quality of the knife
Not dishwasher-safe, requires careful manual cleaning
Conclusion
In summary, the Fanteck Professional Damascus Chef Knife is a high-performing kitchen tool that combines beauty and function. Its design is rooted in simplicity and practicality, and its high-tech construction ensures durability and superior sharpness. Although the included sharpener may not live up to the knife's quality, the knife itself is a worthwhile addition to any kitchen. With appropriate care, it promises to make food prep a more enjoyable and efficient process.
3. Zelite Infinity Chef Knife 8-Inch
As someone with a passion for culinary arts and a good amount of time spent in the kitchen, I was intrigued by Zelite's reputation among professionals. From the moment I gripped the handle of the Zelite knife, I could sense the superior quality that many have vouched for.
Design and Aesthetics
The Zelite knife boasts one of the finest quality steels I've come across in my kitchen adventures. While it may not be the most budget-friendly option, the efficiency and ease it brings to slicing tasks are worth the investment.
The blade's design is truly captivating. It features a pattern that resembles raindrops frozen on the surface, a detail that adds a unique charm. Preserving the original steel color accentuates the pattern, known as "Tsunami Rose," and lends an authentic touch to the blade's overall aesthetic.
The knife's handle is designed with simplicity and functionality in mind, with a trio of rivets for added stability. I found the smooth transition from the handle to the blade via the beautifully designed bolster added an extra layer of security during use.
Features and Performance
The handcrafted high-carbon stainless steel that forms the core material of this knife is the highest quality one can expect at this price point. The handcrafted nature of the steel underscores the attention to detail and quality Zelite pours into their knives.
The sharpness of the Zelite knife is truly unparalleled, a feature that quickly made it my favorite. The 12-degree blade edge made slicing tasks effortless. I recall an instance when I was preparing a roast chicken dinner; the knife sliced through the chicken as easily as one would cut through a piece of cake.
Pros
Boasts the sharpest blade among the knives I've tested
Rust and dents are virtually non-existent with this knife
Unique and appealing blade pattern
High-quality, handcrafted steel used
Cons
Not the most affordable option
As the steel is handcrafted, there may be some variability in quality between individual knives
Care Instructions
Like most premium knives, the Zelite knife is best maintained with proper hand washing and immediate drying. Avoid using a dishwasher or leaving it to soak in the sink, as these practices can potentially harm the blade.
Conclusion
In conclusion, the Zelite knife brings to the table an unbeatable blend of aesthetic appeal, superior functionality, and outstanding quality. While there may be some variability due to the handcrafted nature of the steel, and it's not the most budget-friendly option, the exceptional sharpness and durability it offers make it a worthy investment. This is a knife that will surely elevate your culinary experiences to a whole new level.
If you are interested to read more of my articles you can check my reccomendations on knife sets under $100 or the 7 best dishwasher-safe knife sets. 
4. ALLWIN Houseware Damascus Chef Knife
Having the chance to test the ALLWIN Chef Knife in my kitchen was indeed an opportunity I embraced. As a newcomer to the industry, founded only in 2017, ALLWIN has made a remarkable splash in the world of culinary tools. Its focus on delivering speed and efficiency in preparing fruits and vegetables has won over many households, mine included.
Design and Aesthetics
The ALLWIN knife arrived in a stylish gift box, suggesting its suitability as a well-thought-out present for a culinary enthusiast. From a design perspective, the blade's sturdy, full-tang structure was impressive and performed admirably during my various kitchen tests.
In the world of kitchenware, many tend to lean towards aesthetically pleasing design rather than focusing on quality. However, I believe the focus should be reversed. Although the design of the ALLWIN blade might seem ordinary, its quality is indisputably superior.
The handle is an ergonomic masterpiece, providing a comfortable grip and crafted from pakkawood, which greatly reduces slippage. I found this particularly handy when chopping up an assortment of fruits for a summer salad, where a secure grip was essential.
Features and Performance
ALLWIN employs high-quality 67-layer Damascus steel in its blade, promising precision, strength, and an eye-catching aesthetic. With a score of 62 on the Rockwell hardness scale, it certainly qualifies as a durable kitchen companion.
The knife's sharpness is truly top-tier, thanks to its 12-degree razor-sharp edge. During my testing, the longevity of the blade's sharpness was impressive. However, I would recommend regular sharpening to maintain its peak performance.
Pros
Perfect blade length for versatile use
Beautifully hammered blade that retains sharpness for a prolonged period
Cons
The knife lacks balanced weight distribution, with the handle being heavier than the blade
Care Instructions
Much like other high-quality knives, the ALLWIN Chef Knife requires careful hand washing and immediate drying to preserve its performance and longevity.
Conclusion
In closing, the ALLWIN Chef Knife offers a unique blend of average design but top-tier quality, showcasing that the substance indeed matters over style in the world of kitchen tools. While the weight balance might take some getting used to, its perfect length and high-quality blade make it a worthy addition to any kitchen repertoire. With regular care and sharpening, this knife can aid you in quickly and efficiently preparing your favorite fruits and vegetables, winning over the hearts (and stomachs) of your household.
5. Kyoku Daimyo Damascus Chef's Knife, 8-inch
I'm always excited to get my hands on premium culinary tools, and the Kyoku Chef Knife was no exception. This import from Japan proved itself as a noteworthy contender, showcasing exceptional quality in the form of its top-notch VG-10 Japanese steel blade. This knife guarantees superb sharpness, remarkable durability, and an edge retention that truly stands out.
Design and Aesthetics
With its thoughtful design, the Kyoku Chef Knife was indeed a joy to handle. The knife was incredibly balanced, providing a substantial feel in my hands, yet remained light enough to carry me through prolonged preparation sessions. During a recent dinner preparation, the knife proved its worth, enabling me to easily handle a variety of tasks without causing fatigue.
The blade boasts a generous width with a slight curve, enhancing its versatility. The curve's inclusion is a clever feature that amplifies its functionality, making chopping, slicing, mincing, dicing, and cubing a breeze. Whether you're a professional chef or a home cook like myself, this blade is ready to rise to your culinary challenges.
The handle embodies simplicity, offering heat and moisture resistance. Its triple rivets and well-designed bolster add an extra layer of safety, ensuring accidents are kept at bay during bustling kitchen activities.
Features and Performance
The Kyoku knife utilizes high-grade Japanese steel, specifically, a 67-layer Damascus steel blade. Notably, each blade is crafted with liquid nitrogen, enhancing hardness and flexibility, a feature that impressed me during my rigorous chopping session. The liquid nitrogen treatment also offers corrosion resistance, a valuable attribute for any chef knife.
However, I found it surprising that the knife didn't arrive pre-sharpened. Despite its sturdy full-tang design ensuring the blade stays secure within the handle, the lack of pre-sharpening was an oversight. Yet, once sharpened, the VG-10 steel proved its superiority over many Western steel types I've used in the past.
Pros
High-quality VG-10 steel that's among the best available in the market
Extra safety features reduce potential risks
Cons
Unlike many knives, it does not come pre-sharpened
Conclusion
In conclusion, the Kyoku Chef Knife successfully merges a thoughtful design with superior materials, earning it a rightful place in any professional or home kitchen. Its safety features and high-quality steel construction set it apart, but a sharpening upon purchase is necessary. Regardless, once honed, this knife can elevate your cooking experience, making food preparation easier, more efficient, and even more enjoyable.
---
Conclusion
Finally, a good Damascus chef knife can be the real star in your kitchen. It looks elegant, offers great features, and is sharp as a razor. These 5 knives are all as great as a Damascus knife can be. If you do not want to regret later, pick one of them!
To find out more about kitchen knives have a look at my Calphalon vs Cuisinart knife set comparison or my selection on the best boning knives for deer.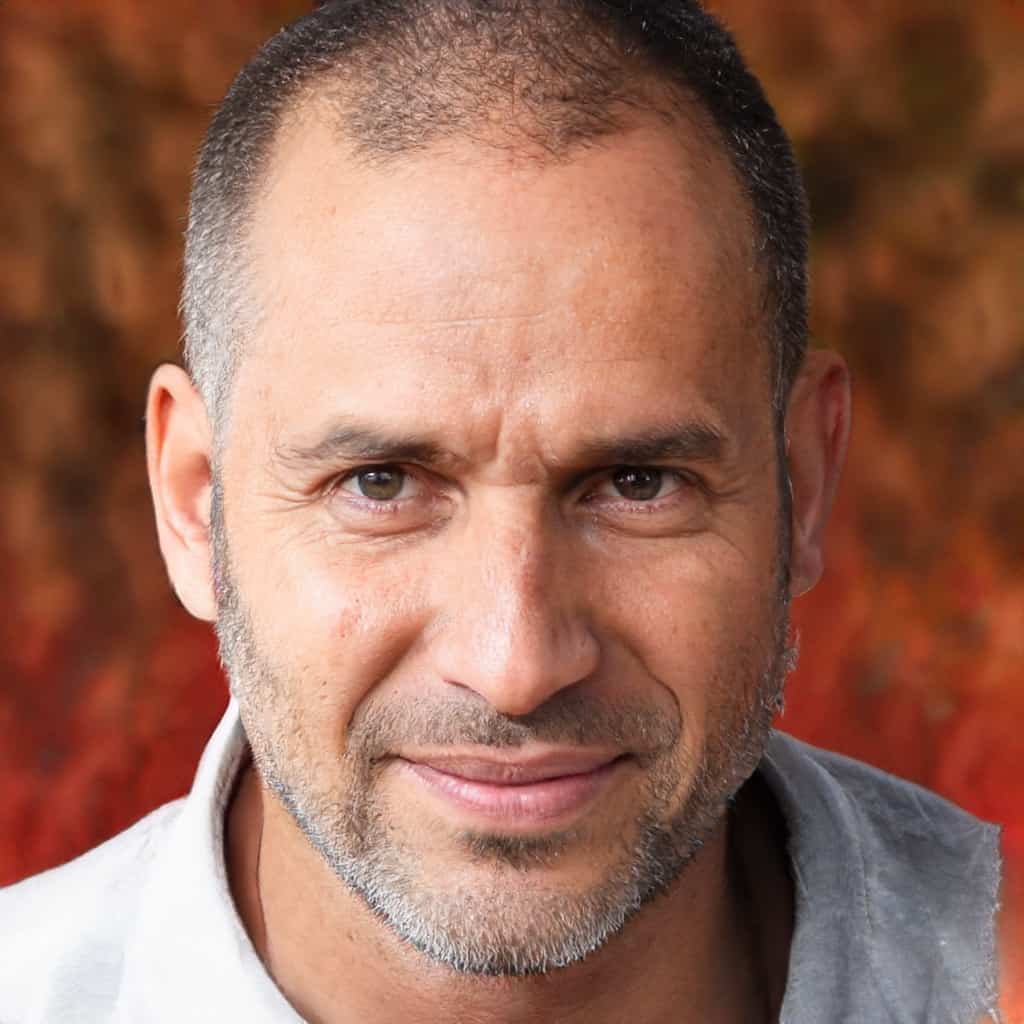 Gary Portman is the founder and main author of Knivesadvice.com. With his extensive knowledge and experience, he is committed to assisting people in choosing the perfect knife for their needs. Through his articles, Gary shares valuable insights on various aspects of knives. With his expertise, readers can make informed decisions and find a knife that is tailored to their preferences and requirements. You can find more info about Gary here.