Do you want to add an elegant tool to your kitchen set? Then the Damascus Knives are the right choice for you. Here is a list of best Damascus chef knives!
---
A Quick Guide to Buy a Knife
There is a myriad of choices in today's knife market. Yet, some of them are good and low-priced, some are bad but expensive. So, how do you differentiate between a good knife and a bad knife? Thanks to our quick guide, you will know which aspects you should be looking for.
There are three most important conditions at first. The first and foremost is the budget. You can find a good knife over 1000 dollars while there are really good ones for less than a hundred. The second one is your purpose. So, if you are a regular meat-eater, you should be thinking of buying boning, paring or fillet knife. However, a chef's knife is multifunctional so, you can use it for different purposes.
The last but not the least is the feeling. A good knife can become useless if it does not feel all right in your hands. The optimal size and weight for your anatomy is something you should think of as well. The feel can depend on even whether you are left-handed or right-handed.
---
What to look for in a blade?
These three aspects do not cover how its quality will be. Yet, in our short manual, you will be able to learn what you need to put an emphasis on, as well.
First off, the blade tang is crucial. If you want to have a high-performing blade with increased stability and precision, you should be looking for a full tang blade. It means the blade does not start where the handle ends, but it goes on inside the handles, too. The only reason to choose a half tang would be price but in the long run, full tang blades will be cheaper for you as you will not change it too often.
The second one is about your safety: A proper bolster. It is the part that separates the handle and blade so, you will not have any unfortunate accident at home. I definitely recommend you buy a knife with a bolster.
The last one is the weight. Even though professional chefs prefer heavier knives as they have higher stability and sharpness, you do not need to check heavier knives. Lighter ones are good for better control.
---
Damascus Chef's Knives
Damascus Chef's knives are the specific type of knives whose main material is Damascus steel. This type of knives can easily be recognized as they have a very beautiful and elegant pattern on the surface of the blade.
Chef's knife is specifically used for different reasons. You can do as many things as you want with this blade; however, the main purpose is the general kitchen tasks such as chopping, slicing, mincing and dicing.
So, long story short, let's get to the best Damascus chef's knives we picked!
If you want to learn more about kitchen knives, check our full review on the best kitchen knives under $100 or our review on Sabatier knives. 
---
#1 TUO Damascus Chef's Knife
Our first pick is the TUO Damascus Chef's Knife. This is an extremely good and affordable option in the knife business. The company has been manufacturing cutlery for longer than 20 years and they almost always provide the highest quality steels in the market.
Design
I need to get this out of the way. The blade has a great design with its Dragon pattern. The steel is always shiny if you took proper care. This Japanese style Damascus chef's knife comes with a great handle too. The ergonomic pakkawood handle is quite different and chic when you compare it with the other picks on our list.
The designatory purpose of the TUO Damascus Chef's Knife is to have maximum durability and sharpness over long-term use. The experienced craftsmanship of TUO benefits its end-users as the knife is too practical.
Features
The knife employs Japanese AUS-10 Damascus Steel that is made in Japan. The steel is high-carbon stainless steel. In order to increase durability, the blade is sandwiched with 66 layers of soft steel. So, rusting, jagging and pitting is no longer an issue on your knife.
Pakkawood is a specific type of wood coming from Africa and it looks beautiful and luxurious. If you buy this knife as a gift, people will always overestimate its price thanks to its elegant appearance.
The steel is easy to clean if you do it properly. If you do not know how to care, go on to read the next section. The blade comes so sharp that it cuts before you say "knife".
How to Care
This knife, along with many stainless steel knives, is not dishwasher-friendly. So, do not use your dishwasher to clean it up. You need to wash it with warm water by hand and rinse it, then dry it immediately. Stainless steel does not mean it will not rust. It will not rust only if you care properly.
In addition to that, the purpose is important as we said. Do not break bones with this knife. Use it only for proper purposes.
Pros
The handle and blade have superior design and great convenience
The stability is very high
Cons
You need to hone the blade every time you use it
#2 Fanteck Professional Damascus Chef Knife
The Fanteck Professional Damascus Chef Knife comes with a great box and great sharpness. The V-sharp edged chef knife is suitable for chopping, mincing, slicing and dicing any fruit, veggie, meat with no mistakes.
Design
The blade part is very well-designed with a great pattern that looks so authentic and oriental. The pattern goes from top to toe and has nice details on it. Yet, the handle part is simplistic but stable. The handle has three rivets in total that make the knife even more stable.
The ergonomic handle, as we said, is quite simple but here more details can end up with demoting the overall performance of the knife. So, the engineers o Fanteck company avoided such risks and kept it as simple as possible.
Features
The expertly crafted 67 layers of steel add the knife exceptional strength and stain resistance. When it comes to the Rockwell hardness test, the knife gets 62+ which is quite hard for an average knife. If you need to get the best out of steel, you have to use a special set of technique including vacuum heat treatment and nitrogen cooling. This knife has both of them.
There is also a mini-sharpener; however, in our tests, we saw this was more of a gimmick rather than an extra. You still need to have your own sharpener in order to hone your knife to get the best results.
The length of the blade is 8 inches while the handle has a length of 5 inches. The total weight of the knife is 9.2 ounces.
How to Care
The no-dishwasher rule is valid for this knife as well. You should handwash it with warm water, rinse it and dry it. Do not leave it soaking in the sink as it would expedite the rusting process. Just wash it and dry it and let it rest in your knife storage block.
Pros
The extraordinary sharpness of the knife is a great surplus
The technology behind the knife is up to modern standards
Cons
The sharpener that comes with it is not so great
#3 Zelite Infinity Chef Knife 8-Inch
Zelite's overall quality is up for grabs for many professionals and people who are interested in culinary arts. If you spent enough time in the kitchen, the quality will be noticed as soon as you get a hold of the knife in your hands.
Design
I, as an avid kitchen-person, should admit that this has, by far, the highest quality of steel on our list. Even though this is not the most affordable one, I believe this knife pays off very quickly when you slice things.
The pattern on the blade looks as if it has been raining on the blade and water has decided to stay. The company decided to keep the original steel color which I think is a good choice. The pattern's name is "Tsunami rose" which is a good choice.
The handle has a simple design and three rivets. Moreover, the smooth transition from the handle to the blade through the nicely designed bolster adds extra security.
Features
The main material is hand carbon stainless steel and they used the highest quality steel that this price level can afford. The steel is handcrafted.
In addition to that, the sharpness level is just top-notch and this is a fan-favorite feature. This is simply because of their 12-degree blade edge that makes slicing meat or chicken feel like cutting a piece of cake.
Pros
This has the sharpest blade on the list
The rust and dent are two words you will forget with this knife
Cons
As steel is a handcrafted one, not every steel can come top-level
If you are interested to read more of our articles you can check our reccomendations on knife sets under $100 or the 7 best dishwasher-safe knife sets. 
#4 ALLWIN Houseware Damascus Chef Knife
If you want to win all the household by preparing fruits and vegetables quickly, the ALLWIN Chef Knife is your pick. So, our 4th pick on the list is quite a new brand, founded in 2017; yet, they get off to a flying start.
Design
The ALLWIN knife comes with a chic gift box which makes it suitable as a gift box. The blade itself has a sturdy, full-tang architecture which I like a lot in my tests. As kitchenware, people often prefer good design over good quality. However, it should be the other way around. ALLWIN's knife has an average blade design but top quality.
The handle, on the other hand, is an ergonomic one, possessing a comfortable grip and made of pakkawood. Pakkawood is especially good as it decimates slipping dramatically.
Features
The blade employs high-quality 67-layer Damascus steel for precision, strength, and beauty. When it comes to hardness, it qualifies as quite hard thanks to its 62 Rockwell hardness scale.
The sharpness is also top-level with its 12-degree razor-sharp edge. This ensures that the sharpness will stay for a long time. However, we recommend you sharpen your knife as often as possible.
The overall care is just like the other ones we mentioned.
Pros
The length is perfect
The blade is hammered beautifully to keep it as sharp as possible for a long time
Cons
The knife does not have a great weight balance, the handle is heavier than the blad
#5 Kyoku Daimyo Damascus Chef's Knife, 8-inch
Kyoku is an import brand from Japan and it presents us a great quality in general. Thanks to its top-notch VG-10 Japanese steel, the chef knife utilizes supreme sharpness and durability with outstanding edge retention.
Design
The purpose of design is to make you feel substantial and well-balanced in your hands while being light enough to bear with interminable preparations.
Another thing is that the blade has a great width and a bit of a curve. The curve here makes the blade even more multifunctional. Thanks to this feature, cutting, slicing, mincing, dicing, cubing and many more. You can be a professional or a home cook, this blade will meet your expectations and needs.
The handle is simplistic while being heat and moisture-resistant. It has three rivets and a nice bolster to stop accidents.
Features
The Japanese top-quality steel is used here in this blade. There is a 67-layer Damascus steel here and they crafted each blade with liquid nitrogen to increase hardness and flexibility. It is also resistant to corrosion thanks to liquid nitrogen.
Lastly, the knife has quite a great full tang blade. The handles keep the blade intact thanks to the tang. Yet, my knife did not come pre-sharpened.
VG-10 steel is a better type of steel than many western-type sheets of steel.
Pros
Probably the highest quality steel that you can find in the market
Extra safety measurements diminish the risks
Cons
Many knives come sharpened, this one did not
---
Conclusion
Finally, a good Damascus chef knife can be the real star in your kitchen. It looks elegant, offers great features, and is sharp as a razor. These 5 knives are all as great as a Damascus knife can be. If you do not want to regret later, pick one of them!
To find out more about kitchen knives have a look at our Calphalon vs Cuisinart knife set comparison or our selection on the best boning knives for deer.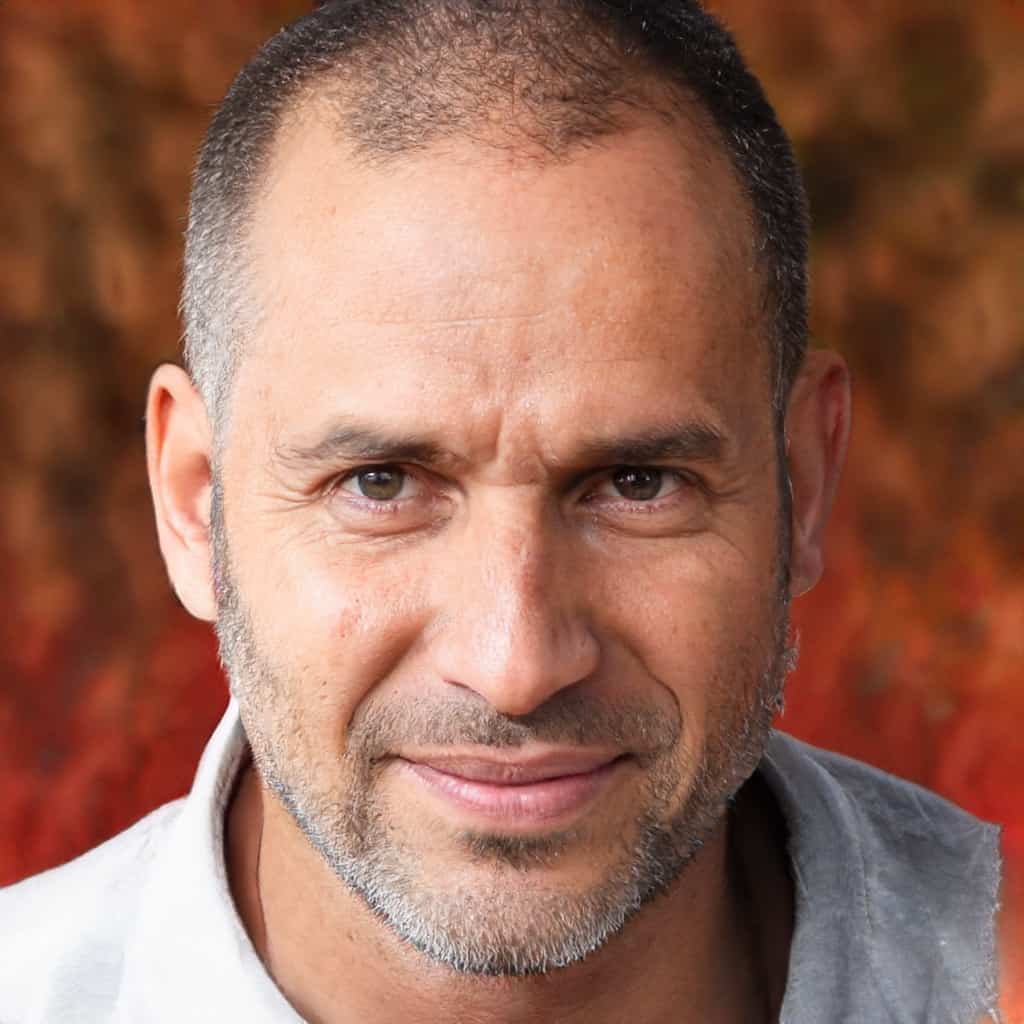 Gary Portman is the founder and main author of knivesadvice.com Using the knowledge he has gained through the years, he aims to help people choose the best knife based on their needs. You can find more info about Gary here.