Are you looking for adding a great basic knife for your kitchen? Here is a list of 7 best kitchen knives under a hundred dollars.
---
A Quick Buying Guide for Knives
Here, on this list, we are going to introduce you to the best kitchen knives as a starter. However, we wanted to give you a good guide so that we can be helpful even if you decide to go with another knife other than our list.
First off, we would like to give you some aspects you should consider before buying. The first question you should ask yourself is "How much money do I want to spend money on this knife?" This most basic question can tell a lot about your optimal kitchen. In the kitchen-world, a more expensive knife does not always have to mean a better knife.
The second question you should ask yourself is "Why am I going to use this knife?". There are too many knives that specialize in different uses such as boning, paring or carving. Yet, some knives have multifunctional properties such as chef's knives or santoku knives. In this list, we are about to focus on such multipurpose knives.
---
What are some must-have properties in a good knife?
In this section, we will aim our attention to some of the properties that every good knife should have. We believe it will be of good help for those who have no idea what to look for in a blade.
To begin with, a quality knife needs to have a full tang. Full tang means that the blade continues inside the handle, not finishing where the handle starts. Full tang blades add higher stability levels to the knife and they endure much more than half tang blades. You need to look for a full tang blade if you want your knife to be more durable. Half tang ones are much cheaper as there is a lack of material.
The second property on our list is a bolster. A bolster is the safety measures so that you will not cut your finger in case of a slip. A good handle is made of a material that does not slip, of course, but accidents happen in the kitchen. Yet, a thicker bolster should be there for such cases.
Lastly, a good weight balance between handle and blade is a must. If one of them is too heavy compared to the other, it will tucker you out while doing marathon preparing sessions. Overall weight is also important. Many professional cooks prefer heavier knives as they bring more stability; yet, lightweight knives are probably better for home cooks as they are faster and easier to use.
So, let's get to our list.
---
#1 Victorinox Fibrox Pro Chef's Knife
This is the first pick on our list and a Swiss Victorinox is a no-brainer choice when it comes to knives. The company is notorious for its high-performing, durable and stable knives all around the world.
Design and Features
Let's begin with the handles. The ergonomic handle's material is thermoplastic Elastomer and makes sure that it does not slip from your hand. Indeed, a wooden handle would be much better for the non-slip experience.
On the other hand, the blade's material is high-carbon stainless steel as every good knife nowadays would have. The Chef's knife is a multipurpose one and you can do chopping, mincing, slicing and dicing tasks effortlessly and efficiently in the kitchen.
The 200-year old company is famous for its sharpness and the Victorinox Fibrox Pro is not an exception to that. It sits at an affordable price right now so, we can say that it is a price-performance monster.
Another good thing about this knife is that it is dishwasher-friendly. Many knives in this class need handwash but this one is not. We still recommend handwash for longer-term use, though.
Pros
It is an affordable knife but very high-quality
You can use your dishwasher to clean it
Cons
A wooden handle instead of plastic could be much better
If you are interested in our other reviews have a look at the 7 best dishwasher-safe knife sets or Sabatier knives. 
#2 imarku Chef's Knife – Pro Kitchen Knife 8-inch
Imarku is a relatively new brand from Shenzhen, China. Yet, they got off to a running start thanks to their quality and good customer service.
Design and Features
The handles are ergonomic and the primary material is pakkawood. Pakkawood is a specific type of wood that comes from Africa and its main area of usage is to produce comfortable, strong and stable tools.
Sharpness is key to achieving the best slices and this knife is specifically razor-sharp. When you look at the Rockwell Hardness Scale, the knife places at 56-58 which is quite good for a knife of this class. That means, in addition to the fact that it cuts, dices, slices and chops effortlessly, you can pare meat from bones.
Lastly, I would like to emphasize its durability. Yes, if you do not care properly, every stainless steel will rust. However, Imarku included 16 to 18 percent of chrome in the blade's composition in addition to carbon. This is for the knife's longevity as chrome works as an anti-tarnish material. Normally, the other knives use about 8-9 percent in the whole metal composition.
Pros
It is highly durable as they included extra chrome in the blade
The handle is this knife's greatest strength
Cons
The Imarku Chef's knife loses its sharpness quite easily, you need to hone it almost after every use
#3 Dalstrong Chef's Knife – Shogun Series, 6-inch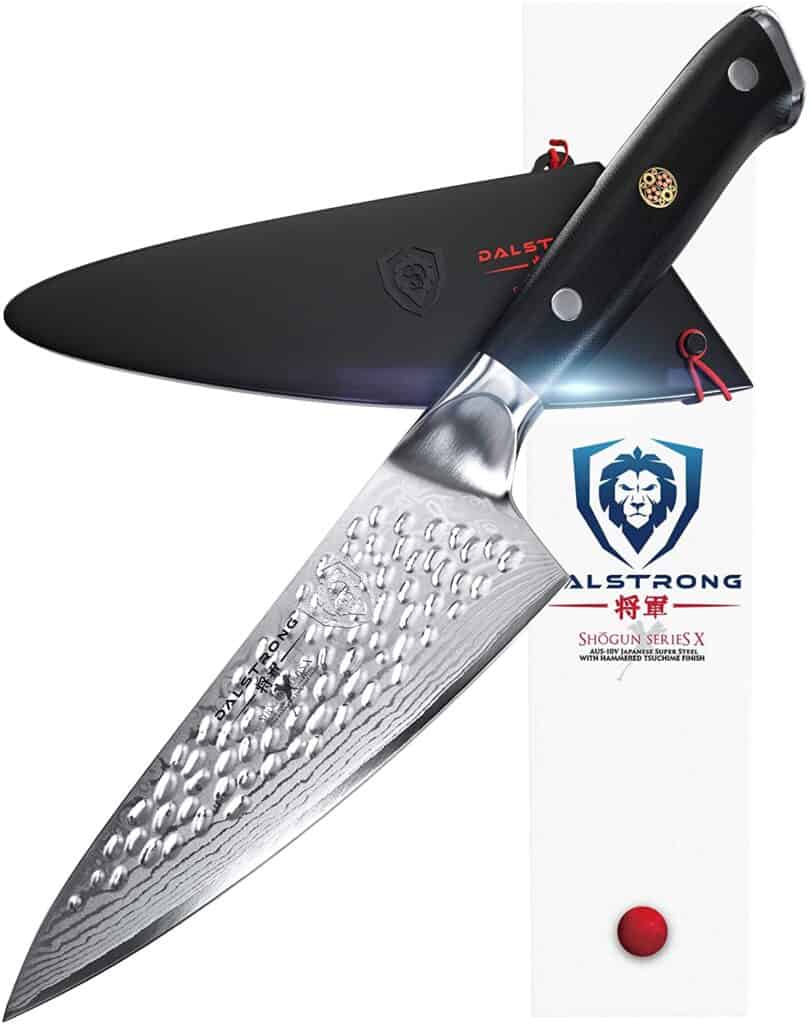 The Dalstrong Chef's Knife is a separate piece from its Shogun series. It is a superior 6-inch blade, made with Damascus style.
Design and Features
Maybe you have yet to know what a Damascus style knife is. So, as you can see in this blade, it has a great pattern on the wide face of the blade. It can be any pattern, of course, but usually some oriental authentic-looking pattern whose blade material is of quality steel. The blade here has a Japanese AUS 10V Super steel which is extraordinary for this price level.
I must say that you should be careful even when you are unboxing as the sharpness level of this blade is simply ruthless. Dalstrong engineers decided to apply the great technique on this blade, the 3-step Honbazuke method. This method is a traditional Japanese blade sharpening method that has 3 steps.
The blade is a full tang and the width is 2.1 inches which allows knuckle clearance.
If you handle with care, the company guarantees the knife will be with you for your whole lifetime. Wash it by hand, rinse it and dry it. This is that simple.
Pros
The pattern, tsunami-rose, looks very elegant.
It is sharp and it will stay sharp for sure
Cons
It is 6 inches long which is a bit short
#4 Mad Shark Santoku Knife
Mad Shark is quality and famous knife manufacturer even though it does not have a lot of history under their belts. However, they took advantage of the increasing trend in the U.S. knife business and prepared a great Santoku Knife.
Design and Features
I would like to start with what a santoku knife is. Santoku knife is the Japanese equivalent of the chef's knife. In Asian cuisine, the tradition is to name them after their functions. So, Santoku means "slice, dice, and mince".
To begin with, this multipurpose knife's primary material is premium high carbon stainless steel so, the knife is wear-resistant and rust-resistant. The premium steel holds 56-58 score in the Rockwell Hardness Scale so it is quite a tough nut to crack.
The handle is, unfortunately, plastic. Even though it is quite ergonomic to hold, I would have liked a real wooden handle for such a cool knife. It also has two rivets which is another disappointment. For safer knives, I recommend three rivets. However, these can be overlooked as it is very affordable.
Pros
It is super affordable but stands firm in quality
The blade is well-designed and quite tough
Cons
The handle is… ehm, they did not handle this part well
If you are interested to read more of our articles you can check our comparison between Calphalon vs Cuisinart knife sets or our review of the 5 best Japanese knive sets. 
#5 Xinzuo 10-inch Damascus Chef Knife
Our fifth pick is another Damascus knife from a Chinese brand. Many companies started to manufacture Damascus style knives as they look really good and elegant as well as being handy and sturdy.
Design and Features
Let's clarify this "Damascus-style knife" matter. This is not a specific type of steel. What we are talking about is a specific type of production. In this case, Damascus steel means there are different layers of steel. For example; the Xinzuo 10-inch Chef Knife has 67 layers of high carbon stainless steel sheets. Then, the forging process occurs (obviously hand-forging is much better than machine-forging but they are much more expensive) and you usually place a signature pattern.
The Xinzuo 10-inch Chef knife is ultra-sharp and easy to fall in love with. Its handle is made of nature rosewood and the company kept the natural texture and color. You should be careful when washing.
Another thing is that it is everlasting. One thing is for sure, this blade keeps cutting perfectly even after a month of daily use and no honing. This is what I call sturdiness.
Pros
The pattern here makes the knife more beautiful than it is
The rosewood handle is a state of art
Cons
It, unfortunately, gets jagged easily
#6 Zwilling J.A. Henckels Twin Four Star 6-inch Chef's Knife
Another import from Germany makes our list from sixth place. The Four Star model is the top-selling series of Zwilling J.A. Henckels all across the world. The artisans working in the company hand-finished the blade so, we cannot say that it comes completely from production lines.
Design and Features
The handle is an ergonomic polypropylene one and has a comfortable grip overall. However, as I mentioned maybe thousands of times, having a plastic handle is a negative thing. Another bad thing is that it has no handles so I cannot guarantee its durability.
The special formula high carbon stainless steel has a record of 57 when it comes to Rockwell Hardness Scale which ensures excellent edge retention. The 280-year-old company excels at sharpness and sturdiness in blades and the Four Star 6-inch Chef's Knife is no exception here.
One thing I like is its bolster. Yes, all the knives on our list have bolsters more or less but this one has an exceptionally well bolster. Thanks to this bolster, the knife ensures more balance. In addition to that, it has a specific type of tang that is rat-tail full tang.
Pros
The superior bolster is a big surplus
Its Rockwell Hardness Scale test is awesome
Cons
The bad handle is a setback
#7 Messermeister Park Plaza Chef's Knife, 10-inch
We started with an imported product and we are finishing with another imported product. Messermeister blades are notorious for their resilience all around the world and they come with a hundred years of experience as the company headquarters is in the world's historic cutlery capital, Solingen / Germany.
Design and Features
I would like to start with the negative side: Stamped knife line. A top-class chef's knife, in my opinion, should have had a forged knife line. Yet, its Rockwell Hardness Scale sits at 58 which is quite good.
A good point is that the knife's construction is almost fully created by hand. The craftsmen of Messermeister assembled, fitted and finished the blade. The design has a wider blade and it creates an increased natural arc through the forward move.
Another good thing I feel I need to mention is how light it feels. Some blades just do not fit but this one has a nice weight for a 10-inch knife. It is good for long uses of kitchen sessions
Pros
The craftsmen in Solingen did a great job when it comes to sharpness and durability
Its lightweight is perfectly suitable for working for too long
Cons
I like the knives when they are forged not stamped
---
Conclusion
Lastly, choosing a good knife for your home is like receiving a massage after a long day of work. These knives offer great ease of use, have an extra area of use and sharpness. If you are on a low budget, try to pick according to our little quick guide and decide why you need them for.
To find out more about kitchen knives have a look at our review on Shun knives or our comparison between Nakiri vs Usuba knives.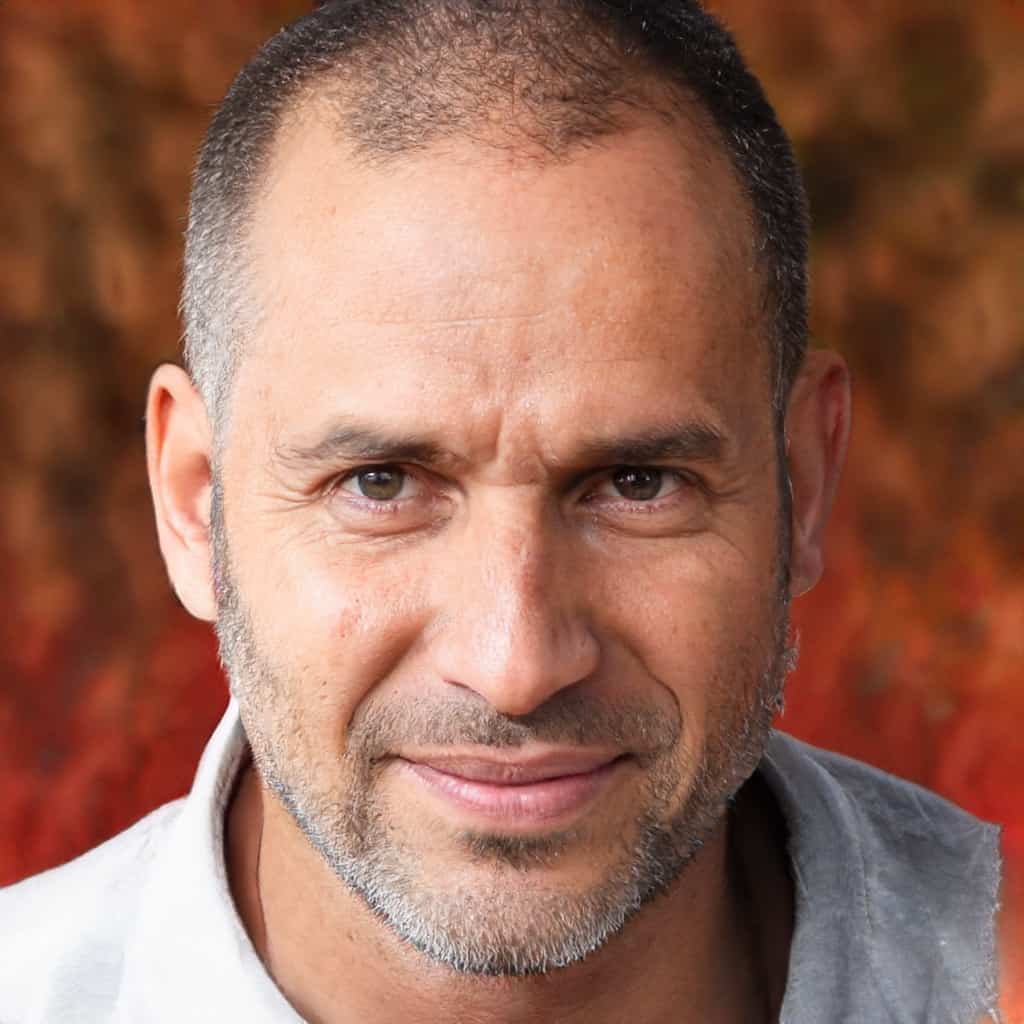 Gary Portman is the founder and main author of knivesadvice.com Using the knowledge he has gained through the years, he aims to help people choose the best knife based on their needs. You can find more info about Gary here.